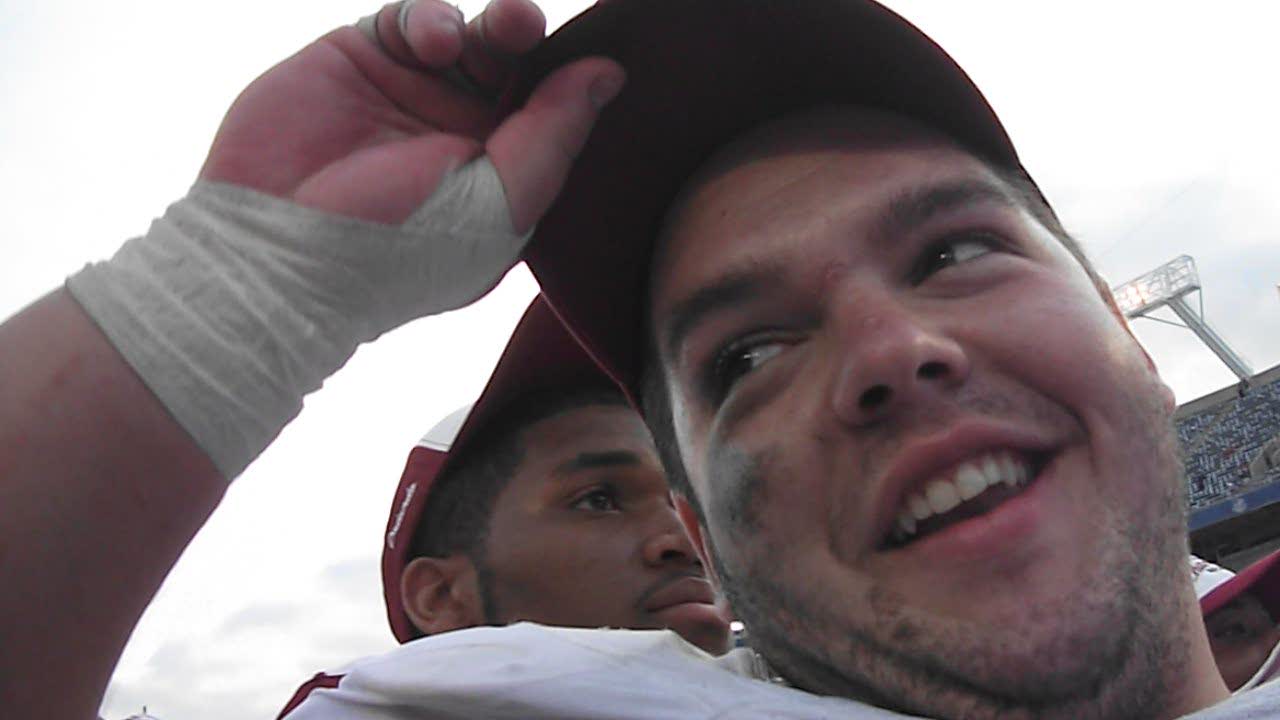 Yes, you heard Brian Daboll was leaving Alabama for Buffalo, but did you know about the other two he's taking with him? Bama legend William Vlachos was one of them and now you'll learn why Daboll had to have him and Tierney too.
William Vlachos Starts Coaching Career With Other Alabama Folks in Buffalo
By: Larry Burton
Though the highly publicised coaching changes made news, as in Jeremy Pruitt to Tennessee and Brian Daboll to the Buffalo Bills, you may have missed some other names leaving.
Brian Daboll didn't stay at Alabama long, but he was there long enough to learn that there was coaching gold in Tuscaloosa that may have been underused. So when he left for the Buffalo Bills in upper state New York, he passed the word along to the Bills management that there were some folks he'd love to have join him and he personally vouched for just how good they could be and what they could provide.
First of all there's a beloved Alabama name that was tapped, William Vlachos, who was the center for two national championships from 2008 to 2012 and Shea Tierney who Saban hired two seasons ago to be an analyst for him after other stops in the NFL. So there's three folks leaving the Crimson Tide camp for the Buffalo Bills.
At Alabama in his playing days, Vlachos was the little engine that could. He was a Shula recruit and when Saban first looked him over, he wasn't sold on his diminutive size and some thought Saban actually tried to persuade Vlachos to look elsewhere. Vlachos' high school coach, Chris Yeager told the story of how when he visited him at Mountain Brook he actually tried to get him to decommit. But Vlachos wasn't going anywhere and he became a rock on the offensive line and a beast in the weight room, often shaming bigger linemen who couldn't match his workouts. He was first team All SEC and a guy the coaches knew didn't miss a thing and could make changes at the line to stop anything the defense would change into. He finished his senior season as a Rimington Award finalist. That's the award given to the nation's best center.
He was also a beloved member of the team with mischievous quirks. In an interview with his quarterback, Greg McElroy, I asked who you didn't want to sit next to on a long flight to an away game and with a laugh he said, "Oh God, it's Vlachos!" When I asked why, he said, " He'll eat all your food and he won't let you sleep! But I love the guy."
Vlachos rejoined the team in 2013 as a graduate assistant and then moved up to analyst. Players respected not only his past as a player, but as a coach and analyst who gives sound advice and sees things others may have missed. Ryan Kelly, who was a center at Alabama and was drafted in the first round of the NFL draft said that Vlachos was a huge influence on him at Alabama. He said the pointers and advice Vlachos gave him helped him do his job better to get the team in better positions to score.
Why Daboll wanted Vlachos and Tierney so badly was the way each not only gave advice to players that really helped them, but the great scouting reports, tendencies on opponents and game planning help they came up with each week. These men were very valuable to Daboll in game planning he saw that each brought a different mindset and each saw things in different areas that others didn't come up with.
Though both Vlachos and Tierney have the official title as now as "Offensive Assistants", Vlachos is sure to work with the offensive line and particularly the centers and Tierney may work with the quarterbacks some, helping David Culley and again working with Daboll in offensive game planning.
While many who know Tierney feel he will be a head coach in the not too distant future, Many feel Vlachos is well on his way to becoming a solid offensive line coach and someone who has the personality to maybe be a big recruiter in the college ranks one day and start his path on becoming a head coach himself.
It's been a journey with a lot of twists and turns for Vlachos since being born in Greece, coming to the US, being a top flight college football player and now a coach in the NFL. But it's a story that is really just beginning for him with a bright future ahead. With Alabama breaking in a new center next season, they could have used him here, but here's wishing Vlachos success at his newest stop.
Larry has been published in almost every media outlet for college sports and now primarily writes here for Touchdown Alabama. Follow Larry on Twitter for inside thoughts and game time comments at https://twitter.com/LBSportswriter
THANKS FOR SHARING THE LINK TO THIS STORY ON YOUR FACEBOOK PAGE OR A FACEBOOK GROUP YOU BELONG TO, FACEBOOK RESTRICTS HOW MANY PLACES WE CAN POST IT ON, SO PLEASE SHARE!