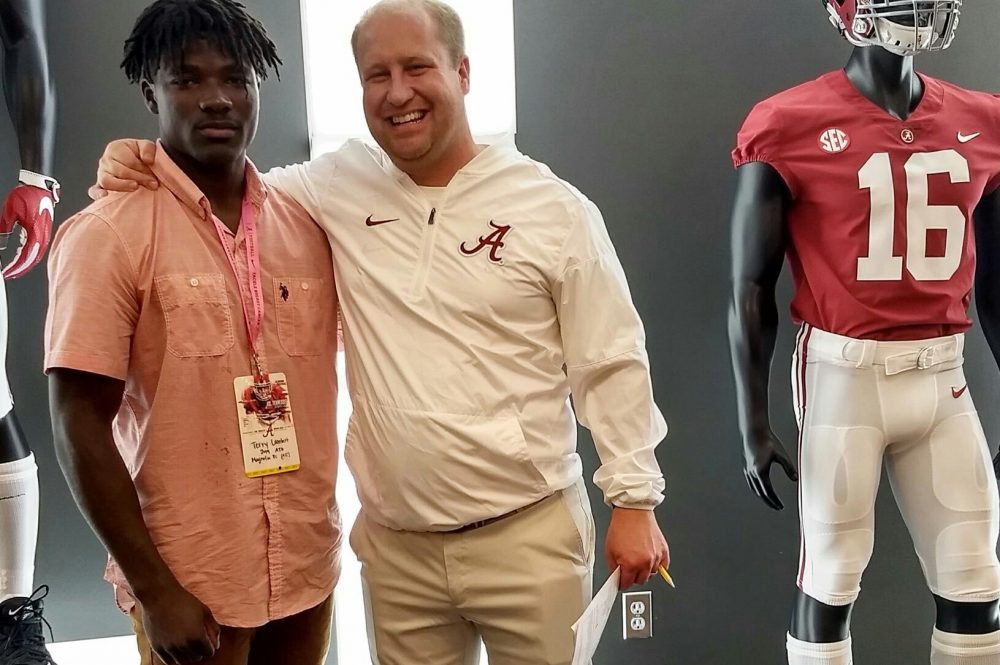 To Terry Lambert an offer from Alabama will mean the world, but he knows all too well that nothing worth having comes without hard work and sacrifice.
Lambert is a 3-Star RB out of Magnolia, Arkansas. A combination of talent and hard work has him ranked as the No. 11 player in the state according to 247 sports. He currently has the opportunity to be a walk-on for the Tide in their 2019 recruiting class but believes his hard work will pay off and lead to an offer.
"It would mean the world to me if Alabama offered me," Terry Lambert said. "But knowing that they might give me the scholarship aid when the depth at running back decreases doesn't really bother me. A full ride will take a lot of pressure off my hands by not having to pay a dime for my education."
The Arkansas-native knows that he has a long hard road in front of him, but is prepared to show that he is capable of producing at the next level. Magnolia High School showcases his talent with a variety of outside runs, but something that is not on any highlight film is his determination to work hard.
"If I make it to Tuscaloosa on a scholarship or as a preferred walk-on, I just want to prove that I am capable of contributing to a championship run," Lambert added. "I want to show up and show out every practice and prove that I am the guy needed for the job. I'm just very happy and excited that the No.1 team in the nation wants me to help them win not only SEC championships but National Titles. Right now, I am just trusting the process and letting God's plan evolve."
Being doubted is something that Lambert is used to. At 5-feet-10-inches and 195 pounds, he has always been considered too small, but a lack of size and people's opinions have not distracted him from his goal.
"People always talk about me about how I have a preferred walk-on and not an actual full ride. Lambert said. "But that's just because most of them don't know football recruiting, so I don't pay it no mind. My entire high school career I have been wanted to show how I am just as good or even better than the 5-star and 4-star guys. I see a chance to play for Alabama as an opportunity to prove that."
Lambert could receive an offer from Alabama during his next visit to Tuscaloosa which will be next month.
"The coaching staff wants me to make a visit to one of their spring practices or their spring game to see how the team operates," Lambert said. "I'll be there on the 21st."
Members of Alabama's coaching staff will also be in Arkansas for spring football.
Terry Lambert Highlights: CLICK HERE
Justin Smith is a Scouting/Recruiting analyst for Touchdown Alabama Magazine. You can follow him on Twitter, via @Jdsmith31Smith