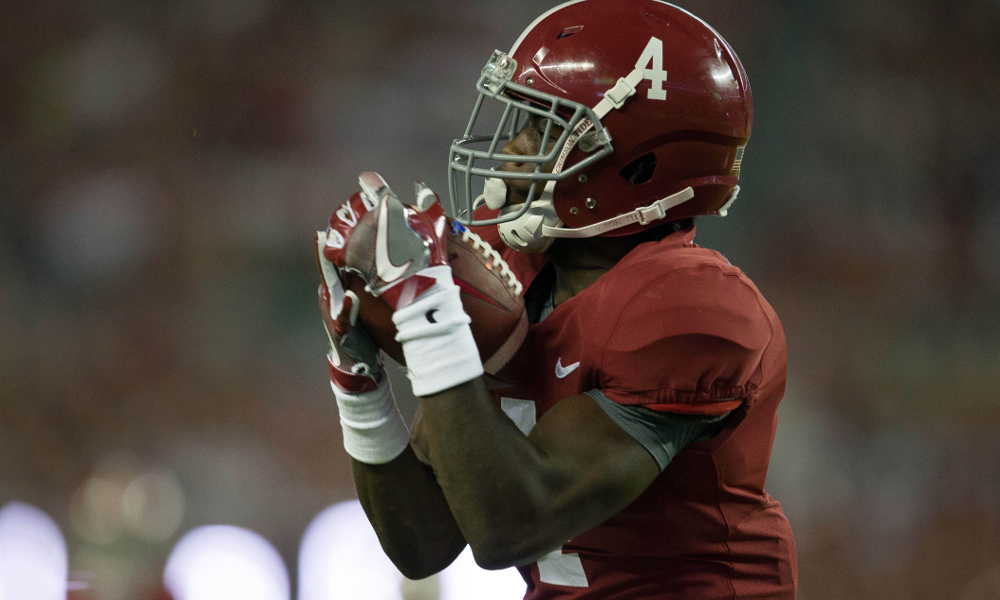 Jerry Jeudy came into his true-freshman season with higher expectations than most. Part of that comes from the fact that he was unanimously considered a five-star prospect, and the third best receiver in the entire 2017 recruiting class according to 247Sports.
Another more influential reason he was so hyped coming out of high school was his incredible performance in last season's spring game. With Tua Tagovailoa at quarterback, he managed 134 yards and a pair of scores on five catches. While his numbers were great, the highlight reel he put together was on another level altogether:
TBT – Freshman Jerry Jeudy's incredible spring game touchdown grab @jerryjeudy pic.twitter.com/GJsfNrwAaI

— Alabama Crimson Tide | BamaInsider.com 🥋 (@bamainsider) July 13, 2017
https://twitter.com/MichaelKistNFL/status/856277864060243968
The Alabama spring game is quickly becoming the Jerry Jeudy show. This kid is fantastic. pic.twitter.com/K4rKYGRRFm

— Dakota Moyer (@DakotaMoyer) June 11, 2017
What the heck? Tua to… Jerry Jeudy for the touchdown. Whatever works I guess. pic.twitter.com/csgIrtHavG

— Dakota Moyer (@DakotaMoyer) June 11, 2017
His tremendous outing set the bar so high it would have been out of reach for anybody. He only managed 100 more yards on the year than he did in the one spring showing, going for 264 yards and two scores on just 14 grabs all season. A chunk of his lack of production can be correctly attributed to the slight handicap put on his game with Jalen Hurts under center. Though he was a tremendous athlete, and a great leader, Hurts' inability to see the field at times cost Jeudy – and the rest of the receiving corps – countless receptions.
That said, Tagovailoa seems to be the leader at the quarterback position heading into the 2018 season, and the connection between he and Jeudy seemed fairly apparent throughout the year. Not only did he get Jeudy the football during the spring game, he also found him during the regular season:
TD! #Freshman2Freshman Alabama QB @Tuaamann_ To WR @jerryjeudy #BamavsVandy #CBS pic.twitter.com/VedCn0TpCE

— InsideBamaRecruiting (@RTRnews) September 23, 2017
At 6-1, 187-lbs., Jeudy may not have the size of Julio Jones, but he certainly has a similar physical style of play. The biggest thing missing from his freshman game tapes was the ability to be a true deep threat with his speed. However, a lot of that may be the fact that when he did have his man beat nobody was able to get him the football. In fact, there were at least five separate occasions of Jeudy having his man beat but the ball never made its way to him.
Regardless, it is clear that he has all of the physical tools to be a star with a gunslinger at quarterback. On top of his skills, he has a full season under his belt so will come into his second year as a highly-experienced sophomore. It will come down to the scheme, but Jeudy has the skills to be a true playmaker – and an expert's pick to step up in Calvin Ridley's absence.