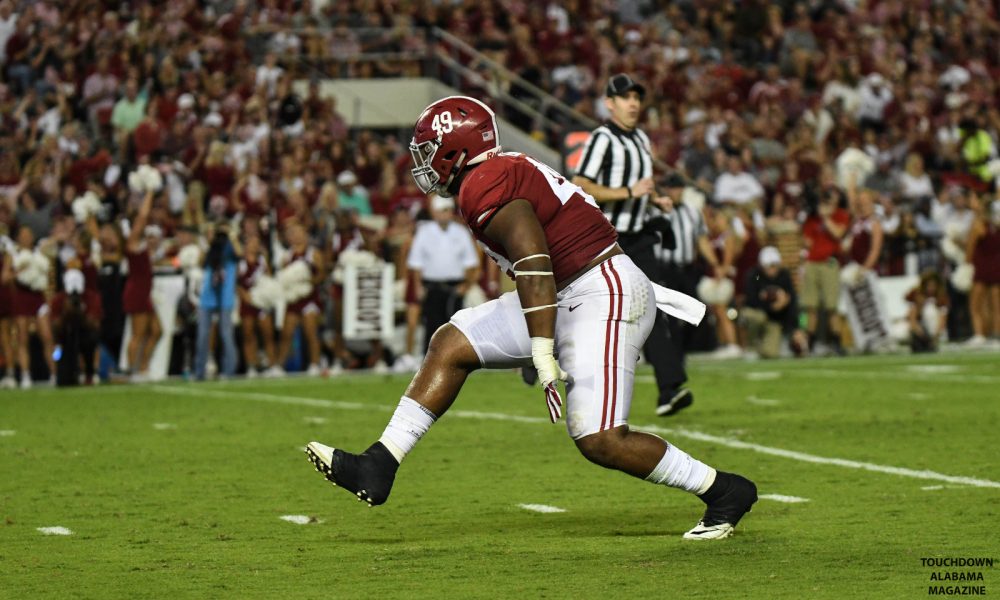 When he is on the field, he plays like nothing else matters. 
An intense focus takes over his body as he remembers the times he was doubted, slept on and rejected, however, he still has the nerve to show why he's elite. On the other hand, he is a different person off the field. No matter if one is to see him on the University of Alabama campus or in the Tuscaloosa community, he carries a warm smile and is blessed to be here. 
Hailing from Ruston, La., Isaiah Buggs had little to no Division I college football offers after graduating high school. Despite his success at Mississippi Gulf Coast Community College, only Alabama, Auburn and LSU came seeking his talents. Like many other Louisiana natives that desire to be the best, Buggs chose to spend his final two years under head coach Nick Saban. 
While he immediately made an impact prior to the 2017 season, his performance in the absence of players sustaining injuries drew Crimson Tide fans to him. The 6-foot-5, 287-pound defensive end totaled 51 tackles last season – including a season-high 10 stops against Texas A&M.  
He finished with four tackles for loss, 1.5 sacks and seven quarterback hurries in helping Alabama capture a College Football Playoff National Championship. Looking back over his journey, Buggs credits his success to two things: his mother and taking the junior college route. 
"Being the youngest of three boys, I was the only one to graduate high school and now about to graduate college," Buggs said on making his mom happy to Kia Little of Touchdown Alabama Magazine. "Every time I step out on the field, it's for her. No matter where I'm at, she is always first. She is the first woman in my life. That's not going to change. Anything I do will be for her." 
After a successful first season, Buggs now has the task of having a leadership role in pushing to create another national title in the coming fall. Although he was not given fair attention at first, taking the JUCO route 'made a man' out of Buggs and it's the reason why many respect him. 
"I've been in the system for a minute now," he said.  
"After leaving JUCO and coming here, I have bought into the program. I did what I was supposed to do. I followed Coach Saban's standard at Alabama and now I am a senior and it's my time to step up. Going to JUCO help me because you had to learn how to survive on your own." 
Buggs did more than survive, in fact, he thrived at MGCCC with 134 tackles – including 18 stops for loss and 7.5 sacks through two seasons. Going into his senior year in Tuscaloosa, all NFL Draft analysts will be expecting huge production from the determined defensive lineman. 
Stephen M. Smith is the managing editor and senior writer for Touchdown Alabama Magazine.  You can "like" him on Facebook or "follow" him on Twitter, via @Smsmith_TDALMag.