Recruiting
Alabama's Coaching Staff Is Creating A New Image On The Recruiting Trail.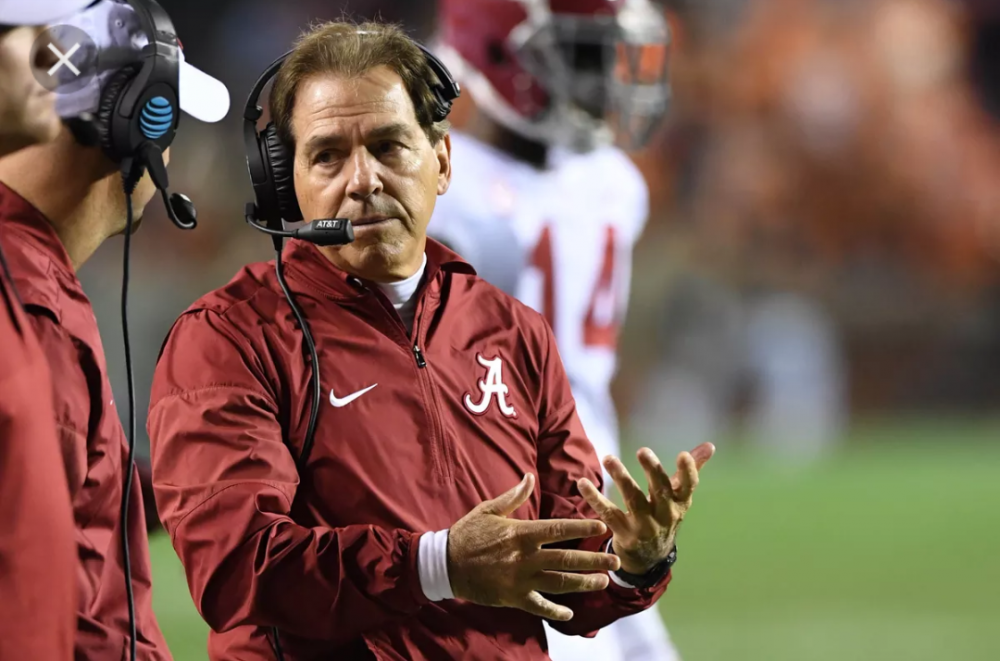 Nick Saban has undoubtedly built a dynasty in Tuscaloosa and everyone wants a piece of it. Every offseason, the coaching carousel goes around and it usually stops in Tuscaloosa in mid-spin to grab one of the talented assistants Saban has groomed to fit the winning tradition of Alabama football. This offseason was no different as the Crimson Tide had to deal with losing both their offensive and defensive coordinators.
This left Saban and a familiar, but an unusual place. Sure, Saban has dealt with losing coordinators in the past but never has he lost both his offensive and defensive coordinators at the same time and had two capable and willing guys to fill those spots already on the staff waiting for their opportunity.  Saban did what he felt was the right choice and that was to promote then wide receiver coach, Mike Locksley, to offensive coordinator and then linebacker coach, Tosh Lupoi, to defensive coordinator. He also added Josh Gattis and Pete Golding to the staff to fill the holes the promotions left.
Many felt the coaching turnovers that Alabama went through negatively affected their 2018 recruiting class. There is some truth to that as it was very evident in the recruiting battle for 2018 LB target, J.J. Peterson. Peterson had Alabama as his top school, because of his connection with Jeremy Pruitt. Once, Pruitt departed from Alabama, he used his connection with Peterson to get him to commit to Tennessee. Alabama's 2018 recruiting class still did pull in some big names, but finished at No. 7, ending Alabama's streak at the top of the recruiting rankings.
Alabama's coaching staff has now turned their attention to the 2019 recruiting class and boy are they off to a great start. They currently have verbal commitments from 5-Star OL Pierce Quick, 4-Star QB  Paul Tyson, 4-Star DL Rashad Cheney, 4-Star DB Brendan Gant,  4-Star DB Brandon Turnage and 4-Star LB King Mwikuta. Their new coaching staff definitely has something to do with this and recruits are taking notice.
"I have a great relationship with Alabama's new coaching staff," 5-Star linebacker, Nakobe Dean, said. "An even better relationship than I had with the old staff."
Dean went on to add that he loved Pete Golding's personality. However, Golding isn't the only new coaching hire that has recruits talking. Alabama's wide receiver coach, Josh Gattis, has also brought his connections from Penn State to Tuscaloosa.
"I have a great relationship with coach Gattis just from him being at Penn State," 5-Star 2020 wide receiver, Julian Fleming, said.
Gattis also has relationships with some of the top wide receivers in the 2019 recruiting class.
Saban has also noticed that there is a myth around Alabama football. He believes that some guys think if they come to Alabama they can't play. Saban expressed his feelings about this during Bama Cuts episode 1 part 2.
Alabama's head coach has now turned this into a recruiting tool as he now tends to dispel those rumors and show that Alabama plays the players that work the hardest.
There has been in shift in recruiting for Alabama and it is starting to show. Alabama recruiting is hot at the moment and shows no sign of cooling off. Only time will tell if their efforts will boost them back to the very top of the recruiting rankings.
Justin Smith is a Scouting/Recruiting analyst for Touchdown Alabama Magazine. You can follow him on Twitter, via @Jdsmith31Smith