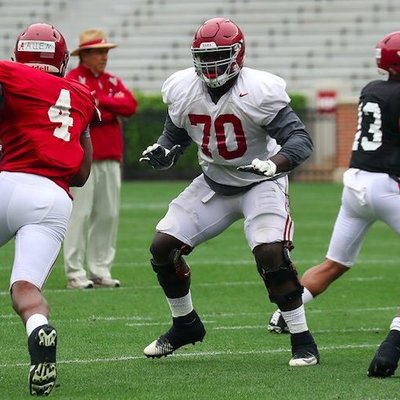 In the past, when we have posted predictions, most have come true. See if you think these predictions will likewise come to among those that come to pass.
Ten Random Predictions for the 2018 Alabama Football Team
By: Larry Burton
One of the great joys I get from writing is looking back over old articles and seeing how many of the pre-season predictions come true. Maybe it's because I'm the old fart here at Touchdown Alabama Magazine and have just seen so much over so many years that experience alone helps me make so many predictions that come true. So save this article and look back this coming February and see just how many of them did in fact come true.
One – Najee Harris won't be the number two back in yardage, this is the year for Josh Jacobs, the 5'10" running back to shine. Each of the past few years everyone was touting Bo Scarbrough as the guy to lead Alabama's running game and every year I predicted that instead it would be Damien Harris. I'll do that again too, that should be predictable by now. But seeing Najee Harris in the end of the national championship game has people thinking he's the next big thing, but instead, I say that it's Jacobs' time to be the solid number two.
Here's why. He moves differently. He can do the power run, but he's just silkier moving through the line. And with Tua in the quarterback slot, Jacob's pass catching ability will also be a key reason he sees more playing time. Well that and he's a much better blocker when he isn't running the ball than Najee is. Yes, he's nursing a small injury now, but he's going to be the guy that backs up Damien this year and will do a great job. I wouldn't be surprised to see at least one injury during the season to at least one of our backs.
Two – At least two freshmen will start games in the defensive backfield this coming season.  Dieonte Thompson and Trevon Diggs are locks to start at this point, but considering how much Saban likes to have five DB's in the game, the chances of two freshmen being in the mix is pretty strong. Especially when you figure in how often Bama has had defensive backs get injured.
Three – Bama finally has a reliable kicker and cuts their bad rating by at least half.  Last season Alabama was tied for 90th place when it came to field goal success. This season Alabama will cut that by at least half and come in higher than 45th this season. In fact, if they finished in the top 25, it might not even be a big surprise. This new booter could be the real deal Bama has been waiting on for a while now.
Four – Jalen Hurts will start season at quarterback this season. I've correctly picked the opening day starting quarterback every season for as long as I can remember. Even the season where Blake Barnett started, then transferred. I'm not saying that Hurts will ultimately win the job as starter. In fact, I expect Tua to win out that contest. But knowing Saban is key to knowing how the starting QB goes. Saban feels that Hurts has earned the right to show what he can do. Once it's obvious to not just Jalen, but the rest of the fans that the best quarterback is not Hurts, there won't be the feeling that he didn't get a proper shot to keep his job. This is of course only true if Hurts is still on the team on opening day.
Five – For folks worried about losing J.K. Scott and the wonderful weapon he was in our punting game, don't be. This new punter, Skyler DeLong may not have set the world on fire in the A Day game stat wise. He did show that he has the potential to do the job. Alabama will remain among the SEC punting leaders.
Six – Alabama's attendance drops in 2018 and there will be games in Tuscaloosa with empty seats. Folks are just getting too used to winning and feel they don't have to support the team as much. Plus Bama has got to stop playing some of the dogs they do in the schedule.
Seven – Despite some sloppy games, Alabama finally goes undefeated for just the second time in the Nick Saban era.
Eight – Which leads to this one, Alabama wins yet another national championship due to great offense and another great defensive year.
Nine – Alex Leatherwood will rate out as the top offensive lineman this year in fewest sacks allowed. He was a beast in the second half of the national championship game and the light that coaches were wanting to see was finally flipped on for the hulking lineman. There's no turning back now. While getting all the headlines in the past, Alabama's left tackle Jonah Williams has been found lacking in my opinion when I rate him out and has had too many plays where he was beaten.
Ten – Chaos on the defensive side of the ball coming from blitzing corners and safeties, stunts from linebackers and more will result in even more total turnovers than last season when it was thought that this was as good as it got on defense. New defensive coordinator Tosh Lupoi is going to ratchet up chaos and not just rely on Alabama's impressive strength to overpower an opposing offense. I stand by an early prediction that this defense will be known as the "Nasty Boys" for their use of not just size and speed, but unpredictability.
Larry has been published in almost every media outlet for college sports and now primarily writes here for Touchdown Alabama. Follow Larry on Twitter for inside thoughts and game time comments at https://twitter.com/LBSportswriter
THANKS FOR SHARING THE LINK TO THIS STORY ON YOUR FACEBOOK PAGE OR A FACEBOOK GROUP YOU BELONG TO, FACEBOOK RESTRICTS HOW MANY PLACES WE CAN POST IT ON, SO PLEASE SHARE!