Alabama Football News
Shaun Dion Hamilton's departure to NFL served an 'eye opening' notice for Mack Wilson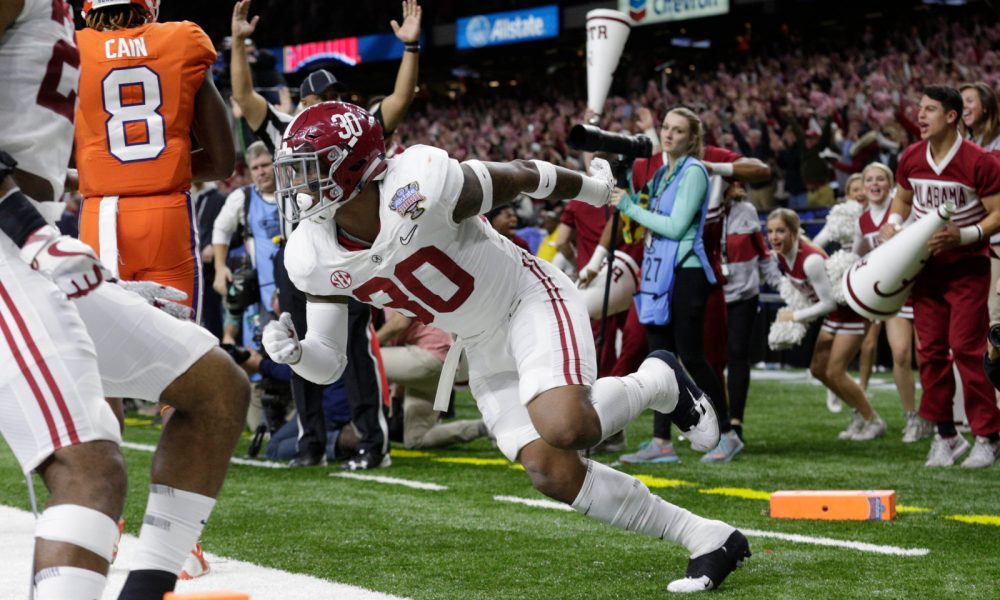 Few places have more talent than what's known as the "Tri-County Area." 
In a region that fits Millbrook, Montgomery, Prattville and Wetumpka, multitudes of athletes surround different high schools in Central Alabama for an opportunity to be recruited and signed to a major division one institution.  
When Shaun Dion Hamilton and Lyndell "Mack" Wilson return to Montgomery to encourage youth, give back to the community at Carver High School or even to see old friends, the pair receive a rockstar's welcome as both are inspirations for others seeking better opportunities. 
As high school teammates, Hamilton and Wilson valued each other. This mentality remained with both at the University of Alabama, especially after the way the latter honored an injured Hamilton (knee) with his play in the 2017 season. Wilson, a flamboyant dresser with freakish athleticism, took to social media a lot in expressing his love and respect for Hamilton's wisdom. 
Even in the face of a season-ending mishap, Hamilton still drew a landing spot in the fifth round of year's NFL Draft to the Washington Redskins. During a conversation between Dezmond Willis – personal coach of Wilson and Hamilton — and yours truly of Touchdown Alabama Magazine, it was seeing Hamilton live out his dream that opened Wilson's eyes. 
"What I love about the relationship of Shaun Dion and Mack is that Shaun Dion taught Wilson how to be a student of the game," Willis said. "Hamilton is the reason why Mack went to Alabama. He showed Wilson the ropes and just seeing his intelligence on the field, Mack wanted to learn more." 
Willis, the founder of Top Rated Speed and Performance Training in Prattville, endured quite a few training sessions with the two linebackers at Carver. He was the wide receivers coach during Wilson's tenure. Before coming to Alabama in 2016 as a five-star prospect, Wilson juggled both quarterback and running back for the Wolverines. 
"Not a lot people know that about him," Willis said of Wilson. "He's blessed with God-given abilities and he also played basketball at Carver too." 
With Hamilton and Rashaan Evans gone, Wilson emerges as the alpha dog for Alabama defensive front seven. After posting 40 tackles and four interceptions in 2017, Willis said the 237-pound superstar is more focused now than he's ever been as he enters his junior season. 
Bout that time of year again. Time to lock in and be great. This the year to make it known who you really are 3o. See y'all in September‼ ROLLTIDE! ?❌?? #Dirty3o™️ #FederalJuniorYear #No30dySafe??‍♂️ pic.twitter.com/SOl5E8wivl

— Lyndell "Mack" Wilson (@iam__mw3o) May 29, 2018
"Mack wants to be the quarterback of this defense," he said. "Just seeing how he looked up to Shaun Dion, guys like Dylan Moses are now watching him. I tell Mack all the time that it's about getting everything in life down. You have to be focused to win at middle linebacker, because everything flows through you. You can't afford to be messing around or have negative baggage." 
While the Montgomery area was happy to watch two of its sons every week, Willis keeps one Alabama play in his memory for years to come. 
"When Mack got that interception against Clemson for a touchdown, I was probably the happiest person in the world," he said. "I'm just so excited for this season. It's a money year for Mack." 
Stephen M. Smith is the managing editor and senior writer for Touchdown Alabama Magazine.  You can "like" him on Facebook or "follow" him on Twitter, via @CoachingMSmith.