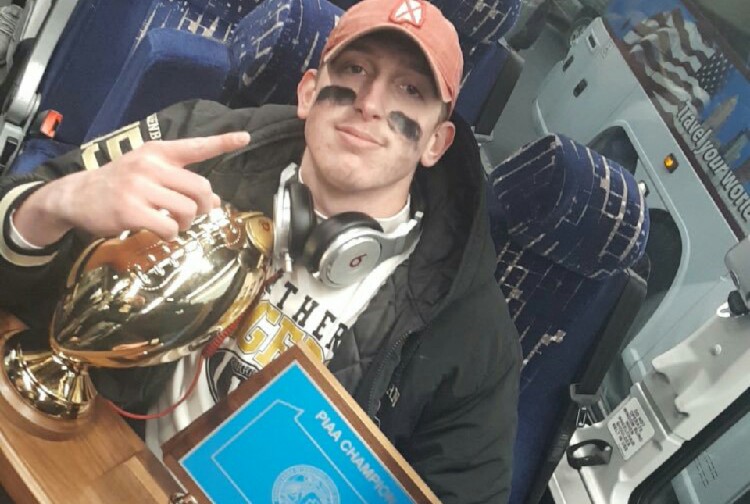 2019 quarterback, Stone Hollenbach, received a preffered walk-on offer from his dream school, Alabama, on Tuesday.
https://twitter.com/HollenbachStone/status/1004038109791772672?s=19
Hollenbach talked to yours truly about his offer.
"Coach Saban told me yesterday that he wanted me to be a part of the program," Hollenbach told Touchdown Alabama on Tuesday. "Coach Gattis told me that they wanted to offer me a preffered walk-on offer today."
The Pennsylvania-native  has always been a fan of Alabama football. The Crimson Tide hold a special place in the hearts of him and his family.
"My dad was always a huge bama fan and I've just always been to," Hollenbach added. "My dog's name is even Bama."
Nick Saban has shown that he wants a heafty amount of quarterbacks on his roster and that's why he would love to add this kid to the Tide's 2019 recruiting class.
Fortunately for the Tide, Hollenbach is no stranger to big moments as he lead his team to a state championship win as a Junior. He threw for more than 2000 yards and 30 touchdowns during that season.
His great production was due to his great mechanics in the pocket. He has an impressive deep ball and knows how to use the small bit of separation his receivers get. Alabama Target and the 2020 No. 1 wide receiver, Julian Fleming, Is one of his wide outs.
Alabama currently has two quarterbacks commits in the 2019 recruiting class, but would like to have Hollenbach on their roster in the future. Touchdown Alabama Magazine will keep you updated on his recruitment and everything Alabama football.
Justin Smith is a Scouting/Recruiting analyst for Touchdown Alabama Magazine. You can follow him on Twitter, via @Jdsmith31Smith