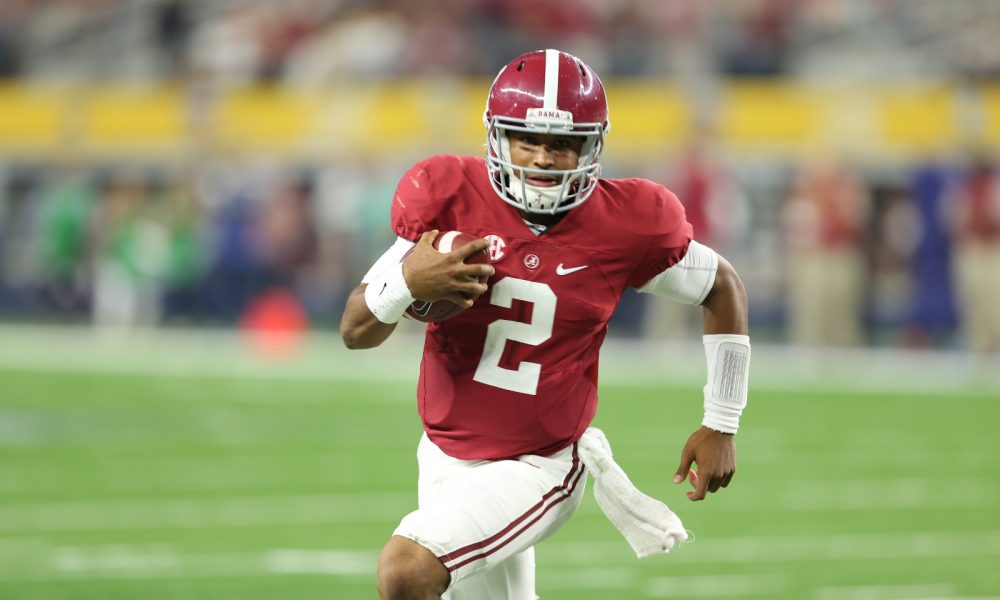 Nick Saban doesn't like quarterback controversies. He wants this one settled before the the games get tougher and who do does this author think will win the job and why? Read and see if you agree.
A Brutal Assessment of the Alabama Quarterback Battle
By: Larry Burton
A quarterback battle is going on at Alabama, but it's a one sided battle with a clear winner and a sure loser. What's sad is that while the fans all clamor for the hero of the last national championship game to take the helm and continue his quest into Alabama lore, there will be a loser who deserves a lot more than to have just been the man that led Alabama to two national championships and never won one himself.
Tua Tagovailoa is clearly going to be the winner of this battle. He's simply a better quarterback now with a far higher upside for the future and he's younger and will be in the program longer. He is a better passer on an average day than Jalen Hurts has shown he can be at his very best.
Then there's this, Hurts has frustrated one of the most talented group of receivers in football because he made them mostly irrelevant. Hurts consistently failed to take the time be patient enough to make even his second, much less his third of fourth read. He didn't as a rule buy time and wait for receivers to work their butts off and finally break coverage, if the first man was covered, he just took off and hoped his feet would make a play. You see, in two years of play, he's never gotten over his gun shyness. It's sad that he has more confidence in his legs than he does his arm, or his receivers and two years of playing time hasn't helped that.
The receivers on this team celebrate Tua. He gives them a chance to make a play. Unlike Hurts, Tua has confidence in himself to squeeze one in despite tight coverage, but more importantly, he shows in faith in his receivers to fight for the pass and come down with it. With Tua in the pocket, linemen fight a little harder to give him that extra second or two because they know he'll use it to keep scanning through his reads and watching to see if a receiver broke his route and is improvising to get open. With Jalen in there, they're never sure if they're pass blocking or run blocking on any given pass play because Hurts is so apt to just take off.
That's the brutal truth of the quarterback battle.
Hurts is respected by his team and coaches, his work ethic is exemplary on and off the field. No one can fault Hurts' dedication. He gives his all, but his all isn't good enough when Alabama needs to pass the ball to win. The sad truth is that if Tua would have been hurt in last year's championship game, Saban would more than likely have turned to Mack Jones to start the second half. Jones is a better natural passing threat now with little experience than Hurts has shown with two years of playing experience. Also, like Tua, Jones isn't afraid to put the ball in the air, force one in or give his receivers the shot and making a play. Something to consider is, Hurts may be not even be the second best quarterback on this team.
That is brutal but could be true too.
Jalen Hurts is interested in being a starting quarterback. He may not stay on the team if that job is taken by someone else. That much has been inferred by his father. While Alabama could still find a role for Hurts, a wildcat quarterback, an H back, slot receiver or more, I don't think that will happen. Tua will play until he leaves for the NFL and his brother seems the likely replacement at that time. That leaves no time for Hurts to reclaim the job here.
The NFL is not going to be interested in Jalen Hurts as a quarterback. He doesn't have NFL skills and doesn't show the promise of developing them. That's brutal too, but he has time to transition and become an NFL commodity at another position like Julian Edelman at New England who was a quarterback at Kent State but became a Super Bowl winning slot receiver. For Jalen's sake, let's hope he sees a huge NFL paycheck at another position beats no paycheck as a quarterback no one wants.
That's brutal but accurate too.
Lastly, if you're a fan of a two quarterback system, I hearken back to the old adage that "If you have two quarterbacks, you don't have one". It's a system that fails much more often than it works. Quarterbacks build on repetition, offenses thrive on being unpredictable. Having one quarterback primarily for running and one primarily for passing eliminates that predictability and that repetition.
So while Hurts may fail to keep his starting job at Alabama, there are few places better to re-invent himself into an NFL commodity. Going somewhere else for the sake of returning to a starting quarterback job may give him some temporary satisfaction, but failing to make it in the NFL won't be worth it and though that too may be brutal, it's good advice that Hurts should consider.
I have too much admiration for Hurts as a man and a player to write this article as a hatchet job on his skills or on him personally, but sometimes when you assess one player against another you have to point out the differences and that was what was intended by this article. It is also not beyond the realm of possibility that Tua could suffer a sophomore slump, Jalen improve his passing and decision making skills and once again win this job. If he does, I'll be one of the loudest people cheering him on and be glad he did. But that seems to be  the lesser of the two possibilities at this point, but hey, only time will tell.
Larry has been published in almost every media outlet for college sports and now primarily writes here for Touchdown Alabama. Follow Larry on Twitter for inside thoughts and game time comments at https://twitter.com/LBSportswriter
THANKS FOR SHARING THE LINK TO THIS STORY ON YOUR FACEBOOK PAGE OR A FACEBOOK GROUP YOU BELONG TO, FACEBOOK RESTRICTS HOW MANY PLACES WE CAN POST IT ON, SO PLEASE SHARE THE LINK.