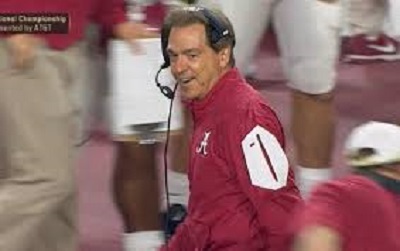 Just like NASCAR likes to try and keep things on a level playing field, so does the NCAA. See the rule changes they've done to try and slow Saban down.
No Coach Has Caused More New Rules to be Implemented Than Saban
By: Larry Burton
Forget for a moment all the championships, all the players put in the NFL, all the recruiting championships and more. Nick Saban will also be remembered as the coach that caused more rule changes than any other coach. You see, the NCAA is kind of like NASCAR, they want to try and keep things on a level playing field and when one team gets too far ahead of the curve, they both try and implement rules to even it back up. While it may have worked to a degree in NASCAR, it seems for the NCAA, not so much.
Let's look back at a few and see how they were meant to slow Saban down, but seem to have failed miserably.
2008 — The Saban Rule on Recruiting –
Nick Saban just works the pants off every other coach, he's like the energizer bunny, he just goes and goes and goes. In recruiting, he just was whipping everyone's butt and seemed to be everywhere at once. That rule kept Saban from evaluating prospects in the Spring and limited the time he could visit with recruits.
The result – Nick Saban has continued to pile up not only number one recruiting classes since 2008, but five more national championships too.
2011 — The oversigning, medically disqualified rule
Nick Saban and to be truthful, other coaches in the SEC had the practice of signing more players than they actually had scholarships to give. Saban knew that some may not qualify, some players may be dismissed from the program, some may transfer and other reasons that he could generally make the numbers work. The NCAA however limited the SEC (and all schools) to how many players they could actually sign. They thought this would cut down on schools who may cut current players, medically disqualify some and other unseeming ways of making scholarships available to the people they thought could do a better job of those that were being let go.
The result – Saban started winning national championships at a faster rate and didn't have to worry about competitors using that rule against him.
2018 — No former players at practice
If Saban didn't have a man on the roster to run the Scout Team who could realistically imitate the upcoming quarterback, just bring in a former player to come back and do it. He did actually do this a few times and the NCAA, but mostly other coaches, didn't like this at all, so they passed a rule banning former players from participating in team practices.
The result – Still to be determined.
2018 — The Limit on Gameday Headsets
Since the NCAA figured they could never win in a court case that limited the number of staff that Saban could hire, as he's done with these "Analysts" he's hired to help him plan, scout and advise. They simply limited the number of headsets a team could use on gameday to limit the amount of input that players and coaches could give one another.
The result – Still to be determined.
If you can't beat them, join them. Nick Saban tried to have rules of his own pushed through, perhaps thinking, since they pass rules, so will I. He'd just try and do what they do.
The rules that Saban wished to push through will follow. And if when they weren't adopted by the NCAA, he simply beat them at their own game, doing the opposite of the rule he wanted, but just doing it better than the others he faced.
2014 — The 10-second rule
Saban wanted to slow the game down, to keep offenses from running such fast paced hurry up offenses that didn't allow his killer defenses time to read and react. Saban wanted a 10 second rule to be implemented between plays to give his defenses time to substitute into appropriate packages as well as rest and read to play and react to it.
The result – The NCAA said no, so Saban hired Lane Kiffin to teach his team to run a hurry up offense and give his defense a chance to see it in practice every day and learn to conquer it. As a result, he won championships faster than ever.
2016 — The Mini Camp Rule
In 2016 Saban was upset that coaches like Urban Meyer from Ohio State were coming into his recruiting territory and conducting summer mini camps for high schoolers to promote not only himself, but Ohio State. He plead his case to the SEC, who promptly banned, then just as quickly unbanned such a practice.
The result – Now Saban takes himself and his coaches to camps outside the traditional footprint of Alabama and rakes in prospects. In one such camp, he showed up where Urban Meyer himself was and thoroughly upstaged him. This season he was down in Lane Kiffins new college doing a camp. Once again Saban proves if you can't beat 'em, join 'em and then beat the hell out 'em by doing a better job of it than your competitor.
Final Analysis
The evolution of Nick Saban continues year in and year out. He and his teams adapt to change to face the current foes every few years. The offensive style of football from his second national championship and first at Alabama in 2009 is wildy different from the team he will put on the field this season and the one you saw in the second half of the national championship. Likewise his defense has changed as have the physical requirements of his defensive front from that time.
Nick Saban either forces a change or adapts to changes better than any other coach in college football today. He has proven you can't pass a rule to slow down his climb for more national championships. What ever rule you pass, he'll just learn a way to beat you with it.
But don't think that the NCAA and other coaches haven't seen this writing on the wall and will stop. As Saban piles up more and more victories in all areas such as recruiting, championships, numbers of advisors and analysts, you can bet they'll try and come up with rules to slow him down, to even the playing field up as it were. But just as they have in the past, they'll fail. Nick Saban and Alabama have combined to create a monster and it will only end when either Nick or "Miss Terry" decide they've had enough and head to Lake Burton.
Larry has been published in almost every media outlet for college sports and now primarily writes here for Touchdown Alabama. Follow Larry on Twitter for inside thoughts and game time comments at https://twitter.com/LBSportswriter
THANKS FOR SHARING THE LINK TO THIS STORY ON YOUR FACEBOOK PAGE OR A FACEBOOK GROUP YOU BELONG TO, FACEBOOK RESTRICTS HOW MANY PLACES WE CAN POST IT ON, SO PLEASE SHARE THE LINK.