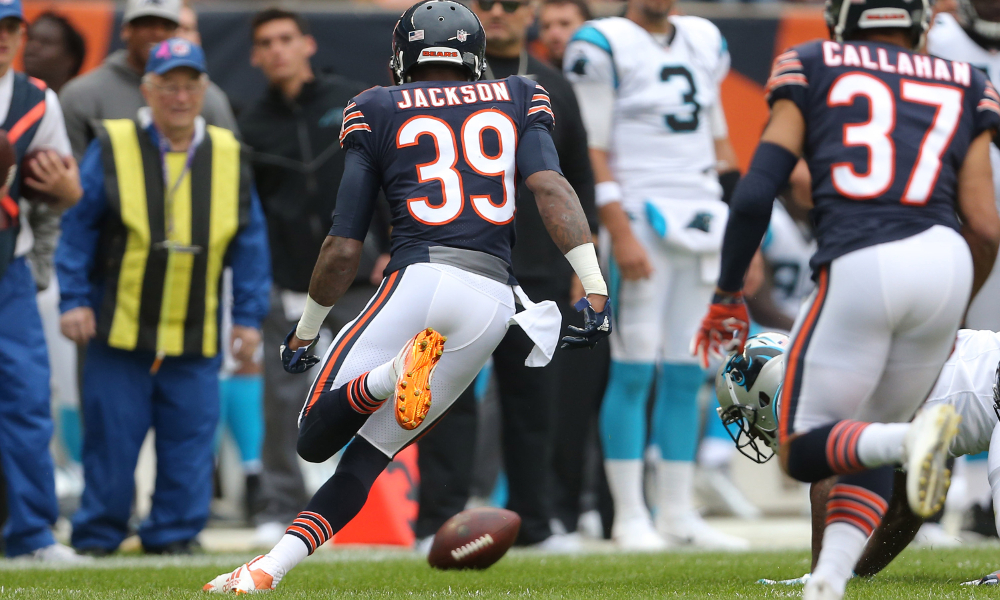 The NFL Preseason kicks off tonight and fans everywhere are elated to see football after a 6 month drought.. Tonight's three games will feature former Crimson Tide players, including, a couple of rookies who will make their NFL debut. Lets take a look at what to expect tonight from these former Alabama stars.
Buccaneers vs Dolphins, 7PM/ET
OJ Howard
Howard had solid rookie campaign wit 26 receptions for 432 yards and 6 touchdowns. With quarterback Jameis Winston suspended, expect this game to be a chance for Howard and backup Ryan Fitzpatrick to develop chemistry. So far in camp it seems Howard is ready to the next step and emerge as one of the top tight ends in the NFC.
Kenyan Drake, Dolphins
Drake showed flashes of what he could do after the team traded Jay Ajayi mid season to Philadelphia. In the last 4 of 5 games to in the season, Drake had at 100 yards from scrimmage. Also, Drake has had a very impressive training camp. New teammate Frank Gore agrees. "I was like, 'Man I kinda see why they traded Jay Ajayi. Kenyan is a very talented guy. He's smart and can do anything on the field," stated Gore, via The Palm Beach Post. That is high praise coming from a man who many think will enter the Hall of Fame one day.
Minkah Fitzpatrick, Dolphins
Fitzpatrick is coming off a fantastic career, playing everywhere in the Crimson Tide secondary. Miami had to scream tears of joy when the former Tide star fell to him at 11 in 2018 NFL Draft. With two pretty good safeties on the roster, (Michael Thomas and T.J. McDonald) it will be interesting to how Defensive Coordinator Matt Burke uses Fitzpatrick. Still, expect Fitzpatrick to find a starting role, as he is too talented and cerebral of a player.
Panthers vs Bills 7PM/ ET
AJ McCaron, Bills
McCaron, for the past two seasons has been campaigning for a starting job, and the Buffalo Bills have elected him. So far, that is. This offseason he was signed away from Cincinnati on a two year, $10 million contract.  He's still in competition with Nathan Peterman and rookie 7th overall pick, Josh Allen. However, I expect the 5th year veteran to get the starting nod on opening day. If he puts together a strong preseason the job will likely be his. If he plays bad though, fans will eventually scream for the highly drafted rookie. Strong play tonight would help McCaron's chances of becoming the starter in Buffalo.
Bears vs Bengals 7PM/ ET
Eddie Jackson, Bears
Jackson was an absolute steal in 2017 Draft. He showed why he should've been higher than a fourth round pick with his strong rookie play. Jackson had two interceptions returned for touchdown last year, and has solidified his status as a starter. Jackson will be the next great Alabama NFL safety, if he continues at this trajectory. In the Hall of Fame game he only played the first quarter, expect him to see extended action tonight.
Dre Kirkpatrick, Bengals
Kirkpatrick started 14 games last year and had 55 total tackles, 14 pass deflections, a sack and an interception. His season was decent last year but he will be pushed by third year corner William Jackson for a starting spot. Many surrounding the Bengals franchise think that he is overpaid. His price tag is $10.5 million and he hasn't developed into a consistent lock down presence on the outside. 2018 is critical for Kirkpatrick, because the his play hasn't matched his massive contract. Hopefully, Kirkpatrick uses the preseason to work out some of the technical flaws from his game.
Browns vs Giants 7PM/ET
Landon Collins, Giants
Heading into his fourth season, Landon Collins has emerged into one of the leagues be safeties. Coming of his second consecutive pro bowl season, Collins looks to pick up where he left off, despite off season forearm surgery. This is a contract year for Collins and I expect him to perform well enough to earn a huge pay day. At 24, he is still in the prime of his career.  Collins will play tonight and looks to be fully recovered from his forearm injury.
Dalvin Tomlinson, Giants
Tomlinson is going into his second year and is looking to build of a strong rookie season. Last year in his rookie season Tomlinson had 50 tackles and a sack. The Giants love his potential and see him as a building block on the defensive line. At times this year, the Giants will line up in a 3-4 defense, and Tomlinson could see snaps at defensive end instead of tackle.
Saints vs Jaguars 7PM/ET
Cam Robinson, Jaguars
Robinson was fantastic as a rookie and will look to grow even more in his second year. He opened holes all year long for fellow rookie, Leonard Fournette. Don't be surprised if Robinson emerges as one of the better young offensive tackles in the NFL.
T.J. Yeldon, Jaguars
Although no longer a starter in Jacksonville, Yeldonstill holds value to the team. Yeldon is the teams clear cut third down option, having caught 80 balls the past two seasons. Its clear that his role in the NFL is as a pass catching specialist. Look for him to get a lot of work this season.
Marcell Dareus, Jaguars
Dareus was traded mid season and looks to be happy now that he's out of Buffalo. Jacksonville is deep on the defensive line and Dareus isn't even listed as a starter. Still, he will be a key piece in the rotation and when you have back up players of his caliber, it usually means your defense is pretty damn good.
Ronnie Harrison, Jaguars
It was a surprise to some that Ronnie Harrison went in the third round.However, he landed in a perfect spot in Jacksonville, and it will be hard not to find snaps for him this season. In training camp, he's lined up at strong safety and nickel corner. That type of versatility is valuable to any NFL team.
Ravens vs Rams
C.J. Mosely, Ravens
Ray Lewis called Mosley the best middle linebacker in the game. I'm not sure about that, but the young linebacker is worthy of high praise . In four years he's been to the pro bowl two times and made two second-team all pro teams. Mosely is worthy of an extension, and if the Ravens don't hurry and pay him, someone else will.
Marlon Humphrey, Ravens
Humphrey provided a huge boost to the Ravens secondary in his rookie season. Humphrey is looking to build off a season where he 34 tackles, 11 pass deflections, and 2 interceptions. Humphrey has a chance to take that next step, like the Jaguars Jalen Ramsey.
Mark Baron, Rams
Baron is entering a contract year and it will be important for him to ball out thus season. With Aaron Donald viewed as a priority, Baron must prove that he valuable enough to not be let go during free agency.
Redskins vs Patriots 7 PM/ET
Daron Payne and Jonathan Allen, Redskins
The two former first round picks are viewed as game changers on the defensive line. If those two play well, that defensive line tandem could be very scary. Allen, looks to regain form after missing most of last season with injury. Payne will provide a huge presence on the interior defensive line.
Ryan Anderson, Redskins
Anderson finished his rookie season with 15 tackles in a reserve role. This season look for his role to be expanded and look for him to emerge as a pass rush specialist for this team. Tonight he will get the start for Ryan Kerrigan, who did not dress tonight.
Donta Hightower, Patriots
Hightower is a pure leader on that Patriot defense. When he isn't  playing, the team suffers and it shows greatly. In order to play in the Patriot defense, one must be smart and able to play fast. Hightower does both at a high level.
Cyrus Jones, Patriots
Jones is on his last leg and must show something after a rough first two years in the NFL. Jones was just cleared to return to practice after suffering a season ending injury in last years preseason. The Patriots have options at corner, and Jones must play his way onto this roster, despite being a second round pick just two years ago.
Titans vs Packers 7PM/ET
Derrick Henry, Titans
Henry showed in the Wild Card Playoff against Kansas City, what he could do in a starting role. He played lights out that game rushing for 156 yards and a touchdown. The teams signed Dion Lewis in the off season, but that should not stop Henry from having a monster season. He is the starter and he will be asked to wear down defenses a lot this season
Rashan Evans, Linebacker
Evans was taken in the first round by the Titans and fans are hoping he can help improve their defense. Evans is in a great position  to learn from Head Coach Mike Vrabel. I'm going to be on the lookout to see how he progresses this year. Te depth at that position is thin for the Titans, and Evans should have no problem earning a starting role by the end of Training Camp.
Colts vs Seahwaks 10 PM/ET
Ryan Kelly, Colts
Kelly has been often injured his first two years in the league and this year he is hoping to shake. The Colts are counting on him to boost an offensive line that has struggled to protect Andrew Luck. If Kelly is back to form he could revamp that side of the trenches. Staying healthy, will be the third year center's main focus of above all. The Colts need Kelly in a desperate way in 2018.
Cowboys vs 49ers 10PM/ET
Reuben Foster, 49ers
Foster will miss the first games of the season for violating the league's personal conduct policy. It will be very important to get as many reps this preseason. Practice shape and in game shape are two different things, so I'm sure the goal is to use this time to get him ready for his week 3 regular season return. If Foster can control the things off the field, look for him to make a huge leap in year two. In his rookie season his talent showed up everywhere on the field.
Bo Scarborough
Scarborough went in the seventh round in the 2018 NFL Draft and usually that means he isn't guaranteed to make the roster.  However, I think that he could flourish in a complementary role to star runner, Ezekiel Elliott. The exceptions for him to succeed won't be as high as they were at Alabama.  With an established starting presence, the rookie can come in and truly learn. So far in camp, It looks like Scarborough is making it hard for the team to look elsewhere for a backup option.
Others in action tonight:
Tim Williams, Ravens
Anthony Averett, Ravens
Bradley Bozeman, Ravens
Brandon Greene, Bears
Robert Foster, Bills
Levi Wallace, Bills
Chance Warmack, Eagles
Deandrew White, Texans
Joshua Frazier, Steelers
Reggie Ragland, Chiefs
Gehrig Deter, Chiefs
Jalston Fowler, Seahawks
DJ Fluker, Seahawks
Shaun Dion Hamilton, Redskins
Cam Sims, Redskins
JK Scott, Packers
Carson Tinker, Jacksonville