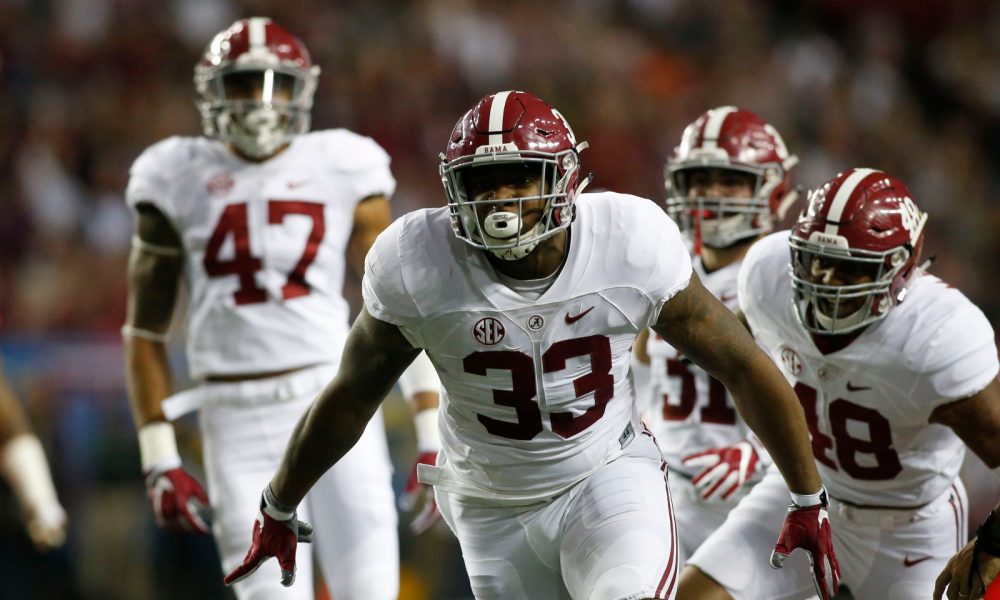 Over the course of the 2018 season, I will profile eligible 2019 NFL Draft prospects on the Alabama football team. In this initial piece, I give scouting reports and draft projections on each player. Scouting reports and draft position are subject to change based on player performance. This section will be updated as needed.
Damien Harris, Running Back 
Strengths: Harris is an electric runner and it's clear that every time he touches the ball something electric is going happen. In three years, he's averaged 6.7 yards per carry, evidence of his big play ability. At 5'11 and 211 pounds, Harris has a compact build that allows him to bounce off of opposing tacklers. Harris is a very patient runner who sets up his blocks well and once his blocks are set he is very decisive when picking a hole. Harris could be a great fit in a one cut, zone scheme. 
Weaknesses: As with all young backs, pass protection can be improved.  Harris could use better leverage when taking on free rushers. Harris has good speed but not elite. Finally, Harris has only caught 14 passes last season. This season scouts will want to see those numbers increase, as more teams are looking for three down running backs. 
Early Draft Projection: Round 2-3
Jonah Williams, Tackle 
Strengths: Wiliams boasts tons of experience, having started 29 games over his first two seasons. The rising junior is also versatile, playing both right and left tackle at a high level. At 6'5, he possesses great size and length needed to control pass rushers. Williams is most effective as a run blocker. Due to his good athleticism, he can execute all blocks in the running game with ease. Williams is a technician, allowing him to be in position to win every snap.  
Weakness: When I study Williams, I don't find many glaring weaknesses in his game. However, that doesn't mean he is a finished product. There are times when he allows a free run at the quarterback, due to overextending too much in pass protection. Also, he is coming off an ankle injury that caused him to only play 27 snaps against Georgia. It will be interesting to see how fully recovered he is post rehab and if it will affect his play this year. 
Early Draft Projection: Top 15 pick 
Ross Pierschbacher, Offensive Guard 
Strengths: Pierchsbacher is also extremely experienced and versatile. Having played in 43 games at all three interior offensive line positions, the rising senior offers great value to any NFL team. In the run game, he uses great leverage to control blockers. When he is asked to pull or make second level blocks, it's not a problem because of his athletic ability. It's fun to see how easy it is for him to make open field blocks in the screen game. This guy is a mauler and makes it a point to finish all of blocks with authority. 
Weaknesses: At 6'3, Pierschbacher lacks elite size and length, meaning he always has to use great technique to win at the point of attack.  He doesn't have the power either to truly dominate defenders all game. Also, due to his lack of length it's sometimes hard for him to win in pass protection. Longer, interior rushers are the norm now and it will be interesting to see how he holds up against those types in 2018. 
Early Draft Projection: Round 2-3 
Raekwon Davis, Defensive End 
Strengths: Davis, at 6'7, 306 pounds is an absolute freak. He's coming off a monster CFP, totaling 10 tackles, 2.0 sacks, 2.5 tackle for loss, and an interception. 8.5 sacks in a season is amazing for an interior player and Davis can do it because of his long arms and speed. His athleticism is rare for a man his size. Its special watching Davis weave and contort his body to get to the quarterback. His arm length allows him to control blockers, which explains why he is a disruptive force. Davis would be an ideal fit in a 3-4 scheme as in a defensive end or defensive tackle in a 4-3.  
Weaknesses: I would love to see Davis show more effort in the run game. If the ball isn't coming to his side, Davis doesn't show full effort in rallying to the ball like an Ed Oliver does. Also, I would like to see more technique in his pass rush moves. Last year he relied upon natural ability to win. This year he must show scouts that he is more refined as a pass rusher.  
Early Draft Projection: Top 5-10 pick 
Anfernee Jennings, Outside Linebacker  
Strengths: Jennings numbers won't pop up at you, but he is a disruptive force who is always around the football. At 6'3, 262 pounds, Jennings has a lot of upside as a pass rusher. Despite having only 1 career sack, there were several times where he still pressured the quarterback effectively last year. Those pressures lead to timely in-completions and turnovers. Effort shows up everywhere on Jennings tape and he never takes a play off. I like his ability to play in space and off the ball. Jennings brings a versatile skill set that would fit any scheme.
Weaknesses: I want to see Jennings finish sacks this season. I believe it's possible as he gains more confidence in his pass rushing role. Last year, he ended his season with a serious knee injury in the Clemson game. Also, he left the FSU game with an ankle injury. It will be worth watching to see if he is fully healthy.  
Early Draft Projection:  Late Round 1-Early Round 2 
Mack Wilson, Inside Linebacker 
Strengths: At 6'2, 230 pounds, Wilson looks the part of an NFL linebacker. His ability to play off the ball and drop in coverage is proven by his four interceptions last year. The lateral quickness he possesses is freakish. I expect him to test well at the combine. In a starting role he will see a huge jump in production.  It's also worth noting that Wilson is an excellent special teams player.  
Weaknesses: Last year, Wilson missed two games after undergoing surgery for a foot injury. I want to see Wilson take on blocks with more aggressiveness. At times, he has issues disengaging from blockers. Taking better angles should improve that and those things will show up less as he gains more experience in a starting role.  
Early Draft Projection: Round 1 
Others Worth Watching: 
Lester Cotton, Guard 
Isaiah Buggs, Defensive End 
Christian Miller, Outside Linebacker  
Savion Smith, Cornerback 
Deionte Thompson, Safety