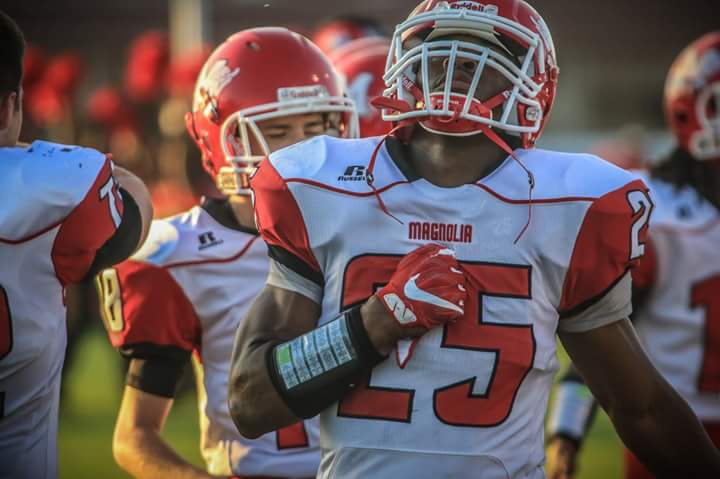 Underrated & Overlooked is a column designed to shine a spotlight on prospects that have potential to play at the next level but do not have the lofty star ratings or the luxury of great exposure. The column will run once a week right here at www.tdalabamamag.com. 
Growing up Demarco Walker was not attracted to football, because of the shine and the glamour of scoring touchdowns and becoming famous; it was the aggressiveness of the game that caught his attention.
"It was the fact that you can hit somebody and get away with it," Walker said. "It was just something that I always wanted to do and look forward to doing."
Walker did not have any family members that played football in high school. His father played baseball and that was pretty much it. He kind of stumbled into football while looking for the sport that would best fit him. Now, Walker lines up in the backfield for Magnolia High school in Magnolia, Arkansas. He plays both linebacker and running back.
At 6-feet-1 inches and 205 pounds; he possesses good size for an SEC back and could easily play outside linebacker at the next level. He does have dreams to play in the SEC.
"I would love to play for Alabama, Arkansas or Missouri.
Although none of those teams are currently in contact with him at the moment, Walker believes he can bring a passion to the game; you will not find anywhere else.
"What makes me different from everyone else is my hard work and work ethic," Walker said. "It's my passion and my drive for the game. I get up early in the morning, get workouts in and when I get the ball in my hand; I run angry."
Walker is a 2020 recruit. Magnolia High School currently uses him as their power back option in their run-heavy offense. He carries are a bit limited at the moment due to Louisiana Monroe RB commit, Kadyn Roach, and 3-Star ATH, Terry Lambert, sharing the backfield with him.
The Arkansas product also knows that there are parts of his game he needs to work on.
"I need to work on my second level of speed on offense and get that second burst in the open field," Walker said. "On defense, I want to work on my hands and reading offenses."
Walker has had contact with some coaches but no offers are on the table. He plans to keep pushing and hopefully one will come soon.