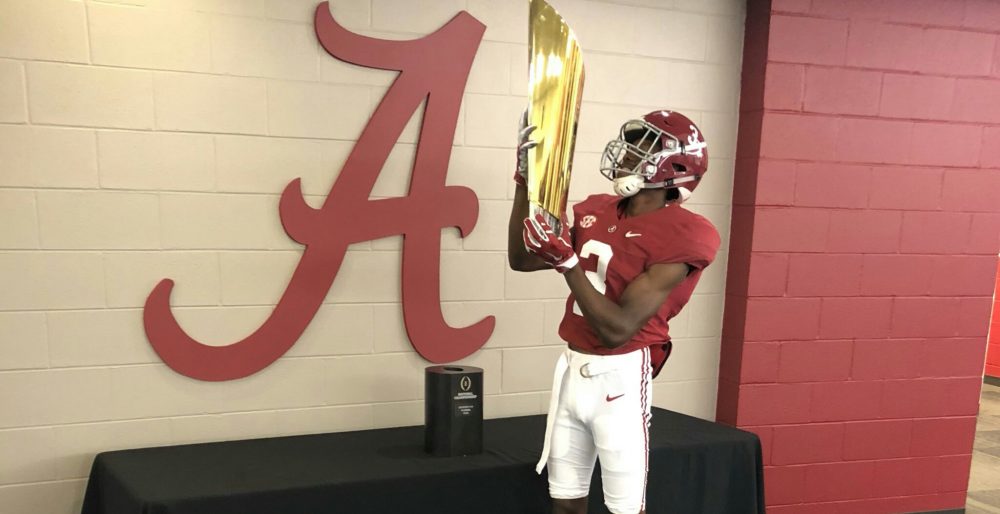 Alabama 2019 wide receiver target, Jameson Williamson, will announced his commitment on Sept. 28.
His top schools at the moment are Nebraska, Ohio State, Oregon, Alabama and UCLA. The Tide were able to get him on campus this Summer in June and he described it as a "great time".
https://twitter.com/juicedupjameson/status/1010203817181368320
His visit to Tuscaloosa was followed up by trips to Nebraska and Ohio State. He visited Oregon and UCLA before he visied Tuscaloosa. It looks as if Williams has given every school a fair shake by visiting all of his top schools. It know all comes down to his decision.
Alabama currently has one 2019 wideout committed in John Metchie. Metchie is an aggressive wideout that plays very tough. Williamson on the other hand is wideout that plays very similar to Alabama's current wide receivers.
He is dangerous in the open field and knows how to make plays with an extended repertoire of juke moves. He has a slim frame at 6-feet-1 inches and 169 pounds. He can stand to add on a few more pounds but could ultimately be a nice addition to the Tide's 2019 recruiting class.
His announcement is coming earlier than expect as he did plan to take another visit to Tuscaloosa in October. It'll be interesting to see where he chooses to go.