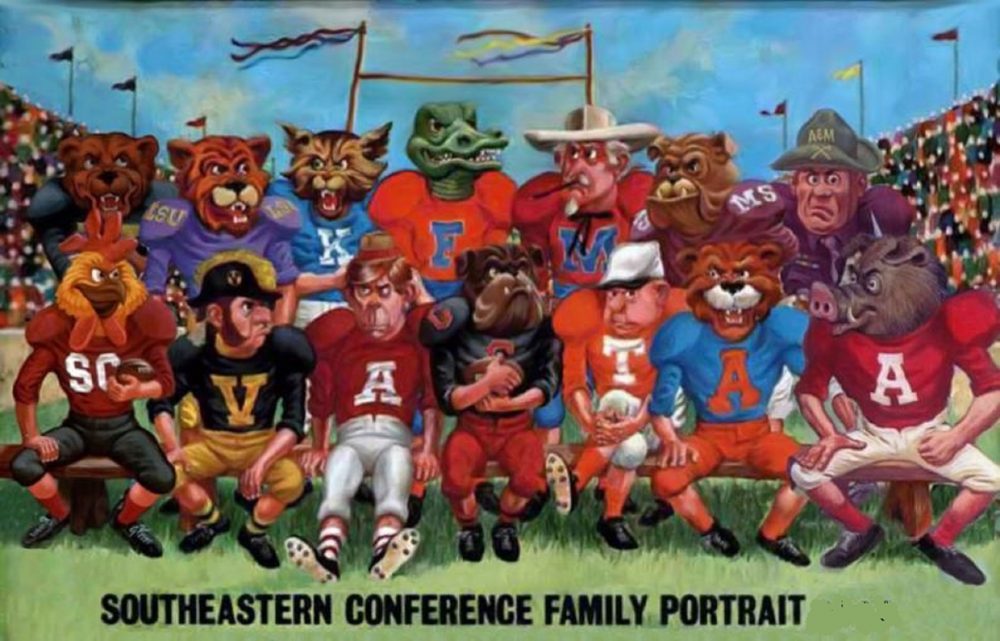 We think we have it all figured out this week but you should see if you agree. See if you can out pick the professional prognosticators who practically practice permanent perfection.
Larry's Losers in the SEC – Week 6 – 2018
By: Larry Burton
Well darn it all, we may just have to start believing in those Kentucky Kitties as we keep waiting for the bubble to burst up there, but they just keep on proving us wrong. So last week we missed another game and guess which one it was.
Still, we're having an excellent year of picks but still have not predicted pigskin perfection yet. So this week we'll see if the Cats really do have nine lives, because we are picking against them once again and there's another nail biter we're anxious to see finish on our side.
The football's only going to get better as the weeks go on, but let's just get on with this week and see how good we've done.
Alabama at Arkansas – The pummeling Pachyderms parade into Arkansas to stomp the Sows in front of their own adoring fans, but the Piggies have been in the situation before and gave these Tiders all the tusking they could handle and they're going to try and do that once again.
You know, if the clan in Crimson take these swine too lightly, it could be a contest they have to pull out late and this pack of Pigs are going to ambush somebody this fall, you just wait and see.
But it's not today and that makes Larry's loser – Arkansas
Sadly, even Arkansas' streaker had trouble crossing the 60 yard line.
LSU at Florida – In a wonderful game that will tell us all just where these programs really are, the Cajun Kitties from crayfish country come a calling to the East coast Swamp to try and prove that this is a team with serious post season sagas yet to tell.
Now in a game that could be close, they say go with the home team, but I don't know that it's going to be as close as most think.
The Tigers just seem to have more muscle so we're going with muscle over Mud Puppies and that makes Larry's loser – Florida
Ed Orgeron asked Troy Landry for some Gator advice, but "Choot 'em" was something Orgeron said he couldn't do.
Vanderbilt at Georgia – The song city Sailors sail on down to Pooch Town and hope to get these Doggies chasing their own tail and overlooking these forlorn footballers.
The trip down may be a pleasant sail, but trying to get back to the home port may be a problem after this pack of Pooches chew so many holes in the hull of the Commodores canoe.
In a game where the Dogs pad the stats, Larry's loser – Vanderbilt
University of Louisiana Monroe at Ole Miss – The weary Warhawks from down in crayfish country come flapping into Oxford to take on the Rebels, or Bear or Landsharks or whatever they're calling themselves this year.
This is yet another SEC vs the cupcake crowd and for some reason this just embarrasses me more this year than in years past.
So in another one that pads Ole Miss' stats as well as my own, Larry's loser – UL Monroe
Auburn at Mississippi State – This is a game that all of us at the Loser's Lair think is for second place in the SEC West, so when the Tigers from Wiregrass Country take to tussling with the Mutts from Mississippi it's gonna be war.
I remember my little pigskin pickin' pooch always telling me that home field is worth at three points in the SEC contests and I think that this one could be close enough for that to matter.
But in the end, Auburn just has more talent in the pool than the Pooches can pour out and that will tilt the tally and make Larry's loser – Mississippi State
I may have to use a sick day for this Saturday. I don't feel like mascoting this game.
Missouri at South Carolina – When the Mid Country Missouri Men mosey down to South Carolina to try and rob the Henhouse it's going to have big consequences in how the SEC East shapes up it's top three teams.
If the Tigers get on an early roll and keep it going, they can count those chickens that have already hatched. These two teams are going to put up some points and the feathers and fur are gonna fly for most of the day in this one.
But all good things must come to an end and when this one does, I expect to see the Tigers laying the egg and not the Cluckers. Larry's loser – Missouri
Kentucky at Texas A&M – The Blue Grass Bobtails hightail it down Texas way to agitate the Aggies and steal a cross conference win in the SEC and show that these Kentucky Kitties aren't show show Cats, but need to be taken seriously.
But Jimbo Fisher is feeling a lot more at home in his SEC sanctuary and he's aiming to make a real statement that his comfort level in College Station is gonna make a lot of people a lot more uncomfortable.
If I lose this one, I'll write I believe in Kentucky 1000 times on the blackboard. But this one could get out of hand in a hurry if the Cats don't stop the track meet and it might be entertaining to watch, but Larry's loser will wind up being – Kentucky
This is gonna be a heck of a fight, but you catch football with boxing gloves.
Well that's it for this week folks. Put you picks against these and let's see who the perfect predictors are. Well at least for this week. Till next week, God bless these United States and let us only disagree on football bad music. See you back here next Thursday.
LARRY HAS BEEN PUBLISHED IN ALMOST EVERY MEDIA OUTLET FOR COLLEGE SPORTS AND NOW PRIMARILY WRITES HERE FOR TOUCHDOWN ALABAMA. HE WRITES IN A COLLOQUIAL AND IRREVERENT STYLE FOR THIS SERIES OF ARTICLES. LARRY'S VIEWS AND SENSE OF HUMOR MAY OFFEND, BUT HE AIMS TO OFFEND EVERYONE EQUALLY. IF HE HASN'T INSULTED YOUR FAVORITE TEAM WITH LARRY'S LOSERS, JUST WAIT. FOLLOW LARRY ON TWITTER FOR INSIDE THOUGHTS AND GAME TIME COMMENTS AT HTTPS://TWITTER.COM/LBSPORTSWRITER
THANKS FOR SHARING THE LINK TO THIS STORY ON YOUR FACEBOOK, TWITTER, SNAPCHAT, INSTAGRAM OR OTHER PAGES OR A FACEBOOK GROUP YOU BELONG TO. PLEASE SHARE!