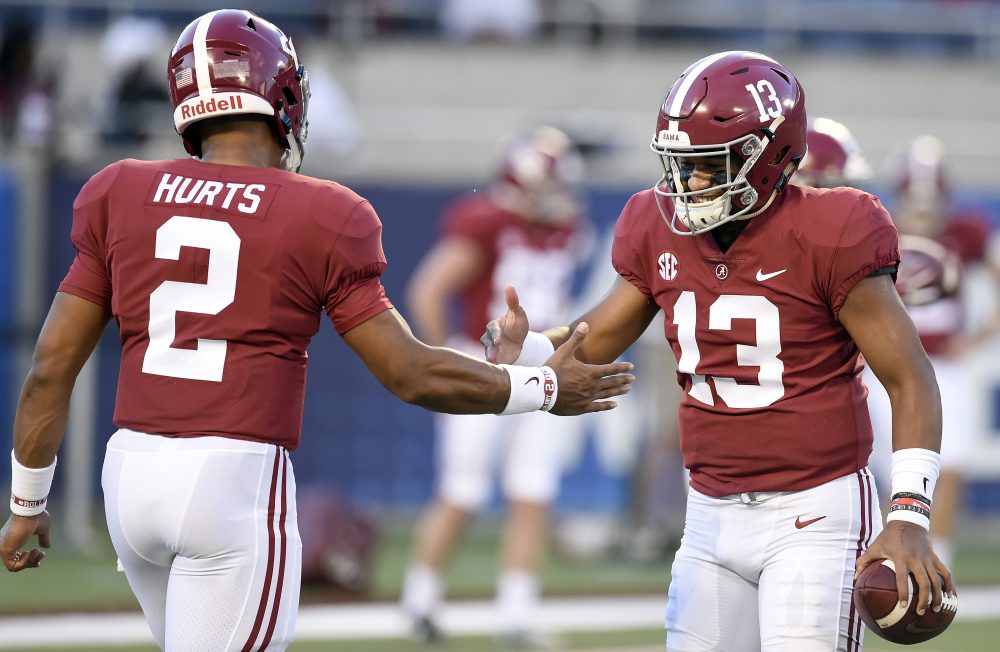 Anyone who has followed Alabama since the national championship game knows about the importance of the quarterback competition. Jalen Hurts has a remarkable record as a starting quarterback going 26-2 and leading Alabama to two national championship appearances. Tua Tagovailoa came off the bench to lead Alabama to their 17th national championship. Both quarterbacks are extremely talented, but when Nick Saban made the decision to start Tagovailoa over the veteran Hurts this season there has been a notable difference in the offense.
In the past, Alabama has been known for a dominant defense and an offense that featured a strong running game and a top wide receiver. This season the team looks different where Alabama is not being talked about for defense but rather their offense. The ball has been spread out to different players and there are times when the tight end is featured as well.
Six players have at least ten receptions and of those six players, five of them have at least two touchdowns and more than 100 yards. The ball has been spread to different players and it is all thanks to Tua Tagovailoa.
One of the biggest questions with Tua winning the job was what would happen with Jalen Hurts. Jalen had lost his job but he stuck with the Crimson Tide and has now embraced his role as a backup quarterback. Hurts has the opportunity to work with Dan Enos who is a notable quarterback guru and has helped Hurts become a better passer.
Even with Tagovailoa as the starter, there is no bigger supporter than Jalen Hurts. After a touchdown drive, Hurts is one of the first people to find Tua and congratulate him and the same is done when Hurts leads a touchdown drive.
When Jalen faced backlash over the summer, the person who came to his defense was Tua — and during the season Tua's father stated how thankful he was that Tua had a friend like Jalen in his life — and the Tagovailoa family prays for Jalen. Galu Tagovailoa exclaims how excited he is that Jalen took Tua in like a brother and the bond between the two quarterbacks has grown over the season.
It surprised many when Jalen Hurts decided not to transfer and stay at Alabama as the backup. This past year Hurts is completing more of his passes and looks like a complete quarterback. Having both quarterbacks stay has benefited not only Alabama but the relationship between the two.
There are no bigger supporters of Tua and Jalen then the quarterbacks themselves and this friendship has not only benefited them but the team as well. Alabama has their quarterback but they also have a leader in Jalen Hurts.