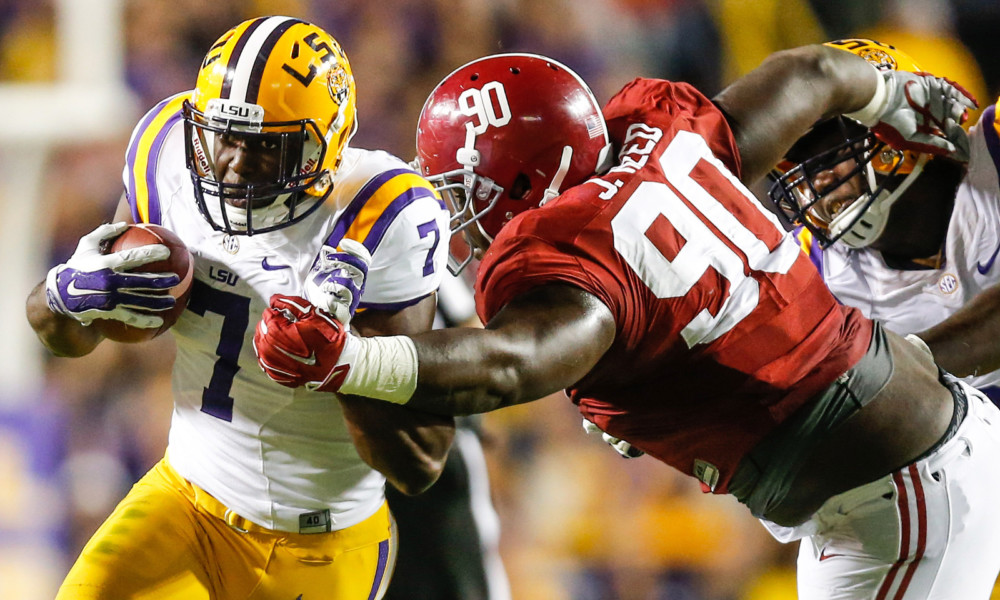 For Alabama football fans, every game is special. But this next game means just a little more to some current and past Tide greats.
Alabama football- One of the things that makes the Alabama football program so great is the wide reach that Nick Saban and the University of Alabama football program have. Of course the Tide sign the best players from the state of Alabama, but nobody else goes out of their home state to cherry pick the nation's top talent annually quite like Alabama. One state that has been particularly good to Bama in recent years is Louisiana. Some of the best high school football in the world happens on Friday nights down in the bayou, and many of those top prospects have chosen to leave home and chase greatness in Tuscaloosa.
Yesterday, I had a chance to speak to former Alabama football player and Louisiana native, Bradley Sylve. Here's what he had to say about going back home to play in one of the toughest atmospheres in all of college football.
RG: Biggest game of the year is just a few days away, Alabama vs LSU. How was it for you going back home to play in Tiger Stadium? How'd you get yourself mentally ready to go play in such a hostile environment?
BS: Man, to be honest, I loved it. Those Bama-LSU battles were some of my favorite memories of my time with Alabama. Playing against my hometown team was great. I already knew what to expect when we stepped into that stadium, because I'd attended multiple games there during my recruitment. It was loud, crazy, and I knew LSU would give us their best shot every game, so I knew I had to come with everything I had.
RG: What was your favorite moment from those games against the Tigers?
BS: I'd have to say the game-winning screen pass from AJ McCarron to TJ Yeldon. That was just an unbelievable moment.
RG: Several times we've seen Alabama have to fight through adversity against LSU to secure a victory. What was your worst memory of playing LSU?
BS: No doubt it was the loss in 2011. But, we all know how that turned out for them.
This year's edition of Bama vs LSU will feature several top recruits and even a former player that the LSU  coaching staff let slip away. All eyes will be on guys like Devonta Smith, Isaiah Buggs, Dillon Moses, Savion Smith and others to see exactly how they write their page in the storied history of the Crimson Tide of Alabama vs the Tigers of LSU. There may not be a more pivotal moment in these young mens' time at Alabama than the number one versus number three matchup that is set to take place this upcoming Saturday in Baton Rouge.
https://tdalabamamag.com/2018/10/30/alabama-ol-trying-new-wrinkle-craig-kuligowksi-coaching-up-young-dl/
Stay tuned to TDAlabamaMag for all your Alabama football and recruiting news, analysis, and updates. Follow us on Twitter @TDAlabamaMag.
Ricky Green is a staff writer for Touchdown Alabama Magazine. Follow him on Twitter @rickylamargeen