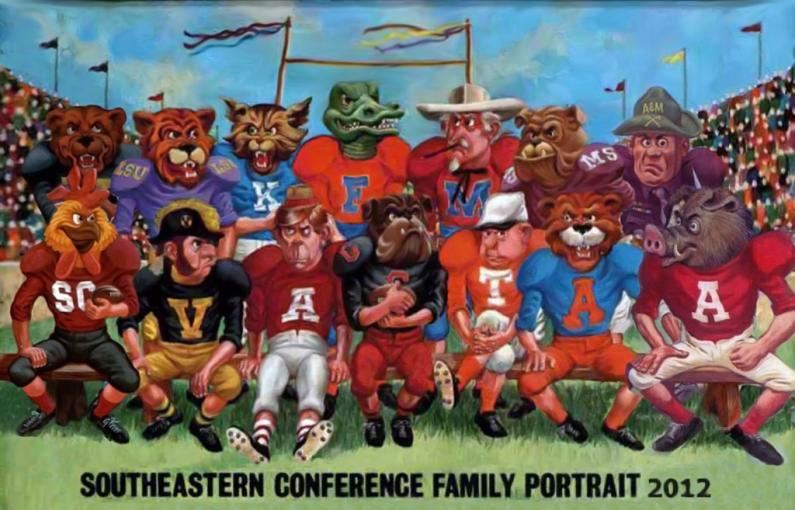 So it all comes down to the two teams we told you it would come down to and for the first time, we'll not just say who'll lose, but what the losing score is. See if you agree.
Larry's Losers in the SEC – 2018 Season Championship Edition
By: Larry Burton
Well sports fans, it's been a wild and crazy season that's come down to one final list of losers or to be more precise, a list of just one more loser.
We did a pretty good job of braining out how the bowl games would go we nailed the final week of SEC play and to end things on a high note and we certainly intend to finish this season with bang.
Though there were many pitfalls and missed games in the midst of the mind boggling regular season, the season ends just the way we thought it would with the two teams we always thought would be here.
So this year, for the first time in Larry's loser history, we're not just going to pick the loser, but the losing score too. So without further ado, let's get to the rational, reasoning and reckless thoughts that will reveal the repulsive one.
Alabama vs Clemson – version 4.0 – Monday January 7th – Levi Stadium – Santa Clara, California –
Some may say it's just the same old story, but when Dabo brings the Clemson Cat show to California, it's with an all new quarterback, an all new swagger and the same old great defense. And with the prior championship contests standing at just two to one, these playoff Purrers figure that this is their chance to even the score and make this their year.
But the pack of Pachyderms plan on pummeling these Pussycats and parading off with another playoff trophy.
What we see is a war that could last from beginning to end, but if one team does it a runaway, it won't be the team with stripes. But when the claws quit scratching and the tusks stop tearing, we see the furry footballers heading to the locker room while the Pachyderms parade around with a new trophy. That makes Larry's loser Clemson, 36-27.
"Dabo, I'm going to gameplan, you just keep taking selfies with that trophy. It's as close as you're ever to get to another one while I'm still coaching, aright?"
Well that's it for this season folks. Thanks so much for following us all these years and we look forward to listing these losers for a few more years if the good Lord's willing and the creek don't rise. Or in our case, if the hurricanes stay away. So until next season, I wish you all the Happiest New Year and may God bless you all and bring you back here to the finest spot for specific stories you want to survey that concerns your football needs.
*Get the BEST Alabama football insider information, message board access, and recruiting coverage today! SIGN UP HERE to unlock our subscriber only content!*
LARRY HAS BEEN PUBLISHED IN ALMOST EVERY MEDIA OUTLET FOR COLLEGE SPORTS AND NOW PRIMARILY WRITES HERE FOR TOUCHDOWN ALABAMA. HE WRITES IN A COLLOQUIAL AND IRREVERENT STYLE FOR THIS SERIES OF ARTICLES. LARRY'S VIEWS AND SENSE OF HUMOR MAY OFFEND, BUT HE AIMS TO OFFEND EVERYONE EQUALLY. IF HE HASN'T INSULTED YOUR FAVORITE TEAM WITH LARRY'S LOSERS, JUST WAIT. FOLLOW LARRY ON TWITTER FOR INSIDE THOUGHTS AND GAME TIME COMMENTS AT HTTPS://TWITTER.COM/LBSPORTSWRITER
DON'T FORGET TO SHARE THE ADDRESS OF THIS STORY ON YOUR FACEBOOK, TWITTER AND SNAPCHAT PAGES SO YOUR FRIENDS WILL KNOW YOU'RE COOL!