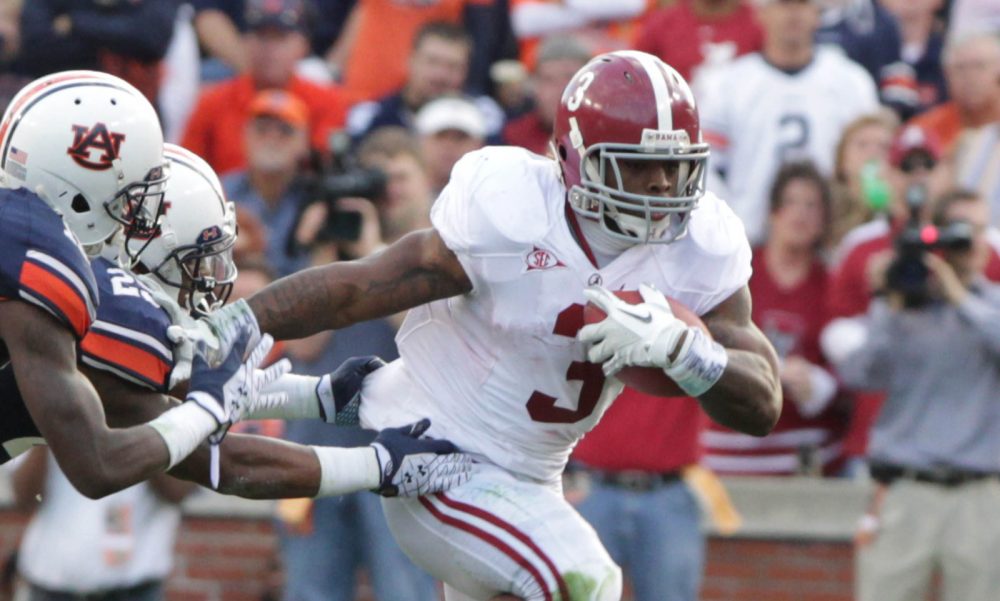 Sometimes you need a kick in the butt, some constructive criticism and a little advice. We can just hope it's not too late to do this for Trent Richardson.
This is a commentary from me, Larry Burton and is not intended to portray the beliefs or thoughts of this magazine or any of it's other writers.  
Trent Richardson Needs to Grow Up and Realize He's On His Last Chance
By: Larry Burton
A Commentary and open letter to Trent Richardson
Trent, I've known you since interviewing you as a player at Alabama. During your years at Alabama, you were respectful, humble and in control of your emotions and life. You worked your butt off and became a great football player and because of all that the reputation you earned as a good student athlete, the NFL was more than willing to usher you into their ranks.
I won't go into playing psychology and pretend to know everything that went through your mind after getting into the NFL, but it was evident that without the structured disciplined environment of Alabama and their players and coaches around you that you became less focused on maintaining that great hardworking reputation.
Beside the declining production and overall play, your personal life seemed to spiral into things that showed you didn't have football, family and image in mind. First there was the sex tape scandal, losing 1.6 million dollars to your family and friends, You just weren't managing much of your life in a way that showed maturity and good judgement. Then there was the episode at Wal Mart that turned into a domestic violence arrest. Really? You became another goofy Wal Mart person joke.
The Browns traded you because they saw things begin to unravel before the rest of the NFL did. The Colts dumped you because of your sliding production and lack of ability to read zone blocking, something different that you had at Alabama, where you were told to hit the hole between the tackle and tight end and Alabama's superior offensive line was usually good enough to give you that hole. In the NFL a myriad of folks began to see that when you had to read where the hole would develop, you read it wrong or didn't see it.
Your NFL career ended with the Oakland Raiders with the infamous play so often replayed where you missed a freight train size hole and instead run into the backs of your own blockers but you can Google Richardson misses the hole and see many more. The NFL lost faith in you.
Football analyst and now AAF football general manager Phil Steele said it best when he talked about you and said there was an old saying in the NFL that three strikes and you're out. Whether you would have made it in the Canadian Football League is up in the air since you left that league rather than have child problems moving to another country.
So now here you are at your very last chance. Folks are wondering if you've finally had enough time to heal some nagging injuries. They're wondering if you've developed better vision to find the holes. They're wondering if you have finally matured, got your life back in order, learned from your mistakes and ready to act like a professional again.
So while I delight as much as anyone who supported you in Crimson to see you get this last chance and look like you still have something to contribute to the game, I cringed when you drew and unsportsmanlike penalty and mugged for the cameras after your good plays. You're an "Alabama Man" you know, you're supposed to score and hand the ball to the ref and act like you've been there before. How many times did you hear this at Alabama?
That would have shown not just the NFL scouts, but the world that you were taking things seriously and just taking care of business, that you were going back to the ways you had at Alabama.
Now I know there are some that think it's OK for show such exuberance after a big play and that is just part of the game and for some, maybe so. But not for a guy who every NFL eye is on and just looking for something to solidify the way the already feel about his failures.
Trent, I'm old enough to be your dad I give you this advice as a father would his own beloved son. Just play football and take care of business. Take this job seriously. Don't mug for the cameras, don't pose after a touchdown, act like you've done it before. Show that any great play you do was expected and not an unexpected thing to celebrate. Show them you're not the man you were in the NFL, that you've grown, that you've changed.
Be a leader, be an example for others, but mostly, be serious. Let your play do the talking. And one last thing, know that there are will always be people who will delight in seeing you fail, but there are many more who want to see you succeed. Roll Trent Roll…
*Get the BEST Alabama football insider information, message board access, and recruiting coverage today! SIGN UP HERE to unlock our subscriber only content!*
Larry has been published in almost every media outlet for college sports and now primarily writes here for Touchdown Alabama. Follow Larry on Twitter for inside thoughts and game time comments at https://twitter.com/LBSportswriter
THANKS FOR SHARING THE LINK TO THIS STORY ON YOUR FACEBOOK, TWITTER, SNAPCHAT, INSTAGRAM OR OTHER PAGES OR A FACEBOOK GROUP YOU BELONG TO. PLEASE SHARE!