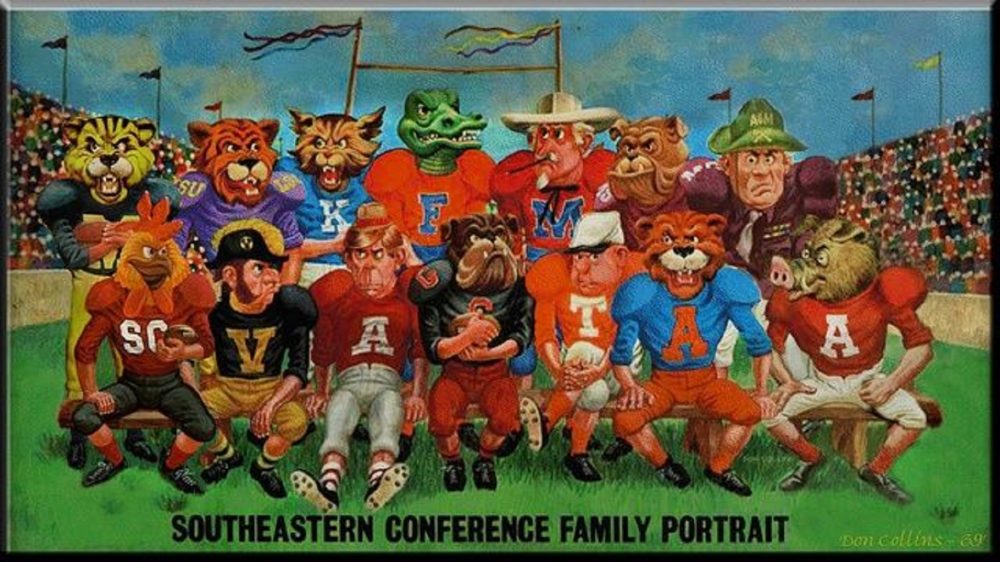 So you think you have things all figured out. But unless you linger over Larry's Losers in the SEC, you won't be sure to be happy or cry this week!
Well sports fans can you believe it's that time again? Footballs will be flung and fumbled all over the country, but we here at the Loser's Lair only worry about the suckees of the SEC and it excites us all to know when this week is over we'll have weeks of losers to come.
These first few weeks it'll be a lengthy list as most teams don't jump into their SEC foes right away, so while it puts more work on us, they'll be some conversational contests to compare and some match ups that we just don't see every year.
Now I'm breaking in a new pigskin pickin' pooch after toiling last season without my prognosticating pal Bacardi the Wonder Dog who helped me pick games for 12 years. Last season we red shirted Sir Rumsley the practicing prognosticating pug and just let him watch and learn and while he's still quite a puppy, we're hoping to have some insights on certain games that he just sniffs the loser on certain teams.
We talked some of these over before I left for vacation and this week I'm sailing around the island of Japan, so if you can do me a favor, post this on your favorite Alabama Facebook site as I can't from here. Well, we've babbled enough and now lets get down to forecasting some football.
Florida vs. Miami in Orlando, Florida – It all kicks off August 24th when Mullen's Mudpuppies and Manny's Miami men get together just outside of Mickey Mouse land.
Now even though the boys in Las Vegas see the Gators gathering this win, Manny Diaz thinks this is just the first of many big wins on the way to an appearance in the ACC Championship.
But then some people think the earth is flat and these leather skinned long tail Lizards think they've got all the teeth they need to take a bite out of these breezy ballers and we think they do to. Larry's loser – Miami
Texas State at Texas A&M – Another early contest on August 29th, just two days before it really all gets going. This game will garner a lot of looks even though it's really a cupcake classic because we're all starving for some football.
Now Fisher's farm hands have a tough season ahead, but this sure isn't one of those contests and the Bobcats are going to get planted out in the South 40 after this so called contest.
What will make this game interesting is the over and under line on how many times the SEC Network telecast crew mention A&M's tough schedule this season. The line is 10. Larry's loser – Texas State
Toledo at Kentucky – The tribe from Toledo toodles down to bluegrass country for an opening week war with the Wildcats.
While we aren't expecting much from these Mildcats over the course of the year, in this game they'll at least look the team that generated so much talk last season.
So in this contest, the only Rocket's red glare you see in this one is when the Toledo versions implode under the pressure of the Pussycat's pummeling. Larry's loser – Toledo
Ole Miss at Memphis – The Rebels ramble up to Memphis to try and catch a Tiger by the tail but these Tigers aren't the same clan of Cats they were when Ole Miss scheduled this game and Johnny Reb ain't gonna like the reception he receives.
The Reb's head coach is Luckless Luke in this game as he won't have time to fine tune his footballers before he butts heads with some ballers who are simply just a little bit better at this stage of the season.
We like the mix of his coaches, but it'll take more than one game to get his players to get these players on the same page, but they'll make a game out of it we're betting. Larry's loser – Ole Miss
Louisiana vs. Mississippi State in New Orleans – Moorhead's Mongrels had a good season last year for a first year coach and now they want to prove that they can do it with the new coach's cranium and not the leftovers from the Mullen era.
So when the dog go barking up the right tree in New Orleans, they'll have some Rajun Cajun's hanging onto the limbs to keep from being kibbles and bits for these Canines.
It's a cupcake classic with all the trimmings and there's no doubt how this one will turn out. Larry's loser – Louisiana
North Carolina vs. South Carolina in Charlotte – When the Tarheels travel down to Charlotte to grapple with the Gamecocks it's going to be a fine football fight.
We see this as a shaky pick as both teams could wind up the loser, so Muschamp's feathered footballers better come into this with their talons sharpened and and their peckers polished as old Mack Brown has a trick or two left up his sleeve.
This is gonna have the look and feel of a good bowl game and while we're not 100% on this one, we're betting on the birds in this one. Larry's loser – North Carolina
Georgia State at Tennessee – Now the Panthers will come a prowling up to Knoxville to see if they vie with the Volunteers and scratch out an upset.
But Pruitt's peeps have been prepping for the Panthers and they aren't about to partake in any pity party for these pussycats.
This is another opening day cupcake classic and the game will be as boring as it is useless to the Cats. Larry's loser – Georgia State
Duke vs. Alabama in Atlanta – Those Demonic Deacons from Duke drive on down to A Town to see their team measures up to the top tiered Tide team from Tuscaloosa.
But Nick Saban done wrote Coach Cutliff and told him if he wants to measure his team against the Tide he better bring a long damn tape measure 'cause the distance ain't short.
Now Duke is a good solid team, but Bama bashes them badly and makes it look like a cupcake classic. Look for a runaway in this one. Larry's loser – Duke

A program from the last time Duke had a chance to beat Alabama!
Portland State at Arkansas – In the SEC's perfect world, this would be a cupcake game, but then these pitiful Piggies would be a better team in the SEC's perfect world. So when these Vikings come to raid the Pig pen, it could just happen.
Now the head Pig caller is Chad Morris is going to have a tough enough time trying to tally wins this season without having to worry about not locking one up against a team that was a cupcake when they scheduled it.
I think this could be a nail biter, but the home pen advantage makes the difference and though these Vikings will huff and puff, they won't blow down these little Piggie's house. Larry's loser – Portland State
Georgia at Vanderbilt – Kirby's Canines carpool up to the country crooning capital to start the 2019 season and they're looking for some smooth sailing on the waters in the Commodores pond.
I'd like to say that these Song City Sailors could summon up some kind of contest in this one, but then I'd like to able say that I won't miss a pick this whole season either.
And since we know that won't happen, the 'Dores won't make much a game out of this one either. Larry's loser – Vanderbilt
Oregon vs. Auburn in Arlington – In what will be the marquee game of two teams wanting to make a statement and start a season right, the War Eagles fly into Texas to meet their cousins the Ducks in what will be a full fledged feathered football fight.
There's so many question marks with both these teams, it's really hard to tell who could be the one most ready and everybody knows this one could go either way.
But in the end, we figure that Malzahn can present more problems than Christobal can stop and that when the feathers stop flying and the air clears enough to see the scoreboard, Larry's loser will be Oregon.
Duck, It's what's for dinner….
Georgia Southern vs. LSU – Chad's chumps, the Eagles from Georgia Southern come to Baton Rouge for a big paycheck and a bigger butt whipping.
They say this is the season where Coach O finally puts his stamp on this team and starts trampling folks like they used to and at least this week, they'll look like that team.
So unless your son plays for LSU, this might not be game you should be watching, not with finer football going on elsewhere. Larry's loser – Georgia Southern
Missouri at Wyoming – When the Tigers come a tapping on the front door of the Cowboy's corral, they should just lock the door and play like they aren't at home.
Because I just have a hunch that this bunch from the Show Me State are going to be a handful for any team that tries to trouble them this season.
So thank your lucky stars that there's a better game to be watching, because this game is going to get badly boring very quickly. Larry's loser – Wyoming
These Tigers prove they can out cowboy the Cowboys.
Well that's it for this week folks! We still got some cupcake classics coming our way, but we're also fixing to have some games that'll be doozies. And remember, you won't know who's holding the short straw until you read Larry's Losers in the SEC each week.
So till then, stock up on the gametime snacks and get your crying towels all washed and folded and we'll see you back here next week!
*Get the BEST Alabama football insider information, message board access, and recruiting coverage today! SIGN UP HERE to unlock our subscriber only content!*
LARRY HAS BEEN PUBLISHED IN ALMOST EVERY MEDIA OUTLET FOR COLLEGE SPORTS AND NOW PRIMARILY WRITES HERE FOR TOUCHDOWN ALABAMA. HE WRITES IN A COLLOQUIAL AND IRREVERENT STYLE FOR THIS SERIES OF ARTICLES. LARRY'S VIEWS AND SENSE OF HUMOR MAY OFFEND, BUT HE AIMS TO OFFEND EVERYONE EQUALLY. IF HE HASN'T INSULTED YOUR FAVORITE TEAM WITH LARRY'S LOSERS, JUST WAIT. FOLLOW LARRY ON TWITTER FOR INSIDE THOUGHTS AND GAME TIME COMMENTS AT HTTPS://TWITTER.COM/LBSPORTSWRITER