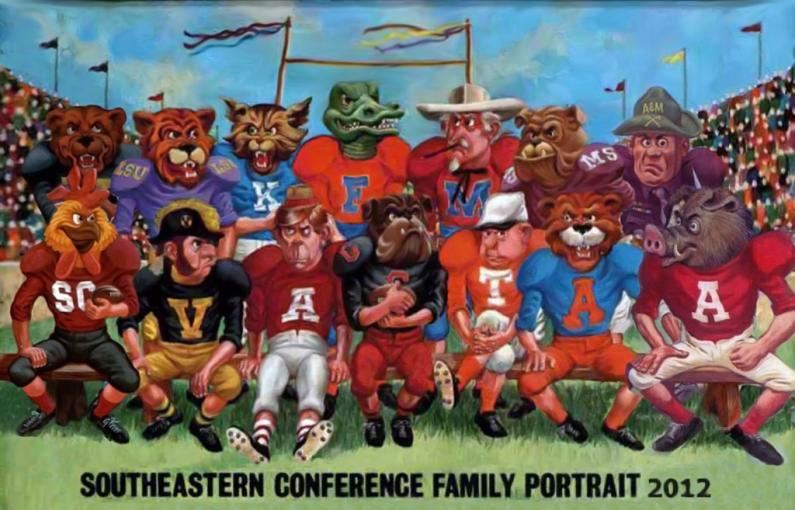 Well folks, in week one, the SEC only shot itself in one foot and not both.  Missouri, South Carolina and Tennessee all went belly up in games they should have won and those three teams brought my first week average down to a disappointing 9-3 mark and a 75% accuracy rate in the final totals. Now folks, I'm not one to shun being wrong, but really, these teams lost games they could have and should have won! It sure gave a black eye to the SEC who mostly played a cupcake week of games.
On the bright side Auburn made us look good by pulling out a last minute miracle against a good Oregon team and Florida quieted the Hurricanes so bad, even the recent one that skirted the coast of Florida this week was scared to make landfall near Gainesville! The rest of the games were easy picks and we hope that the upset but has a full stomach this week and that we'll be sparred any more embarrassing misses.
So with all this in mind, here we go for round two of the SEC season and let's all pray we do a better job this week and that my new pigskin picking pug, Rumsley will start getting his feel of football and contribute more than just a sly remark every now and then. Lord knows I miss my old partner, Bacardi the Wonder Dog, who would have sniffed out some of those upsets last week.
Missouri at West Virginia – Barry's Bengals travel over to the hill country in West Virginia to take on the Mountaineers that'll be playing like Mouseketeers this season.
Yes, this won't be the best team you've seen by a long shot coming out of coal country, but then these middling Missourians managed to muck up an opening week win by letting Wyoming turn a cupcake contest into an embarrassing upset. To make it interesting though you can do a drinking game and take a shot for each time the announcers mention that the Kitty Cats new Quarterback came from Clemson.
Since we don't know what Missouri team will show up, this one could be a head scratcher, but I'm not giving up on the men from Missouri just yet and that'll make Larry's loser – West Virginia
Charleston Southern at South Carolina – The baby Buccaneers bus over to the big Chicken Coop to pick up a big paycheck and a bigger butt whuppin' and both things will be cashed by these Carolina Cluckers.
A voice in my head just tells me that this is going to be a let down season for these feathered footballers and that they'll lay more eggs on gameday than they thought they would and last week sure proved it.
But this ain't the day and the only one with egg on their face after this one are the baby Bucs. Not even these Col Sanders rejects can screw up this one. Larry's loser – Charleston Southern
Vanderbilt at Purdue – Well here we have the sad sack's of two big conferences fighting it out to see who going to give their conference a little pride while the other goes into an early season slide.
The betting boys see this as a Purdue party and so do we here at the Loser's Lair. The home team certainly has an advantage in this one, but the Song City Sailors are hoping they kept the powder dry and can blow apart these Boilermakers but  we think that's just not is going to happen.
In a close one that may not be decided until late, Larry's loser – Vanderbilt
And another Commodore ship goes to the bottom…
Texas A&M at Clemson – When Fisher's farmhands fly up to Clemson, they've been hearing for weeks how this cool Cats already have this one in the bag and if these Orange flavored Tabbies are hearing the same thing and take this game a little light, then the Aggie may just light their butts on fire.
Now Dabo's Cat show don't have a lot of hard games this season, but they're gonna know they were in one by the time this one's over.
I think this is one where the upset bug could rear it's head and take a big bite, but I can't pull the vote out for that one just yet. The boys in Vegas see this as an big win for the Clemson Kitty Cats, but I think it could be close. Larry's loser – Texas A&M
Southern Miss at Mississippi State – Remember when this used to be a good game and these Eagles could fly high? I do, but then I'm old. So when these feathered footballers flap on over to Starkvegas for a little football, it'll just be for the big paycheck and butt whuppin' they're obligated to take.
Yes ever since the idiots in charge got rid of Jeff Bower, the coach that last had them in high cotton year after year, they just haven't been the same team except for a spike in 2011.
So throw the sprinkles on this cupcake clash and watch the big dogs run it up. Larry's loser – Southern Miss
Murray State at Georgia – In an embarrassment of early season cupcake classics, the Racers, and who are we kidding with that name, amble into Athens for the big paycheck and even bigger butt whipping.
Now these Racers won't even get out of first gear before this game get totaled you have to wonder what the attendance will be to watch this snooze fest up close and personal.
If you had a drink for every first down these Racers my make, you still wouldn't be drunk at the end of this one. Larry's loser – Murray State
New Mexico State at Alabama – To call this a cupcake game would be an insult to cupcakes as after these Aggies 3-9 season last year, their cupcake started the season already moldy.
But coach Doug brings his boys over anyway so they can at least play in a nice stadium full of fans, take home a big check and act pitiful enough for these Pachyderms not to pummel them too hard.
But in this life you get what you deserve and for scheduling this game, you deserve to get your butt stomped. Larry's loser – New Mexico
BYU at Tennessee – Last week the Big Orange got squeezed like a drink at Orange Julius and knowing coach Pruitt as well as I do, I know he's going to have their attitude adjusted and their orange asses kicked over last week's embarrassment.
Meanwhile BYU stunk it up themselves last week, getting blown out by some Rocky Mountain roughnecks last week. Now this ain't your average BYU team that usually plays teams hard, this is the team that's hardly good.
So this is just what the doctor ordered for Tennessee to try and pick themselves up, dust themselves off and get back to playing like the team people thought they could be this year. Larry's loser – BYU
LSU at Texas – Now this one here is going to be the game of week to watch folks. LSU is actually scoring points this season and that could spell trouble for teams because the defense is just as good as ever down in the Bayou, so when they travel over to Texas to take on the also red hot Longhorns, it could really be one for the ages.
Now both played cupcakes last week, so you never really know if they're as good as they looked against St. Mary's All Girl Choir or not. So this one could be an upset just waiting to happen because both teams have play makers that can pull off a last minute march.
I'm tempted to go with the upset in this one, but when I showed Rumsley film on both teams, he didn't think Texas passed the smell test in this one and when in doubt I go for the team with a hot defense that passes my pug's sniff test and that'll make Larry's loser – Texas
Tulane at Auburn – They say that Cats don't like the water, but they won't mind this Green Wave washing into Jordan-Haire Stadium. With the Gus Bus sputtering last season, this Kitty Cat Commander will take any win he can get and brag about it.
While this won't be an interesting game to watch, seeing how he distributes the quarterback opportunities might be. Other than that unless your son is on the team, you won't want to watch this any more than any other cupcake game.
So with a big yawn, we declare Larry's loser is Tulane.
Arkansas at Ole Miss – The folks who could be battling it out for cellar in the SEC West might just settle that contest this weekend. So when the Swine swagger in to the Rebel's roost, this might just be all they'll be fighting for, to stay off the bottom.
Now just because this is a battle of also ran teams don't mean it won't be a good game and we're expecting this to be a goodie, so this one is going to be worth a look just to see how it all comes out. The Hogs beat a cremepuff last week and Ole Miss was beaten by a pretty good Memphis team.
Lord knows the Hogs are due, but once again a big bully huffs and puffs and blows their dreams down. Larry's loser – Arkansas
Tennessee Martin at Florida – Since the Sister's in Christ Nunnery had a bingo tournament that conflicted with this date, the Gators scheduled these sad sack Skyhawks from up Tennessee way.
My oh my will we be glad to see some more SEC on SEC action and put these cupcakes in the rear view mirror. Well at least some awful players will one get to tell their grand kids about about the time they played the mighty SEC Florida Gators. They just won't tell them the score.
If you wonder why other conferences make fun of our schedules, this is one of the reasons. Larry's loser – Tennessee Martin
Eastern Michigan at Kentucky – Now Kentucky is gonna wind up pretty sucky by seasons end compared to how they did last season, but when these Eagles fly South for the big paycheck, they'll look like a fabulous team once again. At least for this week.
Now this is sure a bad way to end the week, wondering if Kentucky will score more points than these bird brains may get in total offense, but hey, you need to do something on the side if you're gonna watch this one.
These games are sure pitiful programming, but even bad football beats no football. Just keep telling yourself that and soon you'll believe it. Larry's loser – Eastern Michigan
Well that's it for this week folks, get those snacks ready and take the phone off the hook and hunker down for some serious football watching. Till next week, tell all your best friends one two enemies about Larry's Losers and have 'em read it and weep.
*Get the BEST Alabama football insider information, message board access, and recruiting coverage today! SIGN UP HERE to unlock our subscriber only content!*
LARRY HAS BEEN PUBLISHED IN ALMOST EVERY MEDIA OUTLET FOR COLLEGE SPORTS AND NOW PRIMARILY WRITES HERE FOR TOUCHDOWN ALABAMA. HE WRITES IN A COLLOQUIAL AND IRREVERENT STYLE FOR THIS SERIES OF ARTICLES. LARRY'S VIEWS AND SENSE OF HUMOR MAY OFFEND, BUT HE AIMS TO OFFEND EVERYONE EQUALLY. IF HE HASN'T INSULTED YOUR FAVORITE TEAM WITH LARRY'S LOSERS, JUST WAIT. FOLLOW LARRY ON TWITTER FOR INSIDE THOUGHTS AND GAME TIME COMMENTS AT HTTPS://TWITTER.COM/LBSPORTSWRITER