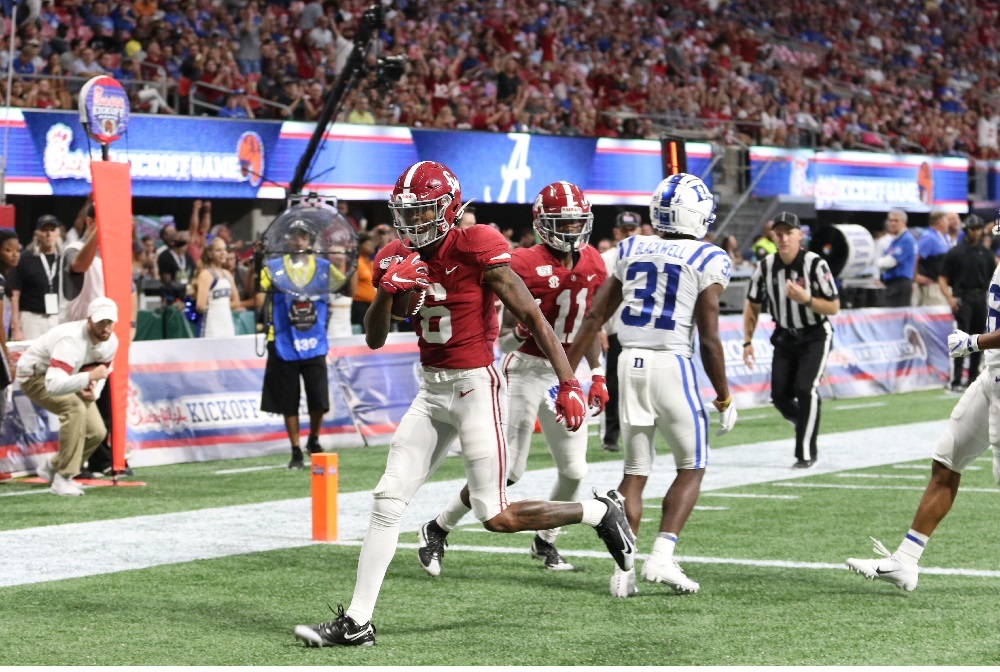 Alabama may be rolling over soft competion right now, but that doesn't mean they don't have problems. See life without the rose colored glasses at Alabama.
Yes, they're undefeated, yes they won by more than the spread and yes they're still a playoff contender, but to be honest, there are problems you see once you take off the Crimson colored glasses and look at Alabama's football program right now. This certainly is an article that Nick Saban will like because it goes against the grain of what he usually refers to as "Rat Poison".
The offensive line isn't ready for a great defense. Let's face it, Duke is not close to an average SEC defense and Alabama showed they weren't ready one right now. Deonte Brown still has three games to sit out until he can return to his guard position and a myriad of little injuries is keeping things from gelling until his return.
The offensive line was hit with numerous penalties against Duke and whether it was opening day jitters to just being dumb, it's something that Alabama doesn't do when they're playing championship caliber football.
One player on the line says they have to establish their identity as a unit. The problem is, they already have. They've established themselves as a sloppy, sometimes iffy unit.  So they don't need to establish an identity, they need to change it.
OK, the defensive backfield was part of a touchdown shutout last week, but again, that was Duke and that wasn't a prime offensive unit. They gave numerous drive continuing first downs with pass interference penalties and left guys running open that fortunately the Duke quarterback was too blind to see. But believe me, Nick Saban saw them and he'll point them out on film day.
Had Duke had a gunslinger back there at quarterback, it could have been a different game, maybe not a different outcome, but a tighter game, especially in the first half when Alabama's offense sputtered.
Yes he's won the Biletnikoff Award and may again this year, but can Jerry Jeudy have just one game without a bonehead moment? Last week he ran a route without ever looking at the quarterback who almost hit him in the back with the ball. Last season he had uncontested drops and other goofs in too many games. If you're the best, play like the best.
Yes he is a game changer, yes he has highlight moments in every game, but can you stop the bonehead plays and drops?
I was one of many who thought our kicking fiasco was over, but last week definitely has me back on the fence and biting my fingernails every time they line up for a kick. That and the punting leave a little to be desired. Saban says not to worry, he'll come around. We'll all just have to wait and see on this too.
I know they're trying awfully hard to keep the offense on the field a little longer this season against explosive offenses and that last week was an exercise in doing that. More runs, more dump off passes to the second and third reads and so forth, but I think I miss the Tua Air Circus from last season where he just flung it around and let the receivers do their jobs. Tua didn't start the game looking comfortable as a "managed" quarterback last week although he seemed to come around in the second half. You just have to wonder until things go seamless there.
So let's see if this week's cupcake clash with the barely competitive New Mexico squad can help iron out some of these wrinkles.
Get the BEST Alabama football insider information, message board access, and recruiting coverage today! SIGN UP HERE to unlock our subscriber only content!
Larry Burton has been published in almost every media outlet for college sports and now primarily writes here for Touchdown Alabama. Follow Larry on Twitter for inside thoughts and game time comments at https://twitter.com/LBSportswriter