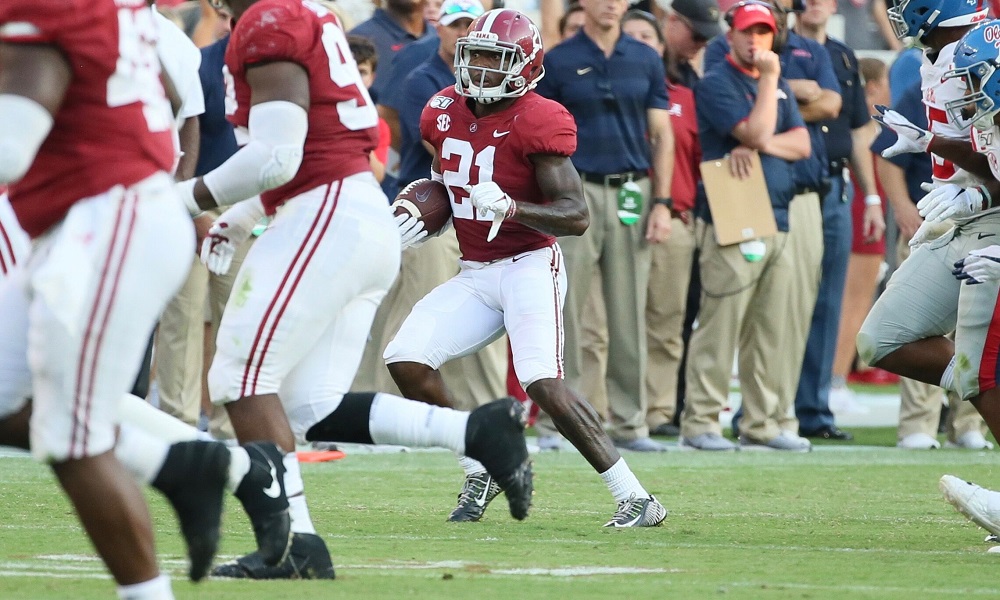 Alabama's offense had a record day on Saturday as Tua Tagovailoa and DeVonta Smith had impressive performances. The Crimson Tide's defense also made some plays despite giving up 31 points.
Touchdown Alabama's staff breaks down the Tide's Top 10 plays from Saturday.
1. DeVonta Smith 5th Receiving Touchdown
BREAKDOWN: DeVonta Smith has looked like Alabama's third receiving option at times due to the play of Henry Ruggs and Jerry Jeudy this season, but this touchdown put a cap on a performance, that showed Smith is not only one of the top wide receivers on Alabama's roster, but it is one of the top wide receivers in the nation. This receiving touchdown pushed the Alabama school record for receiving touchdowns in a single game to five and tied the SEC record.
2. Tua Tagovailoa's sixth touchdown
BREAKDOWN: Tagovailoa linked up with Miller Forristall in the fourth quarter to cap off his huge day as broke Alabama's record for the most touchdown passes in a single game. It seems as if every week going forward Tagovailoa will have a chance to wow the nation with his numbers.
3. Tua Tagovailoa's Rushing Touchdown
BREAKDOWN: Not only did this score grow the Crimson Tide's lead but it was also the play that put Tua Tagovailoa on top of the all-time touchdown list for Alabama. By surpassing A.J. McCarron on the play, Tagovailoa continues to cement himself as one of the best quarterbacks to ever wear crimson and
4. Ale Kaho blocked punt for TD
BREAKDOWN: Kaho showed great poise on special teams attacking the ball and was in the right spot for the recovery. As he is trying to learn more at linebacker, Kaho is becoming a core special teams player.
5. Jared Mayden's INT
BREAKDOWN: This was huge for Mayden, seeing how he has a chance to be a high second-round draft pick. He has been playing well all season, but the interception adds more confidence to his game and shows that he can match the patterns of receivers.
6. Terrell Lewis Sack
BREAKDOWN: Coming off an injury and being limited throughout the game, Terrell Lewis' sack on Ole Miss quarterback John Rhys Plumlee was huge for the defense and his confidence. It will be important going forward for Lewis to continue to get pressure on the quarterback especially with how young Alabama's front seven is this season.
7. Terrell Lewis Pass Deflection
BREAKDOWN: Terrell Lewis has missed a lot of games over the last couple of seasons, which means, he has to show what he can do in each and every game. Last week, Lewis was able to use his long arms to make a pass deflection at the line of scrimmage, which showed he has been working on multiple ways to make an impact defending against the pass.
8. Jaylen Waddle Punt Return
BREAKDOWN: Waddle muffed a punt earlier in the game, which gave Ole Miss great field position which led to a Rebels score. Waddle almost got payback on the Rebels in the second quarter as Ole Miss' punter had to make a touchdown-saving tackle. This play showed Waddle's resiliency.
9. Ben Davis pass breakup
BREAKDOWN: The light bulbs appear to finally be coming on for Ben Davis. After years of toiling and being doubted, the former five-star had his first breakup of the season against Ole Miss. He was even involved in the Kaho blocked punt
10. Joseph Bulovas 36-Yard FG
BREAKDOWN: Alabama kicker, Joseph Bulovas, nailed a 36-yard field goal on Saturday after getting the start due to true freshman, Will Reichard, being injured. Bulovas was able to show, he can make field goals but unfortunately missed another one late in the game. If Reichard has to sit out again, Tide fans know Bulovas can produce somewhat.