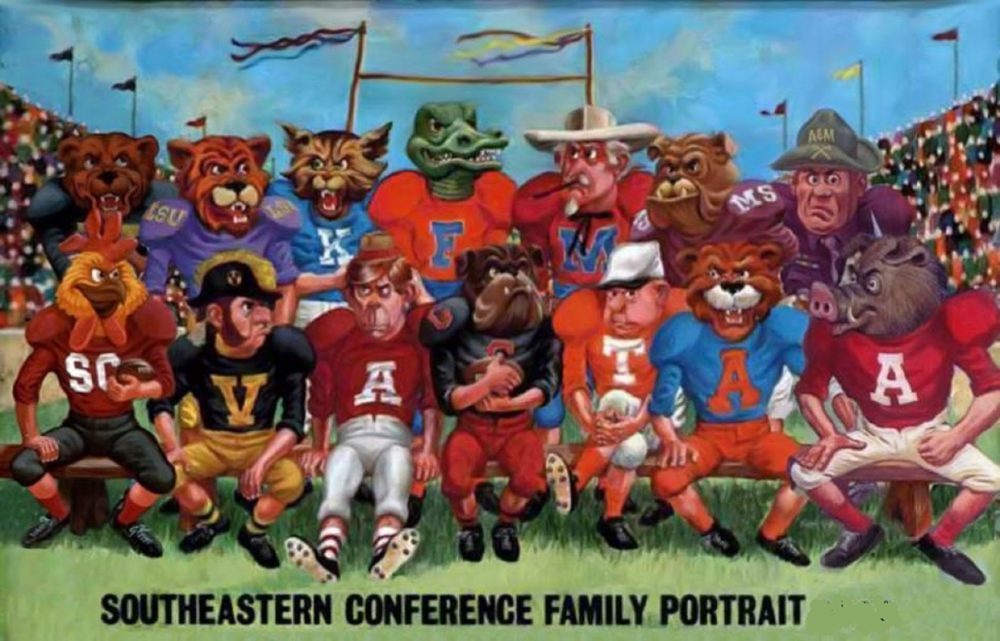 Can we repeat last week's pack of perfect picks? Well take a gander and see if you think it's going to happen or if you know more than the pigskin pickin' pros!
Well sports fans, it's hard to type this story in this week because my arm is so tired for all the patting on my back I've done since Saturday night when I finished yet another week of perfect prognostications for my peeps. I was told using the word peeps would help me connect with a younger generation, so hey, why not try?
But this week is a good week to just take some time off with the family because there aren't many good things to stay at home and watch this week. Most teams are going cupcake for this week to rest up for the big Rivalry week that's coming next and that's when you want to crazy glue yourself to your favorite chair and not miss a moment of next week's games.
But hey, we get paid the same to pick cupcakes or nail biters, so here we go listing this week's list of likely losers to laugh over.
Western Carolina at Alabama – You know when you play a directional college that you can't find on the map, Western Carolina I mean, that you're officially playing a cupcake. When 99% of your opposing fans don't know what your mascot is, you're officially a cupcake. When your opposing fans hear what your mascot is and still don't know what it is, you are officially a cupcake.
Such are the Catamounts, who aren't even a good team when playing other cupcakes. When you've been run out of town by Gardner-Webb that tells you all you need to know about this team.
But at least you'll get to see Bama's backup, Mac "The Mac Attack" Jones light them up in such fashion that you might be tempted to say Tua who? And with that, Larry's loser is Western Carolina
From my buddy Anthony Sisco
Samford at Auburn – So then Auburn says, "Well if you're taking the week off before playing us, we will too!" to Alabama and they schedule Samford who'll bus to the plains for the big check and an ass whipping.
But at least we'll get to see if Bo Nix can complete more than 50% of his passes in a cupcake clash in trying to tune up for the Tide.
Oh well, at least here's one Bulldog that these Tigers can rough up on and maybe it'll take the bad taste out of their mouth from last week's Bulldog biting. So Larry's loser will of course be, Samford
Texas A&M at Georgia – Proving they can't all be bad, the Aggies leave the fertile fields of home and jet out to Jawja to battle the Bulldogs between the hedges.
Now Georgia didn't look particularly proud of their performance last week and the Aggies are hoping to catch them in a melancholy mood and snatch away a game they don't have to win to still make to Hotlanta for the big SEC Championship.
But Smart's Butt Sniffers aren't about to let these Texas Farm Hands come in to their yard and leave with anything but a butt biting, so you can expect this one to go down as Larry's loser being Texas A&M.
UT Martin at Kentucky – Another directional wanna be school, the Skyhawks, flap over to Kentucky knowing that they are gonna get creamed for cash, but Mama needs funds their cool with that.
The only thing interesting about this game will be how many times the announcers bring up that the head of this Cat show is being courted by other schools.
So if that doesn't interest you, you can tune in and watch the school that lost to Austin Peay take on an SEC team that's going to kill them even though they don't have a quarterback, but a good running receiver doing that job. That'll make Larry's loser – UT Martin
East Tennessee State at Vanderbilt – Now this is a classic sea fight because the Buccaneers invade the waters of the Song City Sailors and aim to pillage and plunder the Commodore's boat.
Now the way the Country Crooning Commodore's ships have been sadly sunk so far this season, the Buc's are hoping they catch them still in panic mode with their powder wet.
But sooner of later the vandalized ones from Vandy were bound to find someone they could beat and this week Larry's loser is East Tennessee.
Arkansas at LSU – When they scheduled this game, the Bayou Bengals had no way of knowing this was going to be a cupcake game, but the SEC does have a cupcake because these Piggies are pitiful.
So when Arkansas shows up for some game and gumbo they better stay in the restaurant and pretend to lose track of time, because if they step on that field they're going to get gigged, gagged and garbaged.
So while this might be a good game one day, it won't be today, so that'll make Larry's loser Arkansas
Abilene Christian at Mississippi State – These Christian Kitties come a calling on the Dog pound in Starkvegas and hope they catch Mooreheads Mongrels still in misery over the bad season they've found themselves mired in. But these pulpit lovers will need more than prayer in this one.
But with four wins under their collar the Bulldogs are counting this one as five and next weeks warfare as the magic number six to make it to bowl season.
So with that as an incentive, these Bully's are gonna get after these Wildcats and turn them into very mild Cats and that will undoubtedly lead to Larry's loser being Abilene Christian.
Tennessee at Missouri – Two teams that have both been up and down meet up and have given me heartburn trying to figure out which team will show up and play their best.
Now the Mizzou Meeyowers are favored in this one and if you just look at stats, they should indeed have the upper hand. Both teams have just five wins and both need another win badly but sadly they've got just this game and one more to try and get that sixth one.
But one team is on a hot streak winning their last four games and one has nose dived losing their last four, so when in doubt, go with the hot hand and that makes Larry's loser Missouri.
Well that's it for this week folks! If I haven't insulted your team yet this season, we've still got more time. While this week sucked for a lot of great games, next week will be a doosey!
So let's wait till then and finish the regular season with a flurry.
And don't forget to get your turkey early and defrost it before you try and fry it, but that's for later too, so see you back here next week for more losers listed by Larry.
*Get the BEST Alabama football insider information, message board access, and recruiting coverage today! SIGN UP HERE to unlock our subscriber only content!*
LARRY BURTON HAS BEEN PUBLISHED IN ALMOST EVERY MEDIA OUTLET FOR COLLEGE SPORTS AND NOW PRIMARILY WRITES HERE FOR TOUCHDOWN ALABAMA. HE WRITES IN A COLLOQUIAL AND IRREVERENT STYLE FOR THIS SERIES OF ARTICLES. LARRY'S VIEWS AND SENSE OF HUMOR MAY OFFEND, BUT HE AIMS TO OFFEND EVERYONE EQUALLY. IF HE HASN'T INSULTED YOUR FAVORITE TEAM WITH LARRY'S LOSERS, JUST WAIT. FOLLOW LARRY ON TWITTER FOR INSIDE THOUGHTS AND FUNNY GAME TIME COMMENTS AT HTTPS://TWITTER.COM/LBSPORTSWRITER