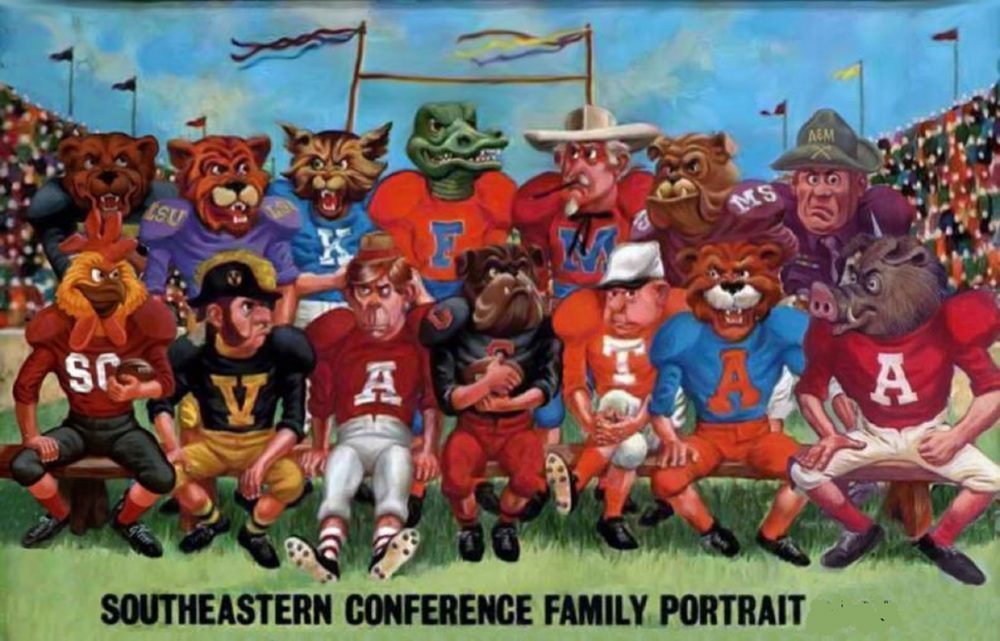 Does the SEC have what it takes to hold their heads high at the conclusion of the bowl season clashes? See if your hunches end up higher than this list of losers.
Well sports fans, we now sing the final swan song for this season. This is both the happiest time of the year filled with great football and the saddest, because all too soon it'll all be over.
Well we ended the year on a very hot streak with lots of perfect picks sprinkled in and correctly picked the SEC's loser. Now it's our job to list the likely losers in a laughable lampoon and we're hoping that the SEC stands tall and shows the world why this is conference numeral uno.
And while I'll admit to an SEC bias, I'm going to pick the pitiful players who will plunge into the pitfall of landing on the loser's list and call 'em as I see 'em as I always do. So without further delay or diatribe, here we go…
Dec. 27th – Texas A&M vs Oklahoma State – Academy Sports & Outdoors Texas Bowl – Houston, Texas –
Jimbo's Jolly Ranchers have had a rough season, playing one of the nation's toughest schedules and now they get to finally go against someone not in the top 10 when they meet up with the Cowboys from neighboring Oklahoma.
Now in their last game, they got shellacked like some outdoor patio furniture and Jimbo's going to have a hard time rallying the troops in this one. That 50-7 thumping was quite a blow to the old ego. So these Farmers are going to have to find a way to coral a Cowboy.
But these Cowpokes didn't exactly ride off to glory in their last game either, but it wasn't as bad as the Bayou Begal's bungling. But in the end, I think we'll see that while Aggies couldn't beat the big boys, they'll manage to meander by a middle tier team. Larry's Loser – Oklahoma State
Dec. 28th – LSU vs Oklahoma – Chik Fil A Peach Bowl – Atlanta, Georgia –
In the first round of the playoffs this year the SEC team carrying the SEC swag won't be a team named Alabama, that'll be Bayou Boys from Baton Rouge. But ironically the team they're playing will be lead by a baller from Bama, so there's still a little bit of Bama in this bowl.
Now Sooners aren't used to having Bengal Tigers attacking the Sooner Schooner convoy, but they think if they circle the wagons real tight around the big boy Burrow Bengal, that they may just come out of this was a surprise win.
But Coach O's Cat show ain't about to leave this pageant without the prize and while it's nice the Wagon warriors have tried to play defense this year, they've not seen what this Cat can do for itself once it's out of the bag. When it's all over we'll all see that a horse can't pull a wagon up and down the field as fast as this Cat can run and that'll make Larry's loser – Oklahoma
Dec. 30th – Mississippi State vs Louisville – Franklin American Mortgage Music City Bowl – Nashville, Tn. –
Now this could be a real evenly matched pair of teams when Mississippi's Mongrels try to maul the Red Birds from that blue grass state.
Now both these teams have had their ups and downs and looking at all the stats, it's gonna be a pretty even battle. These Dogs will try and bite these birdies  while the Cardinals will try to fly fast and get some good pecks in.
This game is going to be about who really wants it the most and I just have a hunch that it's the Dogs who have a chip on their shoulder and have the most to prove, so that'll make Larry's loser – Louisville
Dec. 30th – Florida vs Virginia – Capital One Orange Bowl – Miami, Florida –
Virginia made it to the big ACC Championship Game based solely on the fact that most of the other teams in the ACC suck and I mean really really suck. They were subsequently bitch slapped by Dabo's Cat squad.
But they're hoping the Gators have a case of I don't care about this bowl, all the good players sit out and the rest are suffering hangovers from bowl game boozing.
But all of that can happen and the gang of Gators that play anyway will be more than enough to send these Cavaliers in a catatonic state. Larry's loser – Virginia
Dec. 31st – Virginia Tech vs Kentucky – Belk Bowl – Charlotte, North Carolina –
Here are two teams that both thought they'd have better seasons than they did although the Hokie Birds won eight and the Kentucky Kitties just seven.
Now these two are pretty evenly matched and this should be a good game to gander. A big bird against a smallish hunting cat means the SEC will once again try and avoid a pecking party while they get their bites and scratches in.
This one could go either way, but in the end I have more faith in the lower middle teams of the SEC over the upper middle teams of the ACC, so that'll make Larry's loser – Virginia Tech
Jan. 1st – Minnesota vs Auburn – Outback Bowl – Tampa, Florida –
The Caddy Shack Cousins may have won 10 games this regular season, but they're not going to "Gopher" 11 in this game. It's easy to win games against the Big Ten boys.
Some think this could be be a close game, but they don't realize that Auburn is a much better team than any other 9 win team and when these Tigers fighting with these underground Rats, there won't be a hole deep enough to hide in.
In a blowout that will surprise most of the football pudits, Larry's loser will be Minnesota
Jan. 1st – Michigan vs Alabama – VRBO Citrus Bowl – Orlando, Florida –
Will they won't they? Nobody at this point is sure how many Alabama players may sit out this bowl, so when the Tusked ones from Tuscaloosa take on the Muskrat looking Mustelidae, and for you Michigan fans let crayon that for you, a Mustelidae is the family that includes Wolverines, some think that lack of participation could put this game in play.
Plus loud mouth and soft action Harbaugh would like nothing better than to see Saban surrender in this slobberknocker and put his puss on the TV and bask in the glory.
But no matter how many Bama players sit out in this one, when you consider that Bama's second string is still better than these woeful Wolverines, it won't be hard to see Larry's loser as Michigan.
Jan. 1st. – Georgia vs Baylor – Allstate Sugar Bowl – New Orleans, Louisiana –
Two teams that wanted oh so bad and got oh so close to being conference champs and with a chance to play for all the marbles. The only problem is when they had that chance, they both got busted.
Now Baylor says they didn't bet boat raced like the Bulldogs and they think they get what they want by putting up points so fast the Dogs just despair in trying to keep pace.
The problem is though, that Bears usually start their hibernation about this time and they are going to look sleepy trying to race through this bunch of Bulldogs and in the end, Larry's loser will be Baylor.
Jan. 2nd – Indiana vs Tennessee – Taxslayer Gator Bowl – Jacksonville, Florida –
Indiana was the Big 10's surprise this season, winning eight and looking great and they've got nothing to lose and plan on giving their all for some Big 10 pride and proving that this season was no fluke.
Now Tennessee started the season like Turdessee and finished like Tiffanyessee, so can they continue on improving and make a fairy tale ending to this gory to glory season?
This could be a good one, a Hillbilly against a Hoosier, whatever that really is, and I know it looks very biased making this last pick a clean sweep for the SEC, but I'm just callin' 'em as I see 'em and in a close one I see Larry's loser ends up being Indiana.
Well that's it for this bowl season, but if the good Lord is willing and the Bengals keep biting, we'll have one more SEC pick for you this year and we'll be doing doing it from from the ship Azamara Quest after a few weeks touring India. A little hard earned rest for a very tough year. We want to thank Bennie Bice and all the folks at Touchdown Alabama Magazine for all their hard work this year.
They call the Taj Mahal the temple of love and I have been in love with this woman for over 30 years, Alabama football forever and Touchdown Alabama Magazine since it started. I love all you great fans too and wish you a Merry Christmas and Happy Bowl Season from the far East.
We all here want to wish you a very Merry Christmas and a blessed New Year. We hope we've given you the present of great reporting, tough insights and a chuckle or two. If you've enjoyed all this, five us a present too. Tell all your friends to check us out. We're as addictive as chocolate without all the fat!
So if LSU pulls off the anticipated win, we'll see you back soon, if not, then God bless and keep you till next season when the Loser's Lair unlocks the doors starts another season of listing the losers you to laugh about.
*Get the BEST Alabama football insider information, message board access, and recruiting coverage today! SIGN UP HERE to unlock our subscriber only content!*
LARRY BURTON HAS BEEN PUBLISHED IN ALMOST EVERY MEDIA OUTLET FOR COLLEGE SPORTS AND NOW PRIMARILY WRITES HERE FOR TOUCHDOWN ALABAMA. HE WRITES IN A COLLOQUIAL AND IRREVERENT STYLE FOR THIS SERIES OF ARTICLES. LARRY'S VIEWS AND SENSE OF HUMOR MAY OFFEND, BUT HE AIMS TO OFFEND EVERYONE EQUALLY. IF HE HASN'T INSULTED YOUR FAVORITE TEAM WITH LARRY'S LOSERS, JUST WAIT. FOLLOW LARRY ON TWITTER FOR INSIDE THOUGHTS AND FUNNY GAME TIME COMMENTS AT HTTPS://TWITTER.COM/LBSPORTSWRITER