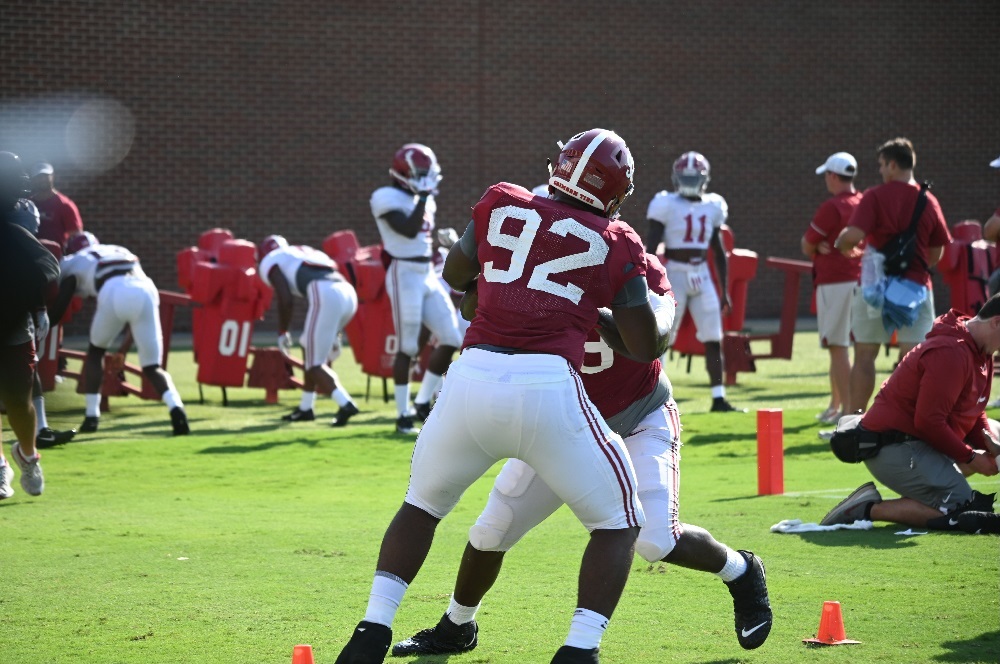 They say practice makes perfect, but one team may need a whole lot less of it than others and this article explains why Alabama has an advantage over other programs.
Is there an upside to the Corona Virus for Alabama football?
When I was growing up, I was always the kid who tried to find the bright side of everything, now as an "old man" of 62, I still live by that credo. So when people come to me bellyaching that we might not have a spring A Day Game and that practices have been curtailed, depriving them of the news they so badly want about football, maybe it's time for me to explain the upside of the delays of spring practice all around the country to everyone.
As you know, teams across the country are suspending spring football practices because of the world wide Corona Virus. They are also suspending other athletic and large group gatherings as well. In fact, most campuses are ghost towns as universities are now doing online classes to further limit large groups from gathering.
How this impacts football when it's restored will certainly be different campus to campus, but for Alabama, it may not make much of a difference. While most teams already have a cupcake scheduled for week one, Alabama will play a very good USC Trojan team right off the bat. Playing good teams off the bat is something Saban likes.
Even though Nick Saban has a habit of wanting to schedule the toughest opponent he can for week one each year, over the last ten years Alabama has beaten those first game opponents by an average of 41-10. This year's opponent in the first game are the USC Trojans and the last time they played them in the first game four seasons ago, Bama clobbered them 52-6.
So how is Alabama so built to come out of the gate so ready to take on anyone when others just don't seem to be able to do that?
Well, Alabama is more like an NFL program than any other college program. They have a bench full of depth that few others do and they work through the off season like few others as well. So even if the school is "closed" for practices, you can bet that players are getting together on their own to work out, run 7 on 7 drills and so forth.
They are simply a machine that doesn't rust over the off season, they are a team filled with mentors who act like surrogate coaches to the young players. Clinton Haha Dix once told me, "I love all our coaches here and I feel lucky that Coach Saban even coaches us, (the defensive backs) personally too, but man, here, this is a tight group and I've learned just as much if not more from the other players here. Not just from what they know, but something they'll see me do in practice and point out to me before the coaches do. They say you can't get but a certain amount of time to be actively coached, but here, you get it 24/7 from your buddies on the team. I was shocked when I came in as a freshman that a guy I might rival for a starting job someday would teach me all his secrets, inspire me to become better and push me. This team is tight man!"
Such is the way at Alabama, players pay it forward to the youngsters, youngsters push the veterans and the team becomes better as a whole. With other teams, it's not so much this way.
So no matter how much time this team may miss in spring practices, you can bet that they'll be ready even if no other team is. The offense pretty much comes back as the same unit that was one of the most prolific in all of college football last season so you can count on them being able to light up the scoreboard. On the other side, veteran linebackers return who missed last season and the ones that replaced them start the year full of experience to back them up.
This is another huge reason why Alabama can be ready faster than most programs. The mentoring and coaching they get from other players help, so does the huge talent pool they have to share ideas from other like minded and like talent players.
While the offense is already a well oiled machine, with all the players knowing each other, their weaknesses and strengths, don't forget that they say the defense always comes around first. This defensive line looks absolutely awesome and is ready to go and while the defensive backs may have a lot of new people, the talent is there to have them "coached up".
In all, Alabama is maybe one of the very few teams who can skip spring practice and still be ready and that in itself is a marvel and testimony to just how good Saban has built this program.
*Get the BEST Alabama football insider information, message board access, and recruiting coverage today! SIGN UP HERE to unlock our subscriber only content!*
Larry Burton is the senior writer here at TDA and has been published in almost every media outlet for college sports, was Bleacher Report's #1 college football writer in reads and comments and now primarily writes here for Touchdown Alabama. Follow Larry on Twitter for inside thoughts and game time comments at https://twitter.com/LBSportswriter