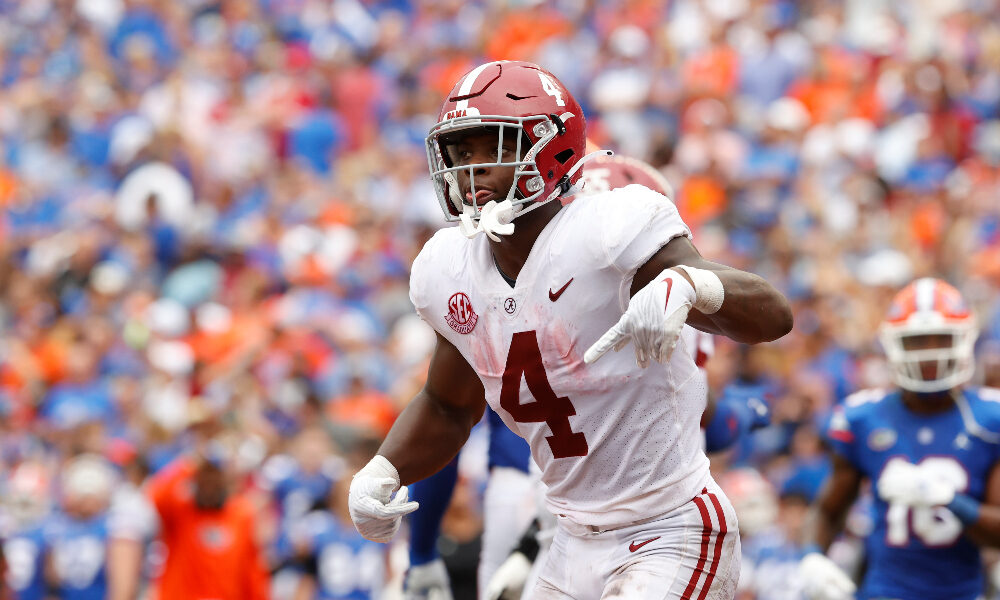 Alabama fans and former players have been wanting this matchup with LSU.
After defeating the Tigers at Baton Rouge (La.) in 2020, the Crimson Tide is ready to take back its home.
Alabama suffered a loss to LSU in 2019 at Bryant-Denny Stadium. Tigers' head coach Ed Orgeron celebrated with his players at midfield, calling the venue their "house from now on."
He would also let out the "Roll Tide, what?" profanity-laced statement in the locker room.
Orgeron said LSU would beat Alabama every time both schools meet up. Brian Robinson is not one to be disrespected, and he's ready to embarrass the Tigers again. He was featured in Alabama's latest video, and Tide fans love it.
Fans and former players are rolling with the Tuscaloosa native. They are predicting a beat down.
Najee Harris, former Alabama RB
Yessuh brob https://t.co/H7kWBu1yqE

— Najee Harris (@ohthatsNajee22) November 5, 2021
Saivion Smith, former Alabama DB
"Any signs of disrespect will be delt with" https://t.co/mzoYBtcM88

— Saivion Smith (@Saivion_1k) November 6, 2021
Alabama football fans
Keep that same energy 💯 https://t.co/hHl65cplIJ

— Grade A Muzik (@GradeAMuzik) November 6, 2021
"Any signs of disrespect will be dealt with, so keep that same energy." https://t.co/UTN9PmKb1M

— Matt Saxe🎭👨‍👧🐘💙 (@vpmattsaxe) November 6, 2021
Run through a brick wall energy https://t.co/GiISlMBReE

— Eric Crow (@ericcrow30) November 6, 2021
Fired up! Let's go, BROB!!! #RollTide https://t.co/QqoQupH0Yv

— Kay Jones Davis (@TheKayJ) November 6, 2021
2yrs ago @LSUfootball beat @AlabamaFTBL fair & square in BryantDenny Stadium by 5 points.That's football.
But THEN after the game,LSU disrespected the CrimsonTide. CoachOrgeron said"Roll Tide WHAT?FUCK U!"
Karma bit HIS ass,Bama beat it down 55-17 in BatonRouge & TODAY-IT IS ON! https://t.co/uKY8lLXJ0t

— luvcats13 (@luvcats13) November 6, 2021
BRob got me ALL THE WAY UP on my favorite day of week!! #GameDay! #RollTide https://t.co/Ww7sYZqkxK

— Erin Wendel, APR (@ErinWendel) November 6, 2021
LETS FUCKIN GOOOOOO!!!!! https://t.co/kvPaC30h5o

— KCARMOUCHE©️🥶 (@KCARMOUCHE) November 6, 2021
B Rob 6 TDs tomorrow night confirmed https://t.co/gEDdp8H0eo

— Jaren Thames (@Kingthames23) November 6, 2021
This is the kind of hype video I need every week. Keep 'em coming Bama Football. https://t.co/XKmJev7WGk

— Logan Sparkman (@LoganSparkman8) November 6, 2021
"Any signs of disrespect will be dealt with. So keep that same energy!" FUCK LSU! #RollTide https://t.co/82WaAeAkIv

— Brittany (@brit7000) November 6, 2021
Keep that same energy https://t.co/1wBW93ycqj

— Evan Wright (@Mr_Wright171) November 6, 2021