Alabama fan reactions
Alabama fans and former players rip ESPN's Chris Fowler for not knowing about the Tide's 4th quarter program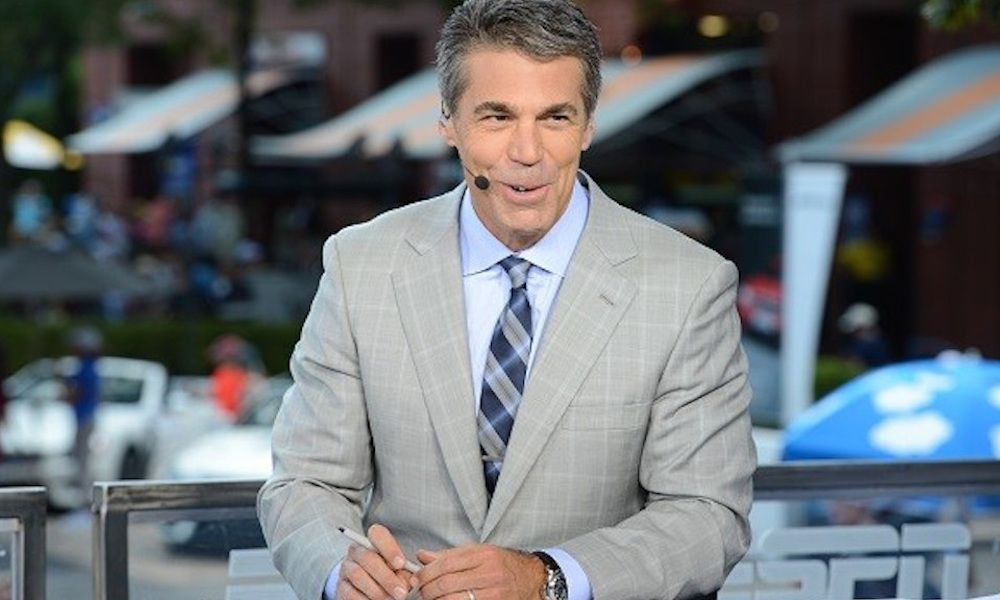 Chris Fowler has been employed by the Worldwide Leader in Sports since 1986.
He's been one of ESPN's leading men for a long time, but Fowler took a huge ripping on Twitter.
Members of ESPN are responsible for being knowledgeable of everything in the sports world. They are supposed to be the authority figure on all things sports-related. Alabama football is the biggest brand in the collegiate game, and one of the members of College Football GameDay did not know the Crimson Tide's had a 4th Quarter Program since 2007. Fowler posted a photo of Alabama cornerback Kool-Aid McKinstry in his 4th quarter program shirt. He said the team was 'issued' these shirts and that a message would be pounded all offseason. The offseason training program has been in Tuscaloosa since Nick Saban's arrival.
Several Tide fans and former players responded to Fowler's post on social media.
Corey McCarron, former Alabama TE
It's always been called 4th Q https://t.co/CNIJH9pxxL

— Corey McCarron (@CoreyMcCarron47) February 18, 2022
Caleb Castille, former Alabama CB
He making all that $ at ESPN and doesn't know our off season conditioning program has been called "4th Quarter" ever since Coach Saban was hired as head football coach in 2007. Hold this L https://t.co/duGp7BhQ7A

— Caleb Castille (@CalebCastille) February 19, 2022
T.J. Simmons, former Alabama WR
Prime example of people in the media being clueless and just creating a narrative https://t.co/hs9Y7h7Vuo

— Le FuFu (@a_scouts_dream) February 19, 2022
Alabama fans
Ummm Chris this is not new https://t.co/oTdhO0FJxM

— #BuiltByBama (@TideRecruits101) February 18, 2022
Imagine being a top 3 voice of college football during a 15 year dominance from Nick Saban AND NOT KNOWING ABOUT THE 4TH QUARTER CONDITIONING PROGRAM. https://t.co/BS1Rl19djL

— TJ Yates (@TJ_Yates41) February 19, 2022
Who's gonna tell him? Big L Chris https://t.co/xcaFUJOztv

— Dynasty Brit 🐘 (@DynastyBrit) February 19, 2022
This is downright embarrassing your show has literally had programs about Alabama's conditioning program which has been named this for over a decade https://t.co/mMZpt44MS0

— Nick Tarchis (@NitroCircus10) February 19, 2022
These shirts are only 15 years old. Don't think we came up with this today. https://t.co/UW4Mb38ayN

— RTR🐘 (@RTR32RTR) February 19, 2022
Can't believe people pay dorks like you to cover cfb 🤦🏾‍♂️ https://t.co/KoAdRXOhQm

— Mr. Solo Dolo (@_Dat_Guy3) February 19, 2022
Welcome to 2007 Chris ! https://t.co/7VIhCBgdQd

— Doug Simpson (@dougsimpson8) February 19, 2022
We have always had the 4th QTR program at Alabama Bruh cmon Chris you gotta do better https://t.co/E8oLLm1ZVE

— Bama Man 🐘🅰️ (@Bamaman777015) February 19, 2022
*Get the BEST Alabama football insider information, message board access, and recruiting coverage today! SIGN UP HERE to unlock our subscriber-only content!*