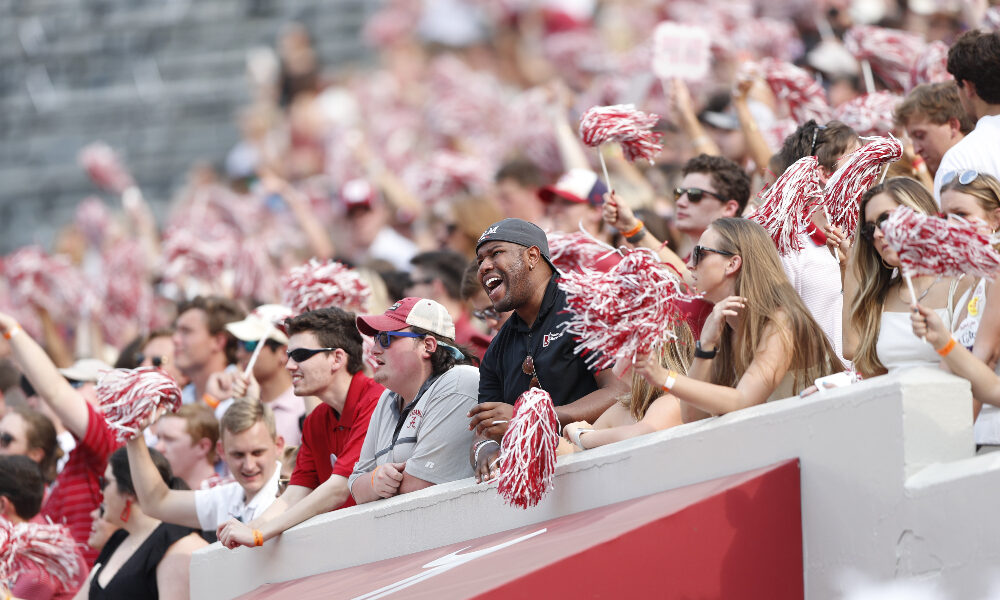 Alabama fans are hyped up about this football season.
Nick Saban added his fifth transfer in elite speed receiver Tyler Harrell. He caught 18 passes for 523 yards and six touchdowns at Lousiville in 2021. Harrell was in a run-heavy offense, but he averaged 29.1 yards per reception. As a South Florida native, Harrell brings exceptional top-end speed, breakaway acceleration, precise routes, and can separate quickly from defensive backs.
He committed to the Crimson Tide via Twitter today.
#RollTide 💫🐘 pic.twitter.com/pUOqUlwo6O

— Tyler Harrell (@EasyMoneyTy_) April 22, 2022
Alabama fans immediately took to social media to express excitement.
Y'all azz in trouble now college football 😳😂that Natty is a WRAP https://t.co/Pw010eDlKo

— Jerome from B'ham 🥋 (@JeromeFromBham) April 22, 2022
Saban warned everyone and they took it as him being unhappy with the new rules or thinking it wasn't fair https://t.co/x4y4MfUPep

— Ash ♕ (@ar_wise) April 22, 2022
Coach tried to warn y'all 🤷🏻‍♂️ https://t.co/QZKYIRRp0D

— Josh Vardaman (Life-long Matt Olson Fan) (@joshvardaman) April 22, 2022
See this is why it's not good to leave @AlabamaFTBL now Texas is going want you on his level before games day or you outta their @HallAgiye .. Nick tried to warn Yall .. be safe and remember roll tide https://t.co/SMS8oGVCvN

— Concert -Music – Billboard (@ElijahFrance5) April 22, 2022
#SPEEDSPEEDSPEED https://t.co/PA7gM1OfAz

— 🅱️🅰️Ⓜ️ (@big__bam) April 22, 2022
Is. This. What. We. Want. College. Football. To. Be. https://t.co/N6Vle1AVsW

— Bama B (@BC_Abrams32) April 22, 2022
Welcome to the team! #RollTide https://t.co/n8NlP6NG56

— JS Bama Fan 4Ever (@JS_Bama_Fan) April 22, 2022
LFG!!! #RollTide https://t.co/hg7QoFKonm

— Kelly🇺🇸🥋 (@SouthernLady1st) April 22, 2022
Oh it's up. 😂🔥 #SpeedKills @1JarvyP https://t.co/XVsPBafDOY

— Win the day. (@atraewayjoint) April 22, 2022
Tyler Harrell to Bama #RollTide https://t.co/Cbe5xTvVNd

— Johnathan Lewis (@CollegeFBLewis) April 22, 2022
You mfs in trouble 🐘🐘🐘 https://t.co/D5LqTlUC2a pic.twitter.com/vbKfRzEWw7

— Steven Murray (@BL_Steve) April 22, 2022
And if there was any question if Alabama was going to lack a speed guy in 2022, Tyler Harrell just silenced that 🔥 #RollTide #CollegeFootball https://t.co/a7Z3jZI4oL

— Marissa Myers (@Marissa_M27) April 22, 2022
Its real out here #RMFT https://t.co/JBjkskLULv

— MALCOM (@tadow97) April 22, 2022
This man has first round potential. Coach Wiggins will get him right! #PortalU🐘 #Tampering https://t.co/GOH2Po3Kzi

— Poverty Perry . (@tidewave4) April 22, 2022
Just give us the natty. 🏆 https://t.co/GTPozhZJWD

— J (@soyBGC) April 22, 2022
*Get the BEST Alabama football insider information, message board access, and recruiting coverage today! SIGN UP HERE to unlock our subscriber-only content!*