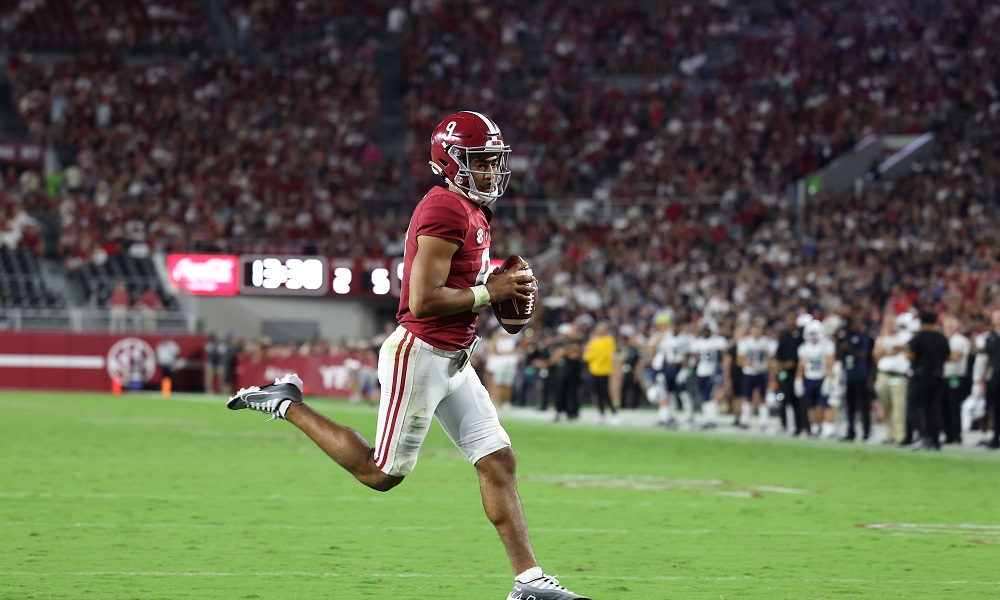 Alabama football will travel to Austin to battle the Texas Longhorns for its first test of the season Saturday.
Kickoff is set for 11 a.m. CST. The game will be broadcast live on FOX.
The staff at Touchdown Alabama provide their predictions and analysis of the game.
Alabama 52 – Texas 10

Key Insight: "Alabama's offense will develop more consistency in the run game against Texas. The offensive line should have good communication, despite the crowd noise. Jahmyr Gibbs will have a good game, but keep your eyes on Jase McClellan too. This could be a breakout game for him. Bryce Young may not have a 100-yard rushing performance, but he should have 3-5 touchdown passes against a young Longhorns secondary. Alabama's wide receivers should be able to create separation.
Defensively, the Crimson Tide will get home to Quinn Ewers for a few sacks. Bijan Robinson won't have marquee production against Alabama, and the Crimson Tide's secondary may get a turnover or two in the game."
Alabama 45 – Texas 17
Key Insight: "It is the first test of the season for the Alabama Crimson Tide.
Texas does not have a proven quarterback, but the Longhorns do have the best running back in the country, Bijan Robinson. Xavier Worthy, Texas' sophomore wide receiver, is also a weapon on the outside. It would not surprise me if the Longhorns' offense found a way to keep them in the game in the first half, but it will most likely take more than a few points to outpace Alabama's offense.
It will be difficult for the Longhorns' defense to stop Bryce Young and Alabama's offensive attack for a full four quarters. I feel this will be another air show by Young and Alabama's wide receivers. The Crimson Tide will also look to gain some consistency in the run game. 
Alabama will gradually pull away in this one as the game progresses."
Alabama 45 – Texas 24
Key Insight: "After a dominating game against Utah State, Alabama will see a step up in the talent department against Texas who has several familiar faces including head coach Steve Sarkisian. Although it has talent the Longhorns' youth matching up with the Crimson Tide's experience will favor Nick Saban's squad. Texas is still a ways away from competing on the level of Alabama."