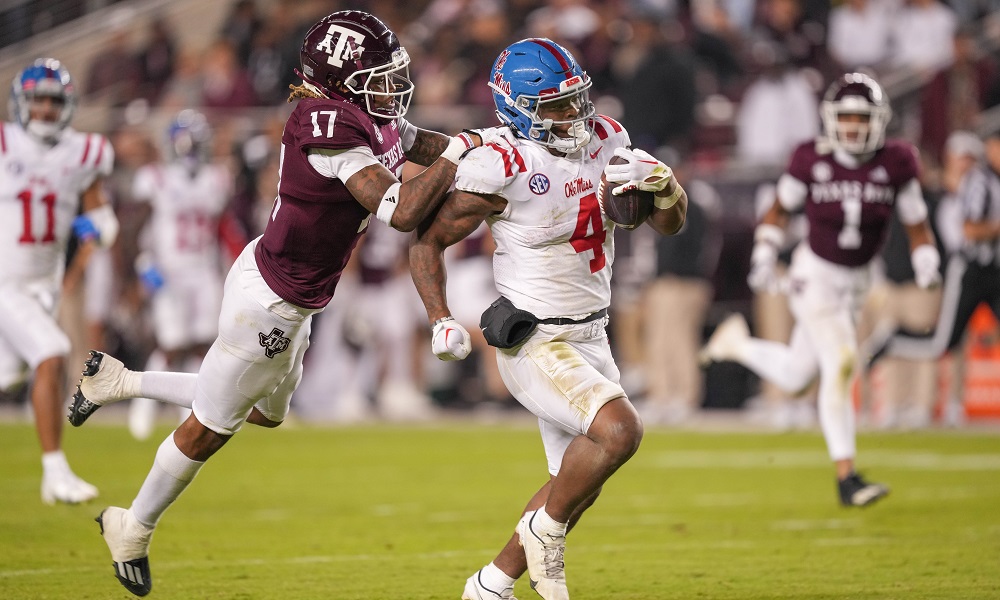 Ole Miss freshman running back, Quinshon Judkins seems to have earned more respect from Nick Saban after he had a great performance against the Crimson Tide Saturday in an Ole Miss loss.
Judkins has been one of the most dynamic freshmen in the country this season. He added to his impressive freshman campaign with a 135-yard rushing performance against the Tide. He ran in two touchdowns to give him 15 on the season.
Saban said the Alabama native is a dynamic running back who thrives in the Rebels' scheme during his post-game press conference.
"He is a good player," Saban said. "They're tough when they spread you out with four wide receivers and they run the ball so well and they have such good backs, and he is an outstanding player, fast, physical, can make you miss, hard to tackle and you gotta try to stay in nickel. You can't play dime because you can't stop the runs and you can't really match up on the passes. So, one other thing that happened in the second half that helped us when we got some third down stops is we stopped the run a few times. We got third and long so we could play dime so we could match up on the passes and got a couple sacks and got off the field on third and down, which was huge in the game."
Saban was complimentary when discussing Judkins before Saturday's game. The Tide did not offer the Pike Road, Alabama product, but the Alabama head coach did say it would be 'great' if Judkins played in Tuscaloosa.
This is not the last time Alabama will see the Ole Miss star running back with him being a freshman. Judkins is projected to be a star in the SEC throughout his career in Oxford.