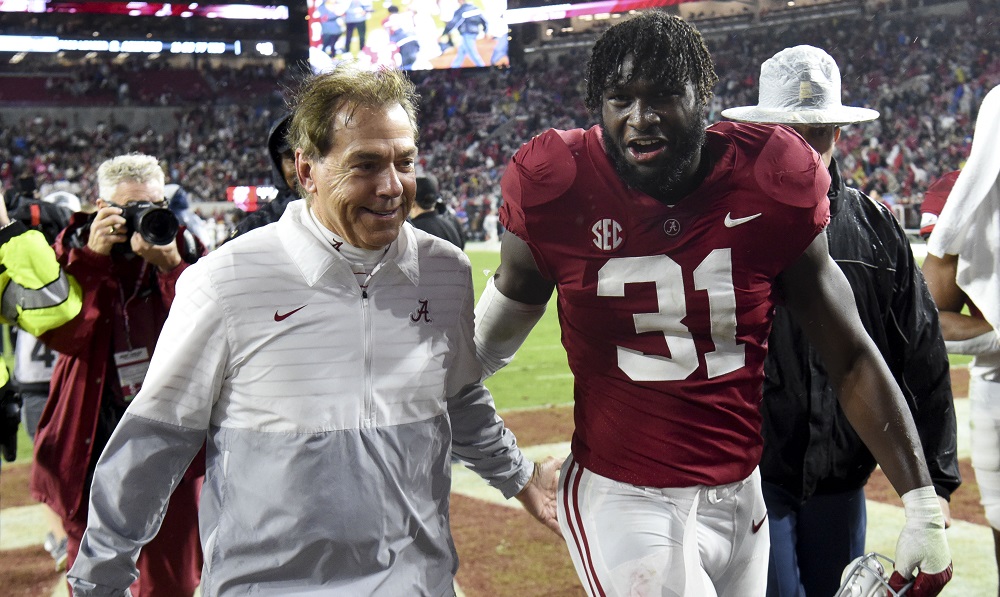 Nick Saban provided his thoughts on Alabama football's College Football Playoff hopes following the Crimson Tide's win over Auburn Saturday.
The Tide are 10-2 after defeating the Tigers, and they are currently ranked No. 7 in the College Football Playoff Top 25. Alabama's path to a possible playoff spot appears to be a bit more clear after Ohio State, LSU and Oregon suffered defeats Saturday. Saban said he feels it is a great opportunity for the Tide to be considered with two losses.
"I know I got asked about the playoffs out there, but you know, unknowingly, unbeknownst to me, I didn't know who won, who lost or anything else," Saban said. "It's a great opportunity for our team to be considered. I think we lost two games on the road against two top-10 teams by four points. We are a good football team and hopefully, people will recognize that."
Saban has openly campaigned for Alabama to get into the playoff in the past, and he is open to doing so in the future.
"If I think it'll help our team, I'll certainly do that," said Saban. "I haven't really thought about it to this point. My whole focus was win this game. That is the best opportunity we had for anything good to happen for us. To win the Iron Bowl is a significant accomplishment for our team and for our fans, which we certainly appreciate. So, I haven't really thought about any of those things beyond that. And I'm really proud of our players because I don't think they were thinking about anything except that as well."
The multiple conference championships will determine Alabama's fate.