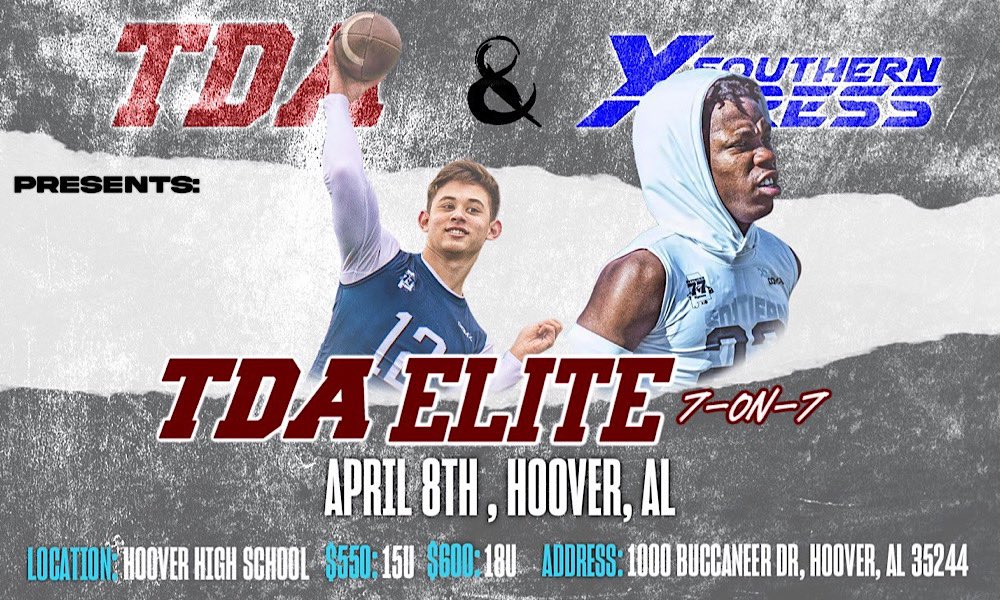 Touchdown Alabama and Southern Xpress to host TDA Elite 7-on-7 Tournament at Hoover High School
Hoover, AL — Touchdown Alabama and Southern Xpress are partnering for the first-ever TDA Elite 7-on-7 Tournament at Hoover High School in Hoover, Alabama on Saturday, April 8.
The event is scheduled to begin at 8:30 a.m. It will feature top 7v7 organizations from Alabama and surrounding states. Each 15U and 18U team will play three games in pool play to determine their seeding in the tournament round. The tournament round will be single elimination.
Awards will be given to the 18U and 15U tournament winners.
Touchdown Alabama is Alabama football's premier magazine and website. Established in 2007, TDA strives to be the go-to outlet for coverage of Alabama Crimson Tide football and high school football recruiting across the state of Alabama. Touchdown Alabama will provide full coverage of the event, including highlights, score updates, social media posts, interviews and much more.
Southern Xpress, founded by Byron DeVinner, is one of the nation's premier 7v7 organizations. It has helped produced many collegiate athletes, including Malachi Moore (Alabama), Kamari Lassiter (Georgia), Tre'Quon Fegans (Alabama), Jahlil Hurley (Alabama), Tony Mitchell (Alabama) and Sylvester Smith (Auburn).
How To Pay
*Please put your team name and email contact in the memo section*
PayPal – [email protected]
CashApp -$Benaz310
Venmo – @benniebice
Zelle – [email protected]