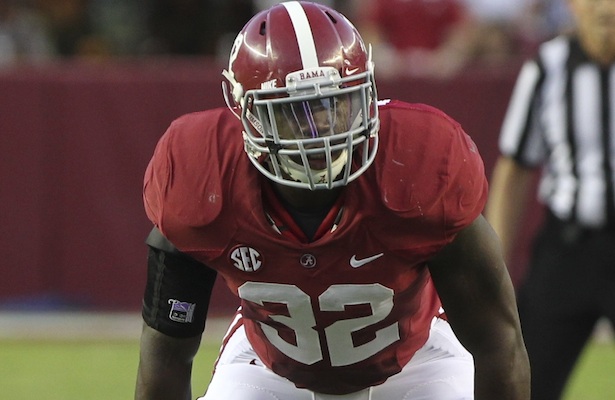 In our first installment of a long series of stories and interviews with former Alabama players, we at Touchdown Alabama felt it was important for our readers to understand the past in order to fully appreciate the present and the future. In this edition, we were able to catch up with former All-American linebacker C.J. Mosley, to get the full transcript of our exclusive interview, click here:
For those who remember C.J. one would not need to think too hard as the sideline-to-sideline linebacker roamed the field just over a year ago when he almost helped lead the Crimson Tide to its third straight BCS Championship. What you may not know is just what made him so special, and while it's easy to see just based on the talent he displayed with his football abilities, the person off the field just may be superior to the now All-Pro NFL player.
Coming out of Theodore High School in Mobile, Alabama, Mosley had no idea the greatness he was stepping into when he walked on the University of Alabama campus. Known by many as a quiet and humble person, Mosley simply wanted to put his work in and let the coaches decide his fate for him.
The saying, "Never forget where you come from" should be the motto for the Mosley family as the close-knit unit made sure to instill in their children good values that extend beyond the playing field. If you've ever had the chance to meet C.J., you would recognize in an instant that he was raised in a loving household that taught him to respect others and treat them as he would want to be treated. To say he took that teaching to heart is a vast understatement. According to C.J.,"That's the way my parents raised me and my brother, to be respectful, humble and responsible. They were raised the same way." C.J. has received more praise off the field than he has on it and that is attributed to these same values. He was even awarded a key to the city of Mobile by former mayor Sam Jones in 2013.
Now, as a member of the Baltimore Ravens, Mosley is continuing the same values that made him an All-American off the field as well as on it. He was a top candidate for Defensive Rookie of the Year and selected to the Pro Bowl. 2014 was merely a preview of what to expect from C.J. Guys like him don't wind up out of football in five years due to poor decisions. They were taught from an early age to make the most of opportunities and do your best in everything you do.
C.J. is on his way to a long-standing career that just may end with a Hall of Fame nod. I don't know what he'll say in his acceptance speech, but my money is on the outstanding job his parents did in raising him.
That's the kind of person he is. Thoughtful, respectful, humble. The core values instilled in him by a loving family.
Brandon Williams is an Editor and Columnist for Touchdown Alabama. You can follow him on Twitter, @TFRdotNet, "Like" him on Facebook, or add him to your network on Google.