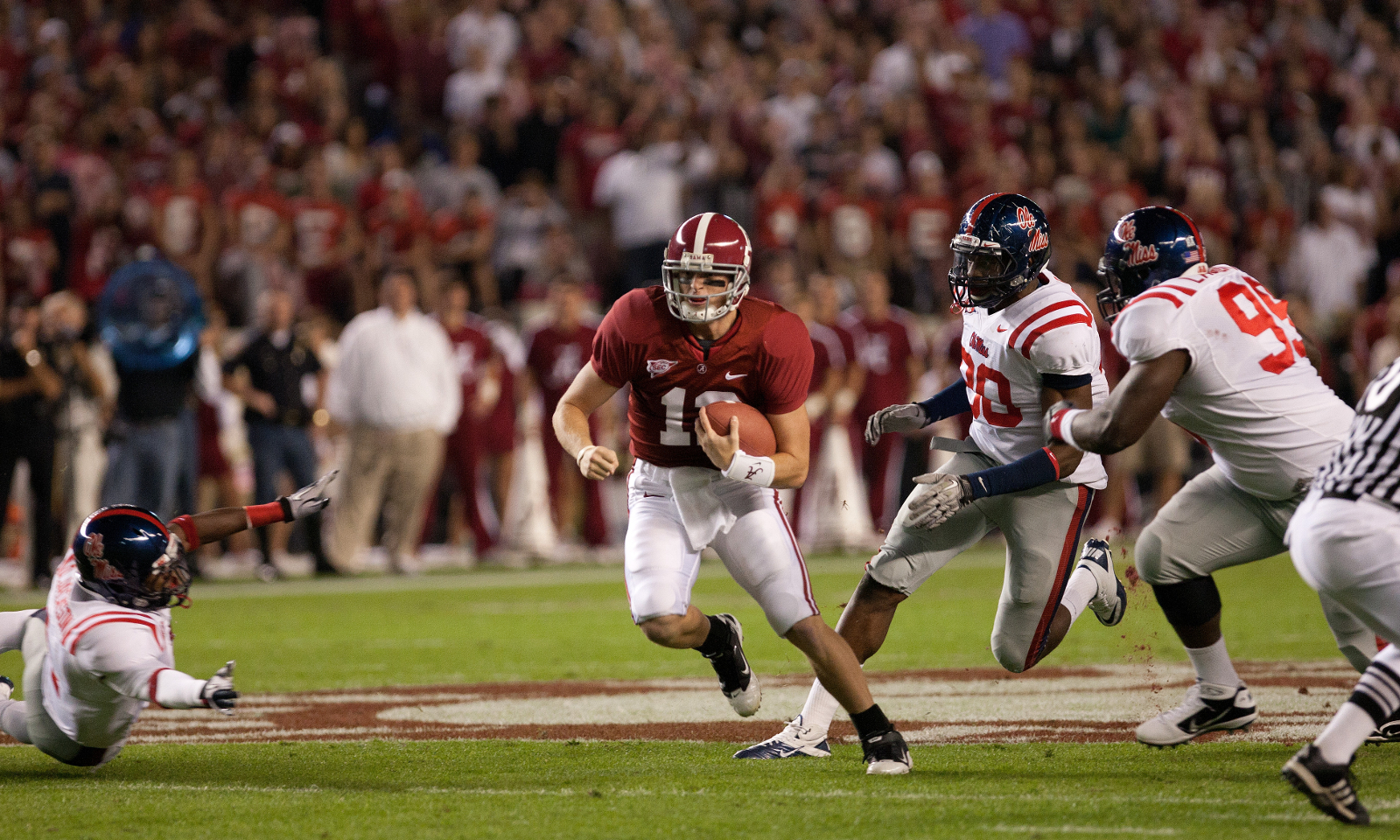 SEC Media Days have come to an end but not before we got a chance to catch up with former Alabama quarterback and current SEC Network analyst Greg McElroy.
TDAM: I want to get your overall thoughts on the quarterback situation this year. What do you see happening this year?
Greg: One thing I have realized: If Lane Kiffin is calling the plays, the quarterback is going to be just fine. And really, there hasn't been a year when an Alabama quarterback hasn't played well. Really, dating back to 2008, there really hasn't been a year where the quarterback has struggled. So that's the kind of insight I would have. Of course, going up against that defense every day (in practice) is the best friend that you can have. You won't see defenses as tenacious as that one, with a few exceptions, when you take the field on gameday. So that's a real benefit. So I think whoever it is will play really well, given the supporting cast.
TDAM: From personal experience, does having that supporting cast take the pressure off the quarterback situation or do you still understand that it's the most important position on the field? 
Greg: No matter where you play in this conference, you're going to feel pressure. I felt pressure in high school. Pressure is relative to how much it means to you. The more it means to you, the more pressure you probably feel. So I don't think having a really good supporting cast lightens that load because at the end of the day, your biggest critic should be yourself. Most of the guys who have played the position – that's the way we think, that's the way we're wired at the quarterback spot.
TDAM: You mentioned Lane Kiffin. How would you have liked to play under Kiffin's offense? Would you have enjoyed it more?
Greg: I would have loved to. I really appreciate the way he sets players up to be successful. I appreciate the way he moves pieces of the offense around in order to simplify the matchups for the quarterback. The game has changed since I've played. It's become a spacing game. It's basketball on grass to a certain extent. So he's been applying some of those aspects to his offensive philosophies. I had a pretty good (offensive coordinator) too in McElwain. So I wouldn't have traded my quarterback coach or offensive coordinator for anybody.
TDAM: We've talked a lot about quarterbacks and looking at Alabama's team, it's a lot of talent in the passing game. Do you think it will be more of a passing attack than we have seen over the last few years?
Greg: I don't think so, given the inexperience at quarterback and the talent they have at running back and along their offensive line. I think at times during 2014, they might have gotten away from what they do best. And I think they recognized that last year and eleviated it by giving Derrick Henry as many carries as he got. The identity of this team has always been leaning heavily on the run game and playing great defense. That's who Alabama will always be as long as Nick Saban is the head coach in Tuscaloosa.
TDAM: One more question: Why didn't you ever slide while you were in college?
Greg: Why'd I never slide? Extra yards, man. I didn't get a chance to run that often so when I did, I made sure to hit somebody. There were some times in practice too. I remember Kareem Jackson took one off on me. I was mad. I was a feisty player. And I had to go – I might have gotten a little bit of a cheap shot on him. I wasn't necessarily proud of that but I've always enjoyed the contact of the game. Even tough I was never fast enough, big enough, strong enough to play any other position but quarterback, I certainly enjoyed the physical aspect of the game.