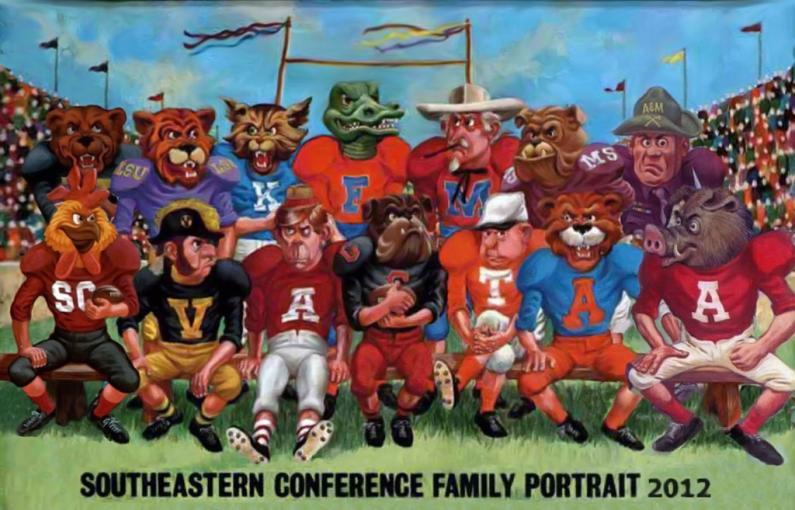 The Pigskin Pickin' Pooch and I are are back for our 10th year of listing the losers in the SEC.
Larry's Losers in the SEC – 2015 Week One
By: Larry Burton
Well sports fans, it's been a long off season with the SEC going through yet another winter and spring without a national title in the conference clubhouse and with the rise of the usual middle tier teams in this tough conference, it's gonna be a tall order for to sashay through this season without a strike or two on your SEC slate.
And this season just to change things up a bit, the pigskin pickin' pooch and I have decided to pick the losers by kickoff time and not by division as we've done since this pug picked his first game as a prognosticating puppy. There's a lot of feathered, flapping foes this week to take on the SEC. This has got to be the longest Larry's loser of the season as there are no SEC on SEC games to cause some shame, only some shameful mismatches with weak sisters of the little leagues.
So with all the excitement that a first week can wrangle, let's just jump right in and see how this season starts shaping out.
University of North Carolina vs South Carolina – This Thursday night tussle takes place in a neutral site as long as you can call playing in Charlotte North Carolina a neutral site. And with this being the first game and the only game worth watching, the nation will be all glued in to see if the Old Ball Coach can take on the pay for play players from up in Tarhill country.
Yes, these baby blue ballers have had lots of off season struggles with the NCAA and no one knows if all this will have an effect on how these Tarhills can tangle. One thing we do know, is that these Carolina Cluckers have been waiting a long off season to make up for the egg they laid last season and they can't wait to go out an have the other team plucked this season.
And that's what will happen as the these feathered footballers flap their way back to winning ways. Their season may get all plucked up later on, but beating a neighboring state rival will make them king of the Carolinas for at least this week. Larry's loser – North Carolina
Western Kentucky at Vanderbilt – In the other Thursday night contest, the one that nobody really cares about, involves two teams that nobody really cares about most of the whole season. Yes, I know these Hilltoppers went 8-5 last season including a bowl game win, but really who cared?
Last season, these hill climbers beat two service academies and a very good Marshall team in addition to a good Central Michigan Chippewas team in the Popeye's Bahama Bowl. So they figure they can come into the country's finest conference and walk out with a win against the weak sister in the SEC.
And you can bet your bluegrass booties that this is just what will happen as the Hilltoppers put an SEC win on their resume this season and still, nobody will care. Larry's loser – Vanderbilt
University of Louisiana Monroe at Georgia – A noontime Eastern Timezone tussle takes place between the hedges as these Warhawks flap their way to Athens for a big check and a butt whipping. The head pooch in this pound is Nick Chubbs and running against these feathered footballers will give him early hype in the Heisman race as he flies through that flock like a fighter plane through clouds.
The real thing to watch in this game is who and how well the Bulldog ball slinger breaks in with his boys. Is this a guy who keep these dogs from the dog catcher if a team manages to stop Chubbs from gaining chunks of yards.
My guess is that against this team, even the water boy will look like a Hall of Famer in this contest and the Bulldogs bully the Birds all day long and fling feathers in all directions for four quarters. Larry's loser – UL Monroe
UT Martin at Ole Miss – Another noontime kickoff, but this one on central time, another little brother comes into the SEC for a big paycheck and a bigger butt whipping as the Skyhawks come a calling to the Rebels roost in Oxford, but like most of these bird teams the SEC is playing this week, they'll will need more than a wing and prayer in this program.
Ole Miss has some questions to be answered like most of the SEC teams this week, but this ain't really the sounding board that'll give you the right melody to know how you'll be once you start playing the SEC.
But coach Hugh Freeze knows how to turn up the heat when he has to and it's looking like a backyard birdie barbecue in the Grove this weekend. These Skyhawks will be just another worn out shoe by the end of this game. Larry's loser – UT  Martin
UTEP at Arkansas – In a Central time 3:30  kickoff, if these Miners thought they could amble up Arkansas and strike gold in the SEC against these powerful Piggies they're greatly mistaken. Brett Beilema's bovines have been boning up on ways to finally finish a season on top of the standings and not staring at the hind end of the others up the ladder.
These pack of Pigs have a fan base that's so hungry for a great season that finally turns the corner that they'll think that mangling these Miners means they're already there. But while this bunch of bacon is becoming better and better, this win won't really tell the real football world if these Hogs are ready for hallowed ground in the SEC Championship.
One thing this week has in common are weak teams are being used as practice games to get that big paycheck and some big bruises as well and like most of the other squads in the SEC, they'll provide both for the vanquished visitors. These Miners will be lucky to even dig up a nugget to treasure in this one. Larry's loser – UTEP
Louisville at Auburn – In the other 3:30 kickoff, these Cardinals come a calling as they take on the Tigers in Auburn. Bobby's Birds may not be up to Auburn's level, but coach Petrino knows how to tame these Tigers from his days in the Pig pen and he's gonna have a trick or two up his sleeve because he can coach a football team a lot better than he can drive a motorcycle.
Now this is the game that the pigskin pickin' pooch really thinks has the greatest chance of being the upset special. He feels that the Tigers won't be tamed, but that if they fail to take these red birds too seriously, they could slip up and trip the Tigers. I can see this happening under certain circumstances, but it's much easier for me to see these Plains Pussycats pummeling these parakeets so bad that the red on their faces from embarrassment may be a brighter shade than the red on the Redbird's helmets.
Still, this could be the most entertaining mid day game of the week, so this will be one to watch and watch it we all should. Larry's loser – Louisville
SE Missouri at Missouri – In a four o'clock foray, the battle of Missouri will be over before it starts and the only thing in question could be the coin toss. Yet another bunch of bird brains fly into the SEC for the thorough thumping that's sure to come. This time it'll be the Redhawks that come in squawking and leave barely walking.
This may not be the season that these men from Mizzou continue their quest to the conference crown in Atlanta, but you won't know it from they way walk the walk against there Redhawks. While this may not be an entertaining game to gander, as most of these contests this, it will give us some insight into how well coach Pinkel has plugged his Pussycat's holes from graduation.
In yet another rout, Larry's loser – SE Missouri
Bowling Green at Tennessee – In the last of the daytime dramas, the last of the daytime feathered footballers flap their way into the SEC to be placed on the alter and prepared for the slaughter. These funny Falcons will give the Volunteer fan base the red meat they've been wanting all winter long. The Vols think this could just be their season will go by the way they fight the flock of Falcons.
But coach Butch Jones knows that no matter how fabulously the flog these Falcons, there's a long way to go before looking this sensational against SEC squads. This is a no win for the Vols, if they beat the boys from Bowling by 50, they were supposed to and if they just beat them by 24, then it looks like a catastrophe.
But old Bacardi the Wonder Dog and I think that few outside Tennessee will be watching this game as the Louisville – Auburn game will be a lot more entertaining, so if you've skipped it, all you need to know is that Larry's loser is without a doubt Bowling Green.
Arizona State vs Texas A&M at Houston – Finally some good games for nighttime. Todd Graham has these Sun Devils ready for Prime time at 7 pm and though the Aggies from the Lone Star State are favored by Vegas, they better give the Devils their due or they'll be the upset special of the weekend.
The game will be interesting on many levels, the SEC Western Division and the PAC 10 South could very well be the best two divisions in college football this season and this could show just how good both teams can be. This is not going to decided by who can score, but by who can keep the other one from scoring every time.
So coach Kevin is hoping that his hire of John Chavis pays off big because up to this year, the A&M stood for almost miserable, for the defense that is. Will it go better this year, this game could foretell a lot, but in the end, the Aggies hold up their end of the SEC success this weekend. Larry's loser – Arizona State
Louisiana Lafayette at Kentucky – In the other 7 O'clock contest, the Kentucky Kitty Cats take on the Rajun Cajuns from down in crawdaddy country and if you think this is another SEC team vs nobody butt whipping, you don't know these swamp people. This could be a great game to watch as well.
While the Cat coach has been stocking the cabinets with terrific Tabies, last season only saw five wins, while the Cajuns were a nine win team and return lots of talent of their own, so this one could very well go either way.
But in the end, these usual mild cats get just wild enough to scratch out a win and the SEC will breathe a sigh of relief that only Vanderbilt has let them down so far. Larry's loser – Louisiana Lafayette
McNeese State and LSU – Moving on the a 7:30 game, these Cajun Cowboys come riding into Baton Rouge looking for some little Louisiana brother love to go along with the big check they're getting, but the Bengals aren't bringing any hugs to the stadium for the poor brothers of bayou country.
The only reason to watch this game is to see if the Les Miles and get more miles out of the offense this season as this is going to be a long night for the crap pokes, uh I mean cow pokes.
I hope the big check makes it all worth while for the little brother because it'll take a while to wipe off the smiles on fans of Les Miles. Larry's loser – McNeese State
New Mexico State at Florida – In the first 7:30 kickoff, this one on Eastern time, the Sun Belt version of Aggies will try and gang up on the Gators but this team was beat last season by the worst LSU team in many years 63-7 so not even many Florida fans will want to try and find this game.
These Aggies can make the worst team look great and surely no Florida fan will think that the McElwain era is going to be a huge success based on this big check big butt whipping contest.
With much better games to be tuning in to, even the Gator fans will be DVR'ing this disaster. Larry's loser – New Mexico State
Wisconsin vs Alabama – At Jerry's World, Arlington, Texas with an 8pm prime start time.  The Bama fans are obsessed with all the questions to be answered by this Alabama team, but they don't realize that this opponent also is anxious to see how they stack up against the SEC's best and get their questions answered too. The thing that may shock the pack of pachyderm fans is that Wisconsin doesn't have as many to answer as they though.
With most of the questions on the Alabama offense, the scoring in this one could stay close for a while and while we're not calling for an upset here, it's something that could certainly happen. Bama fan better remember that the Badgers blindly beat Bama's baby brother in a bowl last season and if they could tame the Tigers from Auburn, they could keep the Tide from rolling.
But in the end, if the big old Badgers let the Crimson clad crowd get that offense into high gear, it could be a long day and I think by the forth quarter, they'll be rolling along just fine. Larry's loser – Wisconsin
Mississippi State at Southern Miss – At ten o'clock, the game that can put you sleep starts in Starkville. Only an insomniac Bulldog hard liner would want to stay up and see this one finally finish.
Mullins Mutts should have no trouble coming to the Eagle's nest and breaking all their eggs because this isn't the Southern Miss squad from years gone by when Jeff Bower had every opponent shaking on their schedule. They've sucked ever since they let Bowers slide off into a Southern Miss sunset and karma is still making them suffer from their stupidity.
So get to bed early, read the score the next morning and spare yourself from watching this snoozefest. Finally the last of the feathered foes from the first week get all plucked up.  Larry's loser – Southern Miss
Well that's it for this week folks. These pussyfoot programs will continue for a while until the schedule slides into the SEC vs SEC section and that's when the picks get harder and the pigskin picking pooch and I have to start earning our pay.
So keep hanging around and well keep pointing out the hopeless week to week and remember, for every head, there's a tail and we delight in listing the losers because the winners get enough media.
Larry has been published in almost every media outlet for college sports and now primarily writes here for Touchdown Alabama. He writes is a colloquial and irreverant style for this series of articles. Larry's views and sense of humor may offend, but he aims to offend everyone equally. If he hasn't insulted your favorite team with Larry's Losers, just wait. Follow Larry on Twitter for inside thoughts and game time comments at  https://twitter.com/LBSportswriter
Thanks for sharing the link to this story on your Facebook page
Come to the "Points After" Forum on the Touchdown Alabama site and discuss your feelings on this article.