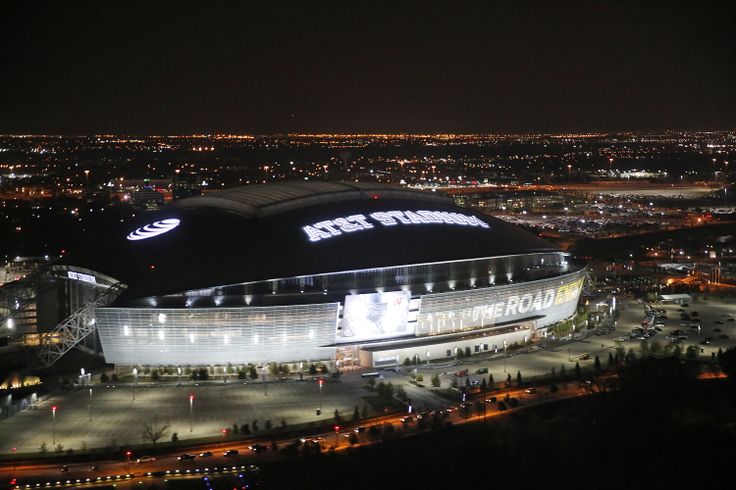 A win is win, but there are still things for Tide to worry about from the big game in Dallas. See if you agree. (Photo attstadium.com)
Alabama After One Game – What to Worry About, What to Celebrate
By: Larry Burton
I've always believed in starting with the good new first, so it was great to see Alabama get three sacks against a quality opponent. I said at the first of year that this team would beat last year's sack count and they're on their way in doing that. The entire front seven lived up the hype just about the whole game. Wisconsin, a team known for being able to pound the ball, was limited to just 40 yards of total rushing the entire game and less than two yards a carry for each attempt.
Yes folks, this could be the best front seven in all of college football, celebrate that as much as the win. That was the biggest win for the day, that all the hype on this group was not in vain and that they not only lived up to the hype, but may have exceeded it.
Secondly, let's celebrate control. No picks, no fumbles, the offense accomplished job one, which was don't turn the ball over and turn momentum. This is and was number one on Saban's list of offensive accomplishments and it went hoped.
Thirdly, the rushing game did in fact live up to it's potential. Alabama rushed for 247 yards with three running backs against a usually stingy Big Ten leading defense that was also a top ten defense nationally last season. Derrick Henry got the lions share of carries and the yardage, rushing for 147 yards on just 13 attempts for a staggering 11.31 yards per carry and three touchdowns. Kenyan Drake started slow, but got into groove as the game went on to 77 yards on ten carries for a more than respectable 7.7 yards per carry. In mop up duty Damien Harris rushed twice for 4 yards.
Also, earlier in the year I posted an article that said Alabama might actually be more dangerous without Amari Cooper and the premise of the article played out this week as the ball was effectively spread around to nine different receivers with the number one receiver, not catching more than three more balls than the last receiver. The defense couldn't focus on just man and several men found lots of open space. In all the nine men caught 264 yards of passes including one touchdown. All the receivers handled the ball well and there were no glaring drops or miscues from this group.
Lastly, Alabama went two for two in the red zone and didn't leave points off the board there.
So with the groups to be celebrated out of the way, now let's go to the ones who were just so so.
It's hard to say by the stats alone that Jacob Coker was so so. After all, he was 15 of 21 for 213 yards with an 10.1 yard per attempt average. But as a student of the game, I saw Coker miss reading wide open targets in place of more covered ones that resulted in less yardage. I saw him delay too often in getting rid of the ball and I saw too many completion to the wrong shoulder causing a receiver to have to lose momentum that resulted in less gain.
His quarterback rating does not reflect all the miscues and his QB rating of 57. and his completion average of 71.4 were both behind Bateman's 58.9 rating and 87.5 completion average, so I would expect the battle to not quite be over yet. Alabama had a abysmal 36.36 percentage of third down conversions. For the day they converted just four of 11 third down opportunities. This is hardly reason to celebrate the quarterback position. In all, one had to be underwhelmed by this fifth year senior that should have looked a lot more polished by now.
Also in the so so category was the secondary of the Tide. They bent but did not often break, but they consistently failed to step up on third down and kept the Badger offense going more often than it should have.  They allowed Wisconsin to convert almost 43 percent of their first downs and seemed to worry too much about giving up a big play that playing tight coverage.
Now for the worry factors.
We have what many believed to be nation's finest punter, but he lost out this week to a nobody punter from Wisconsin, due mostly to a unusual shanked punt. While I'm sure the future is going to be extremely bright for JK Scott, this wasn't his best game and you have to call them as you see them. A 36 and change average just doesn't cut it, especially when you see that he also had no punts inside the 20.
And while we're talking kicking, Adam Griffith kicked field goals like Meg Griffith of Family Guy in this one. He had one very routine kick of just 21 yards and another that while far, is within his range easily, he missed them both. You won't win a national championship with a performance like that. Saban has publicly stated time and again his faith in Griffith but the bad play speaks louder than Saban on this point.
Third down conversions have already been addressed, but only as something that made the quarterback play overall just so so. For Alabama to have a serious championship run, they have to up this average from a dismal 36.6 percent. Last season with a converted running back for a quarterback, Alabama average over 51 percent. Now with a fifth year senior quarterback at the helm the rate dips to 36? This is just sad.
Lastly, I don't know how much time Alabama spent on kickoff returns in practice this fall, but in watching the results Saturday, it doesn't look like they put much thought into it. Time after time the returner brought it out and time and time again the result just plain sucked. They never returned a kickoff back to the 25 and averaged only getting it out to less than the 12 yard line. Until they get that fixed, take a knee and start at the 25 instead of the 12 yard line. And while we're beating this horse, let's also say that they lost the punt return game also with their 6.25 yard per return average.
The overall look however showed a team that went head to head against a quality, legitimately rated top 20 team and dominated them in the end. A late Wisconsin touchdown against Alabama's bench saved them a little face, but it was clear that Alabama was head and shoulders a far better and much deeper team and that should give Alabama fans a reason to be optimistic as the season wears on.
A second reason for optimism is that the quarterback play will get better as the eventual winner gets more and more playing time and the Alabama secondary will start to gel as the season goes on. It was clear that the talent is there, but last night there were a few insights that the experience wasn't as they blew a few coverages they shouldn't have.
Lastly, two of the reasons to worry should take care of themselves. JK Scott will return to killer form and Adam Griffith will gain both his confidence and accuracy back I'm sure.
Larry has been published in almost every media outlet for college sports and now primarily writes here for Touchdown Alabama. Follow Larry on Twitter for inside thoughts and game time comments at  https://twitter.com/LBSportswriter
Thanks for sharing the link to this story on your Facebook page
Come to the "Points After" Forum on the Touchdown Alabama site and discuss your feelings on this article.