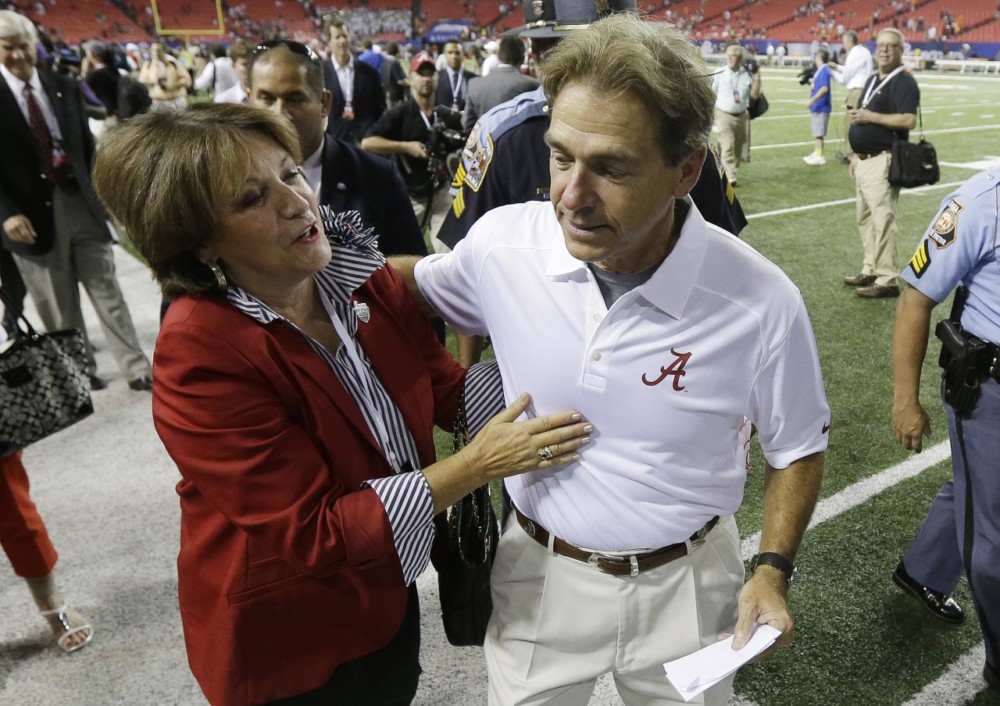 A lot of Alabama fans don't really know how much Saban was offered to leave.
How Bad Did Nick Saban Want to Stay at Alabama?
By: Larry Burton
Now that the smoke has cleared on Saban being enticed to leave Alabama for "greener" pastures, it's important to look back and see just how deeply Nick Saban is attached to the Alabama job, his present life and how badly he wanted to stay there.
They say that money can't buy happiness, but it can buy everything else, but obviously Nick Saban couldn't be bought by Texas. Texas boosters and board members now confess that Nick Saban was being courted for the Texas job in 2014 with a package that included up to a 15 million dollar signing bonus and a total package worth over 100 million dollars. With incentives, the package could have even been higher.
According to reliable estimates, Nick Saban's total worth today is around 30 million dollars, so it's obvious that if money were the main incentive in Nick Saban's life, he would have jumped at the Texas offer.
So it wasn't the money that kept him in Tuscaloosa and to many fans who think coaches are only into the money, that may have shocked them to hear the amounts Texas was tossing around. So why did he stay?
In an interview with Nick Saban a few years back, Saban shared with me his reasons for loving Alabama and his reasons for this being his final stop. They included such things as his friendship with then athletic director Mal Moore, who unlike other directors, kept his word to Saban to give him all the facilities he needed and wanted to make recruits heads spin and build better players.
He also noted that he knew the day of his first A Day Game in Tuscaloosa, when a capacity crowd showed up to show their support for the new coach that he had found his home. He was totally blown away by the support this "family" was giving him and the team.
"Every coach wants to be at a place where you have everything you need to compete at the highest levels and Mal (Moore) convinced me that there was no other place that would support what we wanted to accomplish more than Alabama." Saban said.
He then went on to say that Terry, his wife of 46 years, was also instrumental in not only getting him here, but keeping him here. He made it abundantly clear that Terry was happy here and not wanting to move again. This past year, boosters from the University of Alabama bought the home the Saban's are living in back from Nick and Terry and gave them the right to live there for the rest of their lives if they wanted.
Terry's influence over the decision making has never been downplayed by Saban, who instead told me, "Terry makes all the big decisions in our family. I've found out a long time ago that life is better when I let her make those kinds of decisions." Saban has joked many times that "Terry wears the pants in this family." But truly, it was Terry's desire to return to college football that made the biggest difference in him leaving Miami.
Terry loves to help Nick recruit and Saban told me a funny story of coming home on night and was surprised to find her singing karaoke a recruit and their family. Terry has said that the big dining room table in their home is used much more often for recruiting than for meals. Saban has always emphasized that they are not just man and wife, but partners in all they do and he also often jokes about the coaching advice he gets from Terry.
Saban, in a round about and modest kind of way, let it be known that he was wanting to make this his last job for another reason, building a lasting legacy at at school. While there won't be statues of Nick Saban being built at LSU, Miami or Michigan State, it's not just the statue of him in Tuscaloosa, but the sense of finally having a "home" that keeps him here.
He also has other interests in this area not to mention that Alabama is also the place where his daughter went to school and lives nearby in Birmingham. His son, who just presented him his first grandchild with wife Kelse, is also nearby. Now, for the first time, Saban has roots.
Saban said he thought when he was at LSU that it was the greatest place to live and coach, that he made good friends there, that he still has and that things couldn't get much better, at least until he saw what Alabama offered.
And so, Saban is happy, but he's pretty much always been happy with almost every job he's had except for maybe the brief stint in the NFL this last time with the Dolphins. He said it didn't take him long to realize that he had made a mistake and that both he and Terry missed coaching college football and the college life.
I asked him then if the right job and situation ever came up in the NFL again would he be tempted? And the answer was, "No, I know now where I'm supposed to be and what is the most fulfilling job is. Beside, I'm just too damn old to start over again. No, my next stop is my final one and that's to Lake Burton." (Where the Saban's have a home on the lake)
Though Saban might dabble with ESPN and do a little commentary with them after his coaching days, it's clear his time will be with his oldest and dearest loves, his wife Terry, golf and being on the lake. Till then, he's home, here in Tuscaloosa and even though more rumors are sure to pop up in the future, you can rest assured that Saban will stay here and that money and other incentives won't sway the man. He's destined to retire and live out his life in Alabama shirts on a golf course or Lake Burton with Terry.
Larry has been published in almost every media outlet for college sports and now primarily writes here for Touchdown Alabama. Follow Larry on Twitter for inside thoughts and game time comments at  https://twitter.com/LBSportswriter
Thanks for sharing the link to this story on your Facebook page
Come to the "Points After" Forum on the Touchdown Alabama site and discuss your feelings on this article