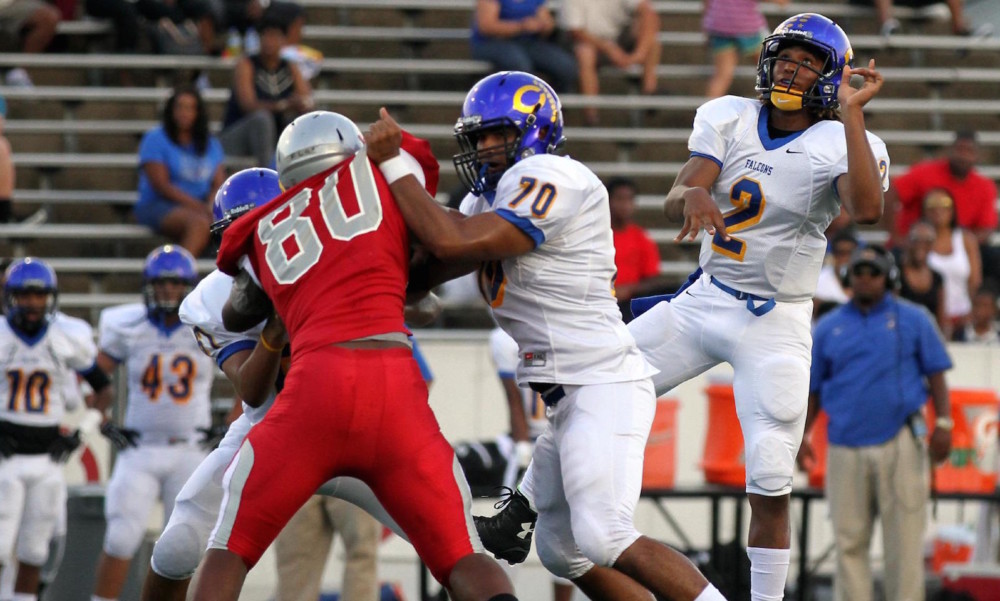 The future of Alabama football is in the midst of the most pivotal parts of their high school seasons, nearing playoff time and for some it is playoff time. This is their senior season and they're looking to finish their high school careers on top. Each week, Touchdown Alabama is bringing you updates on the 2016 and 2017 commitment classes on how they performed last week, what they're facing this coming week and if there are any updates on their recruitment.
2016 Class
Jonah Williams , OT, Folsom, CA (Folsom):   Folsom is undefeated and looking to finish the season that way in their final game against the 5-4 Woodcreek Timberwolves. Last week at Oak Ridge, Folsom rushed for 267 yards and passed for 138 (405 total yards) in a 3.
Kendell Jones, DT, Killeen, TX (Shoemaker): No stats were recorded for Jones but Killeen (7-2) defeated the 3-7 Copperas Cove Bulldawgs by a score of 40-13. This week they will face 2-7 Killeen, which should help them get ready for the playoffs with a win.
Raekwon Davis, DT, Meridian, MS (Meridian): No stats were recorded for Davis but the Wildcats shut out the 5-6 Terry Bulldogs, 33-0. Davis and Meridian will face 6-5 Forest Hill and if they can secure the win it should lock them in for the playoffs.
B.J. Emmons, RB, Morganton, NC (Freedom): Emmons had another big week, recording 259 yards on 20 carries (12.95 ypc) and four touchdowns in a 52-14 win over 5-5 St. Stephens. Freedom is 9-1 heading into their regular season finale against the 4-6 Patton Panthers.
Chris Owens, OG, Arlington, TX (Lamar): – The Vikings got a win over the 5-4 Weatherford Kangaroos by a score of 41-14 with Owens anchoring the line, allowing their QB to throw for 350 yards. Lamar moves to 8-1 on the season with two games left to play. Lamar faces the 2-7 Sam Houston Texans next week.
Deonte Brown, OG, Decatur, AL (Austin): The Black Bears pulled one of the season's biggest upsets, defeating undefeated Bob Jones, 28-24. Led by Brown and his offensive line, Austin rushed for 331 yards in the win. They are set to face 7-3 Pinson Valley in the playoffs this week.
Charles Baldwin, OT, Brooklyn,NY (ASA JC): The Avengers fell to Glove Institute of Technology, 43-38. ASA was able to notch 197 yards on the ground 181 through the air in the loss. They will face Nassau Community College this Saturday.
Jaquan Yulee, ILB, Chesapeake, VA (Indian River): No stats were recorded for Yulee but the Braves captured a win at Lakeland, defeating the 2-7 Cavaliers by a score of 48-7. Indian River improves to 8-1 as faces Western Branch next week. Yulee has made an immense impact since returning from injury and looks to lead his defense in the playoffs. He will also be on campus this weekend for the LSU game.
Jalen Hurts, QB, Channelview, TX (Channelview): The 7-2 Falcons got another victory against 4-5 Sterling by a score of 49-25. Hurts was a shining star once again, rushing for 227 and 4 touchdowns on the ground and 104 yards and 2 touchdowns through the air. Totaling 331 yards and 6 touchdowns, and this is not his first 6 touchdown game. Channelview faces 7-2 La Porte this week.
Quinnen Williams, DT, Birmingham, AL (Wenonah): The Dragons are 9-0 and had a BYE week last week. They will face 7-3 Randolph in the playoffs this week. Williams is set to attend the LSU game this weekend.
Miller Forristall, TE, Cartersville, GA (Cartersville):  The Hurricanes got a 49-0 win over LaFayette and Forristall had a huge night, catching three balls for 104 yards and touchdown. Cartersville is undefeated and will face 8-1 Pickens in what is supposed to be a big matchup to watch for.
T.J. Simmons, WR, Pinson, AL (Clay-Chalkville): Simmons was the x-factor the Cougars in a 53-35 win over Hewitt-Trussville , catching six passes for 133 yards (22 ypc) and 4 touchdowns. Clay-Chalkville is still undefeated (11-0) and will face Cullman in the first round of the playoffs this week.
Shawn Jennings, ATH, Tanner, AL (Tanner): Jennings is out for the season with a broken kneecap but Tanner is undefeated and will face Phil Campbell in the first playoff game this week.
Joshua Perry, S, Amite, LA (Amite): The Warriors suffered a 36-0 to the 10-1 McDonogh 35 Roneagles on Friday. 4-8 Amite plays Albany next week. No stats were recorded for Perry
Brendan Scales, TE, Ballwin, MO (Lafayette): No stats were recorded for Scales as Lancers were eliminated from the playoffs by the 10-1 Kirkwood Pioneers. He caught 30 passes for 358 yards and four touchdowns on the season. He will also be on campus for the LSU game.
Riley Cole, OLB, Oneonta, AL (Oneonta): The Redskins shutout 30-0 by the 10-1 Piedmont Bulldogs. Oneonta (4-6) will face the undefeated Cordova Blue Devils in the first round of the playoffs . Cole will be takng another visit to Tuscaloosa for the LSU game.
Eddy Pineiro, K, Miami, FL (ASA JC): Pineiro is redshirting for the 2015 season to get his full eligibility at Alabama. He has been training hard in the offseason as well as playing for ASA's soccer team. The top-rated kicker will be on campus for the LSU game this Saturday.
2017 Class
Najee Harris, RB, Antioch, CA (Antioch): Harris ran eight times for 105 yards and three touchdowns and two, two-point conversions. Harris played the first quarter and sat out the second half in the Panthers' 62-9 win over Deer Valley. The undefeated Panthers will face Pittsburg next week.
Cam Akers, RB, Clinton, MS (Clinton): Akers sat out for Clinton's 41-14 win against Greenville. The 7-3 Arrows will matchup at Starkville next week, probably their biggest game of the season and Touchdown Alabama will be on hand. Akers will be on hand for the Alabama vs. LSU game this weekend.
Netori Johnson, OG, Ellenwood, GA (Cedar Grove): The Saints won against South Atlanta, 33-20. 8-1. Cedar Grove plays at Blessed Trinity next week.
Alex Leatherwood, OT, Pensacola,FL (Washington) – The Wildcats fell to 1-8 on the season losing to Escambia 28-26. Washington plays West Florida next week.
Chadarius Townsend, ATH, Tanner, AL (Tanner) – The Rattlers (10-0) were on a bye week and will face Phil Campbell next week and will be on hand this weekend as Alabama takes on LSU.
Jake Fromm, QB, Warner Robins,GA (Houston County) – Fromm threw for 14 of 21, 224 yards and three touchdowns in the Bears' 42-15 win against Evans. Houston County (8-1) plays at Northside next week. He will be in attendance for the LSU game this weekend.
Xavier McKinney, S, Roswell, GA (Roswell) – McKinney registered seven tackles and two interceptions, one for a touchdown in a win at Cherokee 42-21. 9-0 Roswell plays Etowah next week.
Justin Wagner is the Scouting Coordinator for Touchdown Alabama Magazine, you can follow him on Twitter, at @jwag718