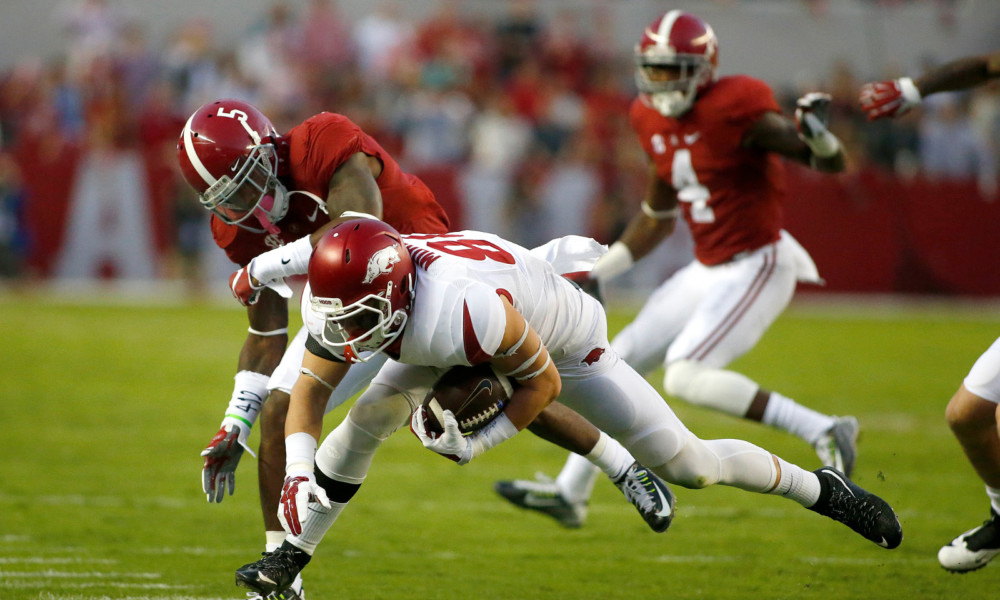 Louisiana State University or Mississippi State?
A decision is being made by college football fans and analyst as to which one should defeat Ole Miss. While the chatter boils on, another Southeastern Conference team will meet head up with the Rebels this weekend, the Arkansas Razorbacks.
Arkansas entered the season as one of few "dark horse" programs in the conference; however, injuries plagued it early as it stands at 4-4.
It will not have junior wide out Keon Hatcher and freshman running back Rawleigh Williams III, but Arkansas does return Cody Hollister (foot) and tailback Kody Walker (hand).
Regardless of venue, the Razorbacks have played well on the road. It defeated Tennessee 24-20, and despite a 27-14 loss against Alabama, Arkansas forced two interception off quarterback Jacob Coker.
Arkansas was one of three teams that ended Mississippi's magical run last season. Head coach Bret Bielema and the Hogs forced six turnovers, securing a 30-0 shutout victory.
The Razorbacks are on the brink of bowl eligibility for a second year under Bielema.
Yours truly of TDAM breaks down the advantages that Arkansas has this weekend.
A balanced power run game
Arkansas has averaged 5.06 yards per carry at this point. Running back Alex Collins continues to be one of the premiere runners in this league, behind a physical offensive line (328 pounds per player). Collins chimes in with 20.8 carries and 120 rushing yards per game. He has 960 yards with 12 touchdowns. Collins is the workhorse, but Arkansas likes what it has in Kody Walker.
Walker, 6-foot-2, 256 pounds, is all muscle and physical in the hole. He has totaled three rushing touchdowns, yet having him back from injury bodes well for Arkansas rotation in the backfield.
Experience at quarterback
Chad Kelly has been pretty good at signal-caller for Mississippi; however, it is only his first year in the SEC. Arkansas' Brandon Allen is a three-year starter, who is consistently improving. The senior is completing 63.2 percent of his throws for 2,034 yards with 15 touchdowns to five interceptions. Allen's posted 35 touchdowns to 10 interceptions in the last two seasons.
Kelly's arm talent is unquestionable, though he will make poor choices at times. His inconsistency in certain moments is the reason why he has 12 interceptions on the year.
Advantage in the turnover battle
What is Alabama head coach Nick Saban's favorite sermon? "It is all about the ball."
Arkansas' defense has kept this year's team above water by winning the turnover battle. The Razorbacks are +4 in this department, with 11 takeaways to seven giveaways.
Mississippi, on the other hand, has struggled protecting the football. Ole Miss is -4 in this area, with 21 giveaways to 17 takeaways. Mistakes from Kelly will bite the Rebels against Arkansas.
Mississippi's record in games after it has played Alabama
Ole Miss has consistently struggled to finish seasons under head coach Hugh Freeze.
Mississippi's posted an 18-16 record in games after it has played Alabama. The Rebels have been regarded as an SEC contender since 2012, yet it has finished at 7-6, 8-5 and 9-4 in three years with Freeze. A chance to get over the hump will present itself this weekend, but Arkansas will be up for the challenge.
In conclusion
Crimson Tide fans will cheer in secret for LSU and Mississippi State, but it is Arkansas that deserves support this week.
The Razorbacks have the talent to battle with Ole Miss.
As the season becomes more intense, Arkansas becomes the first team down the stretch with a chance to knock out Mississippi.
Listed below is a video from last year's Arkansas game against Ole Miss.
Stephen M. Smith is a senior analyst and columnist for Touchdown Alabama Magazine. You can "like" him on Facebook or "follow" him on Twitter, via @ESPN_Future.