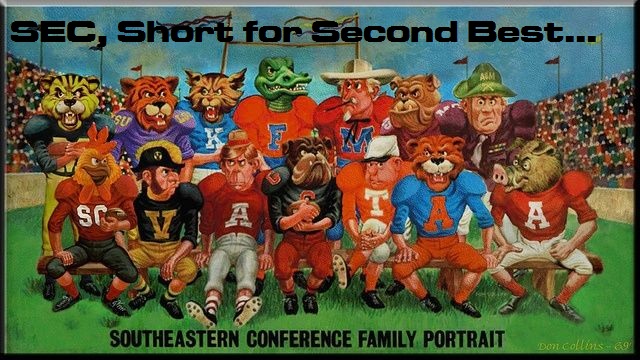 Larry's Losers in the SEC – Week 10 – 2015
By: Larry Burton
Well folks I guess it paid off to get back to face to face communications with the pigskin pickin' pooch. Now that I'm back from vacation, we hit a perfect score in our predictions once we could argue them out in person again.
We successfully predicted the upset bug would bite the Bulldogs almost as hard as the Gators did and avoided a miss there. And this week we're going out on a limb again to stay one step ahead of the upset bug. But we'll get to that one later.
Mississippi State at Missouri –  In a Thursday night fight, Mullen's Mutts meander into Missouri to cause more misery than Maty Mauk is feeling about now.
But Pinkel's pussycats aren't ready to go down without a fight and they think if the put their best paw forward in this one, they just might catch these Dogs looking ahead.
But we don't see that happening and when the final whistle blows it'll be hard to find a cat with all the fur still on it's carcuss. Larry's loser – Missouri
Vanderbilt at Florida – The Song City Sailors from Nashville sail off into the Gator infested Swamp of central Florida and hope to catch these rascally reptiles still on a high from bouncing the Bulldogs from the SEC East race.
But the McElwain train to Hotlanta ain't about to let these clumsy Commodores cancel their connection to the SEC Championships and they'll aim to chew through the hull of that boat and make some sailor sandwiches before the day is done.
And that's just what will happen in this one. The upset bug ain't big enough to bite this one. Larry's loser- Vanderbilt
Kentucky at Georgia – Reeling from a feeling of disbelief over the beating they took last week from the Gators, the red clay Hounds entertain the once again Mildcats from the bluegrass state.
Now these Kentucky Kitties would like to add to the misery these Mutts are mired in, but coach Richt knows the best remedy for this revulsion is to rebound in the win column.
And that's just what they'll do this week and although this could be the upset we're missing, we don't the upset bug has a bite this big. Larry's loser – Kentucky
Arkansas at Ole Miss – The Razorbacks ramble into the Grove in Oxford and hope to root out a win against these Rebels.
But the men from Mississippi have their eyes on the prize and aim to keep heading down the road to the Georgia Dome for the big SEC dance.
But Bacardi the Wonder Dog is barking that this is the battle where the upset bug bites and that Arkansas finally gets its long overdue signature win in the SEC and makes the statement they've been trying to make all season. Larry's loser – Ole Miss
South Carolina at Tennessee – The Carolina Cluckers come a knocking on the door of the Knoxville home of the orange clad clan of Volunteers and hope that they'll be treated kinder than other in the SEC have been to them this season.
But coach Jones ain't planning on rolling out the welcome mat and instead is Googling chicken recipes for the upcoming barbecue he's planning in Neyland Stadium.
I don't know if they'll be enough pullets for all the plates in those bleachers, but you can bet there won't be many cluckers escape is catastrophe.  Larry's loser – South Carolina
Auburn at Texas A&M – Auburn is hoping to ambush the Aggies and get back to making bowl plans, because if they tumble in this tussle, they may not even get an invite to the Tidy Bowl this holiday season.
Meanwhile, coach Kevin has seen his SEC title dreams dashed but knows that a good finish could still get him a big old bowl and take the sting out of this season's setbacks.
This could be a really close game and either team could walk away a winner, but once again the pooch reminds me when it's close, go with the home team. Larry's loser – Auburn
LSU at Alabama – Les Miles is telling his boys that despite being undefeated, that despite being ranked higher than Alabama, that they are the underdogs or more literally the under Tigers in this game and that's put quite a chip on their shoulder in this contest.
And Saban has been spilling to his boys that if they want to make the SEC and National Championship games, then this is the time to take it and tame these Tigers one more time.
This is either gonna be a close hard fought game or the one that the home team finally shines, but either way, Les has a few more miles to travel before he bests Bama. Larry's loser – LSU
Well that's it for this week folks. Last week may have settled the SEC East, this week may settle the SEC West, but there's still so much more to come that you won't want to miss the list of losers to come to see how it all will shake out.
Till then, keep the game time snack supply full and remember, your team's not a loser until Larry lists it so.
LARRY HAS BEEN PUBLISHED IN ALMOST EVERY MEDIA OUTLET FOR COLLEGE SPORTS AND NOW PRIMARILY WRITES HERE FOR TOUCHDOWN ALABAMA. HE WRITES IS A COLLOQUIAL AND IRREVERENT STYLE FOR THIS SERIES OF ARTICLES. LARRY'S VIEWS AND SENSE OF HUMOR MAY OFFEND, BUT HE AIMS TO OFFEND EVERYONE EQUALLY. IF HE HASN'T INSULTED YOUR FAVORITE TEAM WITH LARRY'S LOSERS, JUST WAIT. FOLLOW LARRY ON TWITTER FOR INSIDE THOUGHTS AND GAME TIME COMMENTS AT

 HTTPS://TWITTER.COM/LBSPORTSWRITER
THANKS FOR SHARING THE LINK TO THIS STORY ON YOUR FACEBOOK PAGE
Come to the "Points After" Forum on the Touchdown Alabama site and discuss your feelings on this article.