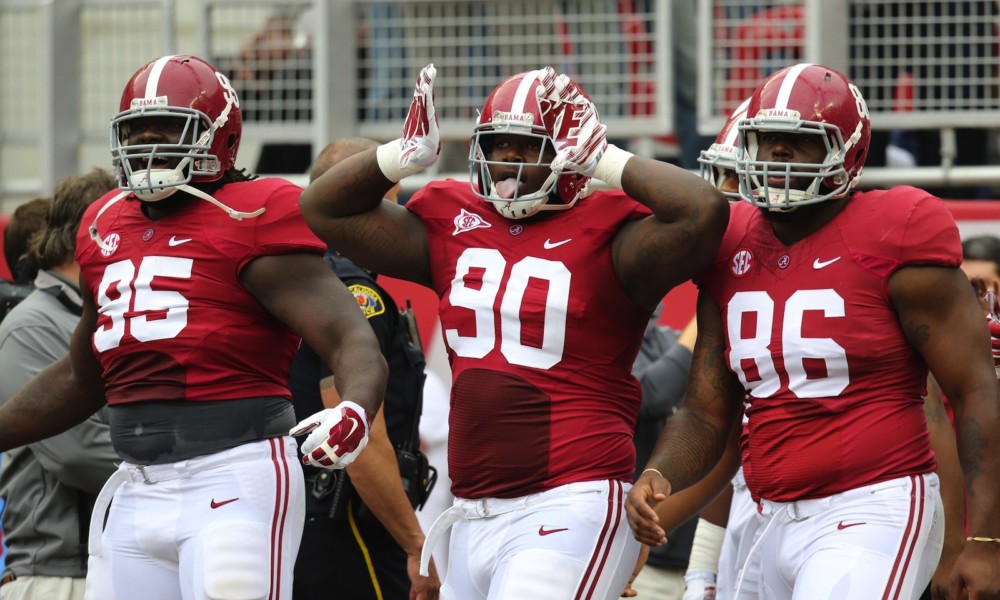 We are now approaching Alabama's most pivotal part of the season, with the biggest game of the year coming up when LSU visits Tuscaloosa on November 7th. The talk of this season following the loss to Ole Miss has been the defense, mainly the defensive front of the Tide. The defensive line's average weight comes out to roughly 300 pounds across the line and they play like it too.
Arkansas head coach, Bret Bielema can atest to that as he was blown away by Alabama's defensive line in a 27-14 loss to the Crimson Tide. "They have a defensive front that's comparable only to the NFL, Bielema said. "At one point someone told me they've played 12 defensive lineman. They all look the same. I swear there's a little machine that just creates them and they all walk outside. They all look the same, and they play the same, unfortunately." The defensive line led the way to hold the Razorbacks to just 44 yards rushing, holding all of their opponents to just 78.5 yards per game thus far.
As this season has progressed, the defensive line has soared past expectations, raising the draft stocks of a number of players in Alabama's trenches. A'Shawn Robinson has been considered one of the top defensive linemen in the nation and has only backed that up this season. Jarran Reed went from a progressing JUCO player to a top five defensive lineman. Jonathan Allen has come alive from his "underrated" status of his career in crimson. All in all, there are 3 guys in the top ten at their position, another in the top 50 and three others in the top 10 in their respective positions when their draft eligibility comes.
When you hear about Alabama's defensive line, the first name that comes to mind is A'Shawn Robinson. Robinson was a 5-star recruit out of Fort Worth, TX, was actually recruited as an offensive tackle by many schools and was the #2 offensive tackle in the 2013 recruiting class. He was recruited to Alabama as a defensive tackle and I'm sure that decision is well-received by many as Robinson has registered 113 tackles in his 3 years at Alabama and has become one of the most dominant forces in the middle in the country and in program history. The Arlington Heights High School product brings a lot to the table for NFL teams, he is very quick for his size, being able to get a good first step into the backfield, he has a high football IQ, always knowing where to be and what to do and he will always give you 100%, leaving everything on the field. You can compare him closely to Jeremiah Rattlife of Chicago or Marcell Dareus of Buffalo. Robinson has all the intangibles to be a force at the next level, currently sitting at #11 on Mel Kiper's Big Board, he will go early and make an impact right away and make whatever team that is, very happy.
In 2014, Alabama picked up the commitment  of East Mississippi Community College defensive tackle, Jarran Reed, a 6'4″, big-bodied player who was dominating the junior college level, although many said he was too big and just "a plug". Reed since then has proven those doubters wrong, now weighing in at 305 pounds. Also recording 93 tackles in his two years, showing his versatility by playing inside and outside on the line. Reed has lead the way when it comes to pass deflections on the line, the unit having over 20 already this season. Jarran Reed is a dominant run-stopper with very surprising quickness and ability to use his hands, comparable to Geno Atkins of the Bengals. Reed can make an impact in the NFL and should be a steal for whoever picks him up.
Although Robinson and Reed are the two guys that most scouts are raving about, one name that is coming up more is junior defensive end, Jonathan Allen. Allen, a former 5-star prospect out of Leesburg, Virginia in the 2013 recruiting class has emerged as the Crimson Tide's top pass rusher, seemingly always finding his way to the quarterback. His 22 tackles for loss in his 3 years, say a lot about his role in Kirby Smart's defense, using his quick first step and smart hand placement to gets past lineman with ease. Allen has six sacks in 2015, meaning he has had one in almost every game. He brings many different abilities to his résumé and with a similar skill set to Dwight Freeney, he could be one of the sleeper picks of the draft.
Beyond that, there are guys like junior Dalvin Tomlinson who is now being talked about as a late draft pick, sitting at #31 for defensive tackles, which could change, should he stay his senior year. There is standout sophomore Da'Shawn Hand, who is ranked 3rd out of the 2018 defensive ends and true freshman Daron Payne who is also ranked 3rd in the 2019 draft eligible defensive tackles. This only means that the future is very bright for the front of Alabama's defense with these young players, as well as guys like Kendell "Hulk" Jones and 6'7″ Raekwon Davis from the 2016 recruiting class. The defensive line position will be one of those positions that the coaching staff won't rebuild, they will just plug and place the right guy in the right spot, and that should make Alabama fans very excited for the near future.
Justin Wagner is the Scouting Coordinator for Touchdown Alabama Magazine, you can follow him on Twitter, at @jwag718