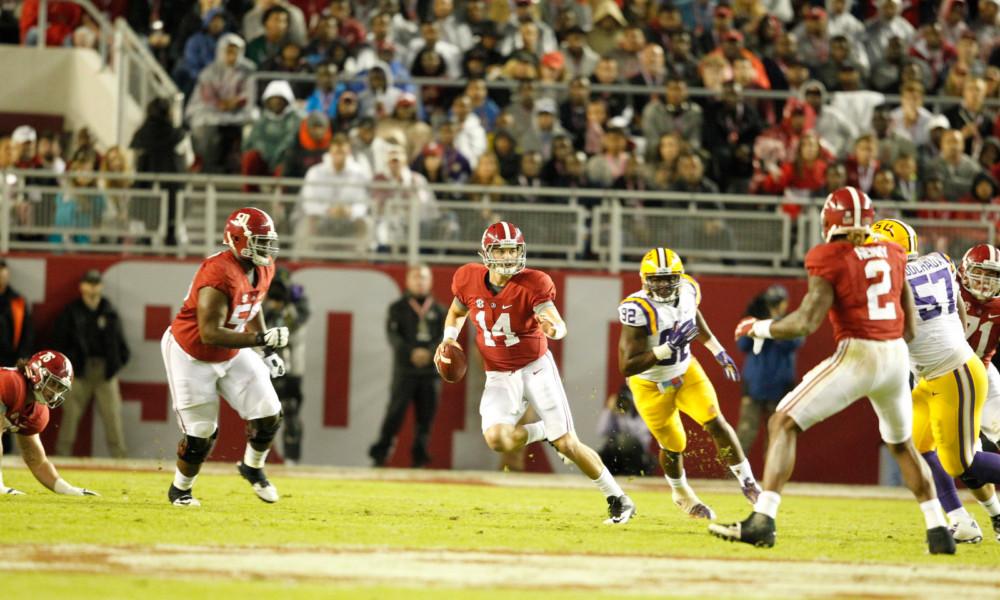 Last season inside Tiger Stadium Alabama Jake Coker quarterback could only sit and watch as Blake Sims lead the team the many thought Coker would leading down the field to victory against the LSU Tigers.
Coming into this season many experts had doubt that Coker had the talent to lead this team to second consecutive College Football Playoff appearance. As the season progressed the more experience and playing time Coker got the more doubt seemed to creep into the minds of Crimson Tide fans.
Now despite what the stat lines may say Jake Coker is living proof that if you believe in the process the process can work out for you.
So far through the season Coker has thrown 11 touchdowns and seven interceptions the numbers might not look impressive but the win loss record is all that matter most in Tuscaloosa. With the toughest schedule in the country Coker has led his Alabama team to an 8-1 record and a top five ranking in the country.
Most quarterbacks transfer looking to become the focal point of the offense and put up huge numbers. That has not happen for Coker in 2015 and he has no problem with it at all. Coker's main focus now as it has always been is bringing another National Championship to Tuscaloosa.
Coker has not put up Heisman numbers or record breaking performances but he has bought in and believed in the offense. He has bought into Derrick Henry being the focal point of the offense and being asked to become a game manager at the quarterback position
The past three games are the tell all signs of how Coker has changed the way he plays for the benefit of not only his stat line but for his team to improve as well. Coker has thrown zero touchdowns and one interceptions limiting the amount of mistakes that can cost his team.
Coker knows that he has the talent to make the big play but his decision making on those big plays hasn't always been great. Coker has played it safe and made sure that he keeps the ball in his hands and in the hands of Heisman candidate Derrick Henry.
What more could you ask of a quarterback? Coker weather you like it or not can't be asked to do more than he has done. He has lead a team that some thought would have two or more losses up to this point in the season, to within four wins from returning to the College Football Playoff.
Ivan L. White is a contributor for Touchdown Alabama Magazine. You can "like" him on Facebook or "follow" him on Twitter, via @ilwhite1