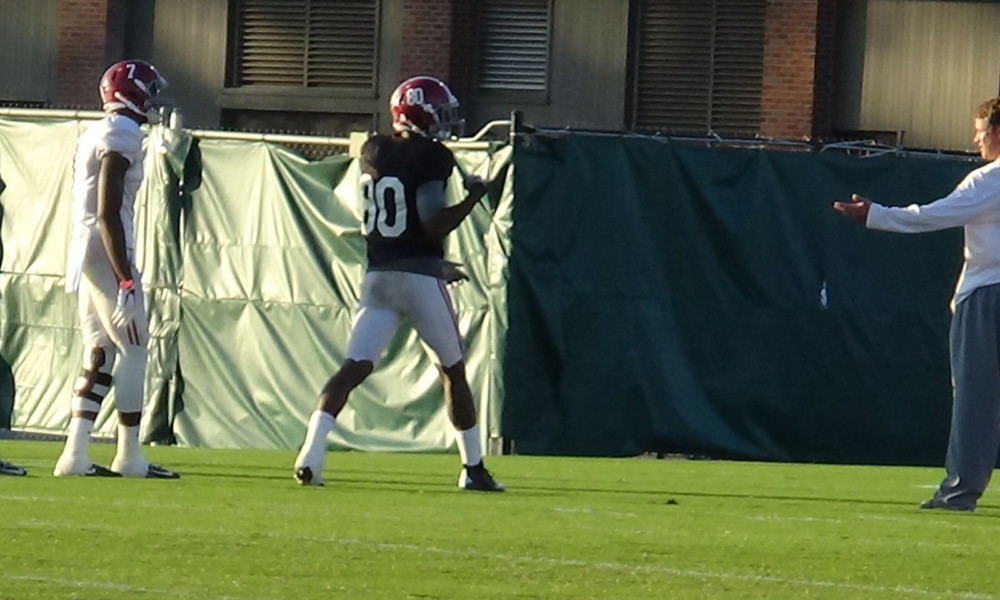 Alabama was back at practice Tuesday in sunny, 66-degree weather conditions. It was day two of the Crimson Tide's game week prep for Mississippi State. TDAM contributor Ivan White and yours truly with updates.
Notes from Tuesday's practice
Running back Kenyan Drake fully participated Tuesday, after being limited Monday. He followed behind Derrick Henry in footwork drills.
Alabama quarterbacks and wide receivers worked on post patterns to the outside and sluggo routes. Wide receiver Richard Mullaney caught a beautiful pass from Jacob Coker.
Wide receiver Raheem Falkins (foot) continues to progress. He appeared to be smooth in his cuts during footwork drills and came down with some passes.
Dominick Jackson participated in footwork drills, but stood to the side when it came to run blocking. Brandon Greene, wearing No. 89, took reps at first-team right tackle.
Sophomore cornerback Tony Brown has been working with safeties in the last couple of practices. It was evident Tuesday as he was with safeties once again. Brown saw reps in the second team dime package.
Alabama defensive players in scout team jerseys
OLB Christian Miller (No. 48, representing MSU DL Ryan Brown)
DL O.J. Smith (No.98, representing MSU DL Chris Jones)
ILB Adonis Thomas (No. 57, representing MSU LB Richie Brown)
OLB Joshua McMillion (No. 57, representing MSU DL Will Coleman)
DL Anfernee Jennings (No. 97, representing MSU DL Jonathan Calvin)
Stephen M. Smith is a senior analyst and columnist for Touchdown Alabama Magazine. You can "like" him on Facebook or "follow" him on Twitter, via @ESPN_Future.
Ivan L. White is a contributor for Touchdown Alabama Magazine. You can "like" him on Facebook or "follow" him on Twitter, via @ilwhite1