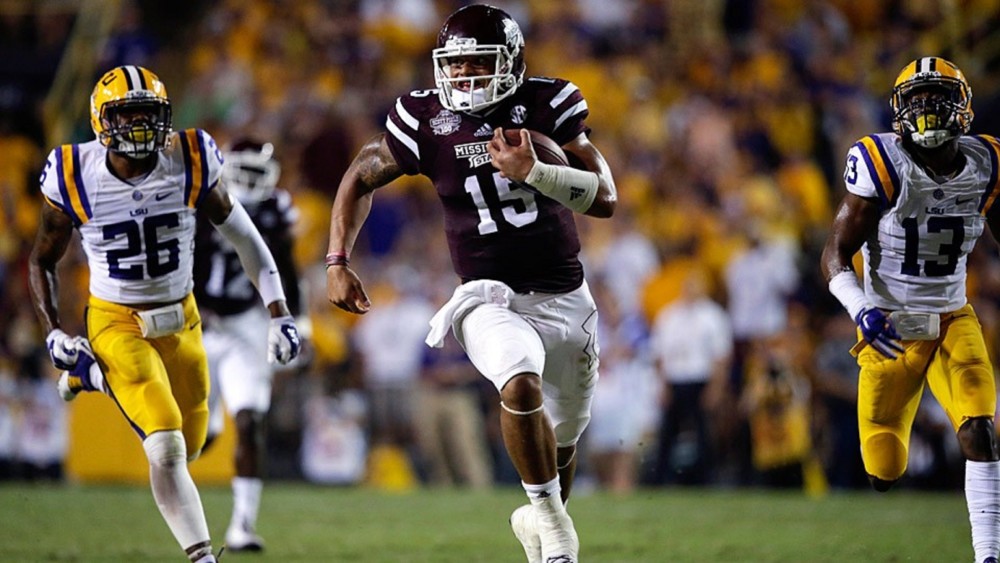 Why Alabama is Favored Less Against Miss. State Than it was LSU
By Larry Burton
LSU opened as a seven point underdog last week when betting commenced. This week Mississippi State opened up as a six point underdog. Do the folks in Las Vegas think that the Bulldogs are really better than the LSU Tigers?
No, but they do know one thing, Alabama has trouble with teams with a mobile quarterback and Dak Prescott is every bit that kind of quarterback.
And it's not just some of the time, Alabama seems to have problems every time a mobile quarterback takes on the Tide.
Why?
Alabama's front seven play gap coverage first and foremost, so against a team that likes to run, they have gap or lane responsibilities. That means that they are responsible for a particular part of the line and that nothing comes through the piece of real estate they're responsible for. That worked well against LSU is a run heavy offense.
But State is not run heavy, so far this season they have run 281 times and thrown 320 times. That's pretty balanced with a slight lean toward passing. However of the 46.7% of the time they run they ball, it's usually Dak Prescott doing the running. Of the 281 rushing plays they've run this year, Prescott is their leading rusher with 418 yards and he's carried the ball 86 times. That's almost one out of every three running plays.
Why that is problematic for the Tide is that they don't know if Prescott is dropping back to pass or run, but then some times neither does Prescott. A great many of his runs were pass plays where he found the the receivers covered and then just took off. If someone blitzes and misses, the hole they came through to get to him is now a hole that Prescott can exploit to leave through. That's why it's dangerous to rush him.
And with safeties and corners running down the field in coverage, once he breaks the line, Prescott finds a lot of green until the defense recovers.
To counter that Alabama's defense employs two different schemes. First they play containment first, not rush. In other words, instead of an all out rush to the quarterback, the defense forms a containing "ring" around the QB and then collapses that ring. This forces the QB into a throw or a sack.
The second scheme is designating a spy to simply stand behind the line and follow the movement of the quarterback and be the guy responsible for tackling him should he breach the line.
Both can have problems. in the contain scheme, only one defender as to fail to seal his "gap" and a quick footed eagle eye quarterback can see it and exploit it. In the second scenario, the spy means that defenders are left mostly to one on one coverage and that the spy, who may have usually had a responsibility for a running back dropping into coverage could find an empty spot for the QB to dump it off to.
For a QB to do all this, he must be quick footed, have eyes that see all and be able to execute a throw with precision. Prescott can do all these things and may be the SEC's best quarterback at doing everything that caused Alabama problems in the past.
Whether or not State winds up being a tougher opponent than LSU of course remains to be seen, but Prescott is the reason that Vegas sees a closer game.
Larry has been published in almost every media outlet for college sports and now primarily writes here for Touchdown Alabama. Follow Larry on Twitter for inside thoughts and game time comments at https://twitter.com/LBSportswriter
THANKS FOR SHARING THE LINK TO THIS STORY ON YOUR FACEBOOK PAGE