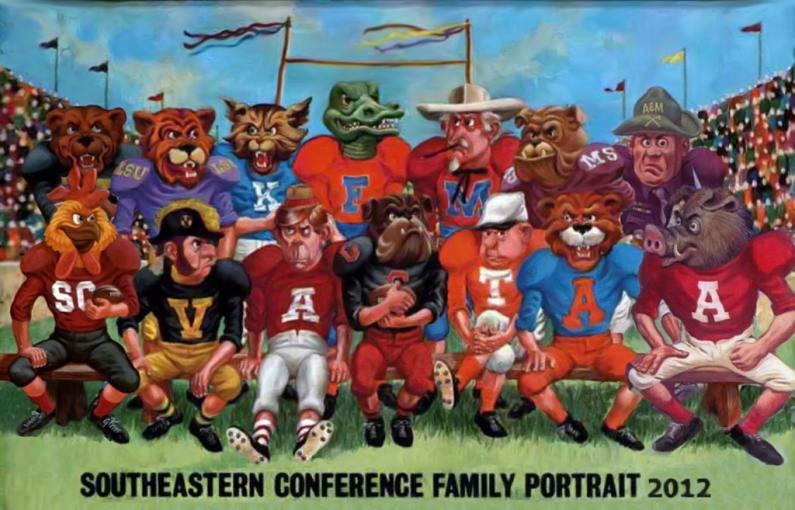 Larry's Losers in the SEC – Week 11 – 2015
By: Larry Burton
Well sports fans, last week sure clarified the picture in SEC a bit more. Bacardi the Wonder Dog almost wore his paw off patting himself on the back for correctly picking where the upset bug would bite and picking that Ole Miss would lose to the Hogs. That loss put Alabama in the driver's seat for the SEC West and despite doing it extremely ugly, the Gators clinched the East.
But there's still a lot of losers to go and our average needs to go up despite still being the hottest pickers in all of prognostication. Last week saw our season total go to 67-12 for just over an 82% accuracy rating and that's below our all time high of 95%, but the upset bug has been a tricky one to try and squash. So while that's bad for us, it's sure better than anyone else. Bacardi is laughing at Kirk Herbstriet's average, he'd love to be in high 60% range but isn't.
So let's just jump into this weeks list of likely losers and pray for pigskin predicting perfection.
North Texas at Tennessee – One of the worst teams in a crappy league come East to take on the Vols at home. These Mean Green men from Texas may be mean, but they aren't very mighty.
Butch's boys may not have not lived up to expectations this season, but they are going bowling and to a better on than most of the SEC East boys and beating up these Bozos will only help them.
So while it may not be one of the 11:00 AM games to watch, the Vol fans will love it. Larry's loser – North Texas
Florida at South Carolina – McElwain's mud puppies go calling on the Cluckers from Carolina and this could be an interesting game if Florida plays as bad as last week and South Carolina plays as good as they did.
So this one could be a goodie if the Gators are already resting on the laurels but we expect them to still have their eyes on a higher prize and they'll give these pullets the plucking we all expect them to get.
What will be interesting is to see if Florida takes this game more serious than they did against poor Vanderbilt. Larry's loser – South Carolina
Georgia at Auburn – Now this is the 11AM game worth watching as Mark's mutts come West to tame the Tigers that finally grew some claws back last week.
Georgia just ain't been the same without the Chubby One and now that Auburn's gone back to their first football flinger their flying once again, so it's hard to say with certainty who deserves to be on the losers list.
Usually I'd go with the home team in a close one, but the Dogs can run and Auburn's had trouble stopping something with a big stride so we're going with the team with muscle. Larry's loser – Auburn
Alabama at Mississippi State – The tusked Tuscaloosans travel down to Starkvegas to try pen the pooches and keep Mullen's Mutts from muddying their SEC Championship dreams.
But this pack of pooches believe that they can avoid being pranced on by these pachyderms and protect their own yard and flush this Crimson Tide down the drain and stun the SEC.
But while it's a good plan, Nick Saban has one of his own and it doesn't involve his team taking one on the chin to keep the tails wagging in this Dog pen, so in the end, only one plan will work and it ain't Mullen's. Larrys loser – Mississippi State
Kentucky at Vanderbilt – At 3:00 pm, two teams that usually battle for the bottom of the SEC will take place and the good news is that even the loser of this game still won't make the bottom this year.
The Kentucky Kitties take on the Song City Sailors and this could actually be a hard fought nail biting kind of game. While Kentucky has a slightly better record, the Sailor boys have been playing tougher of late.
But a mild upset is in store for this one as Vanderbilt will keep the kitties from scratching a hole in this ship and they'll float for one more week. Larry's loser – Kentucky
Western Carolina at Texas A&M – The first of the night time games sees the Catamounts come crawling in Kyle Field in Texas hoping to get the big check without the big beating that goes along with it.
But with the poor performances that these Aggie boys have been posting, he aims to show folks in Texas that his dirt diggers haven't forgotten how to play football and pile on these poor Pussycats from Carolina country.
And it's a darn good thing these Aggies some backhoes on the back of some of their tractors, because they're gonna need 'em to bury all these fur balls. Larry's loser – Western Carolina
Arkansas at LSU – The Hogs come bussing down to Bayou Country and hope to keep rooting up some upsets and hope they can catch these Kitties still licking their wounds from that pack of pachyderms that stomped them last week.
But Les Miles knows one bad game won't keep these Kitties down and they have a shot at still going to Hotlanta and maybe beyond, so they're not gonna help these harassing Hogs have a happier New Year.
So look for these Bayou Bengals to come claws out from opening kickoff till final whistle and while it may be interesting for a while, creme rises to the top. No upset here. Larry's loser – Arkansas
BYU at Missouri – The Mormon mob comes a calling to the men of Missouri and they plan on doing more than ring the front door and talk about their faith. They plan on a come to Jesus meeting alright, just not the righteous one.
Gary Pinkel's got his guys fighting for more than just SEC pride and a win, but they're playing for a chance to make it to bowl season. So he's not going to ask them in and offer them milk and cookies.
Though BYU has a much better record, this could be a real cat fight between this Midwest Tigers and Mountain Cougars, but in the end, the Bible boys drive a stake through through the heart of a Tiger and end the misery in Mizzou once and for all for hopes of a bowl. Larry's loser – Missouri
Well that's it for this week, we hope the snacks you ate during all these games gave you less heartburn than your favorite team's performance. We also hope that you'll be back next week for more laughter and losers.
Till then, consider that 50% of the teams lose every week so if your teams still winning it's only a matter of time till they wind up here on this list with the other losers.
LARRY HAS BEEN PUBLISHED IN ALMOST EVERY MEDIA OUTLET FOR COLLEGE SPORTS AND NOW PRIMARILY WRITES HERE FOR TOUCHDOWN ALABAMA. HE WRITES IS A COLLOQUIAL AND IRREVERENT STYLE FOR THIS SERIES OF ARTICLES. LARRY'S VIEWS AND SENSE OF HUMOR MAY OFFEND, BUT HE AIMS TO OFFEND EVERYONE EQUALLY. IF HE HASN'T INSULTED YOUR FAVORITE TEAM WITH LARRY'S LOSERS, JUST WAIT. FOLLOW LARRY ON TWITTER FOR INSIDE THOUGHTS AND GAME TIME COMMENTS AT

 HTTPS://TWITTER.COM/LBSPORTSWRITER
THANKS FOR SHARING THE LINK TO THIS STORY ON YOUR FACEBOOK PAGE