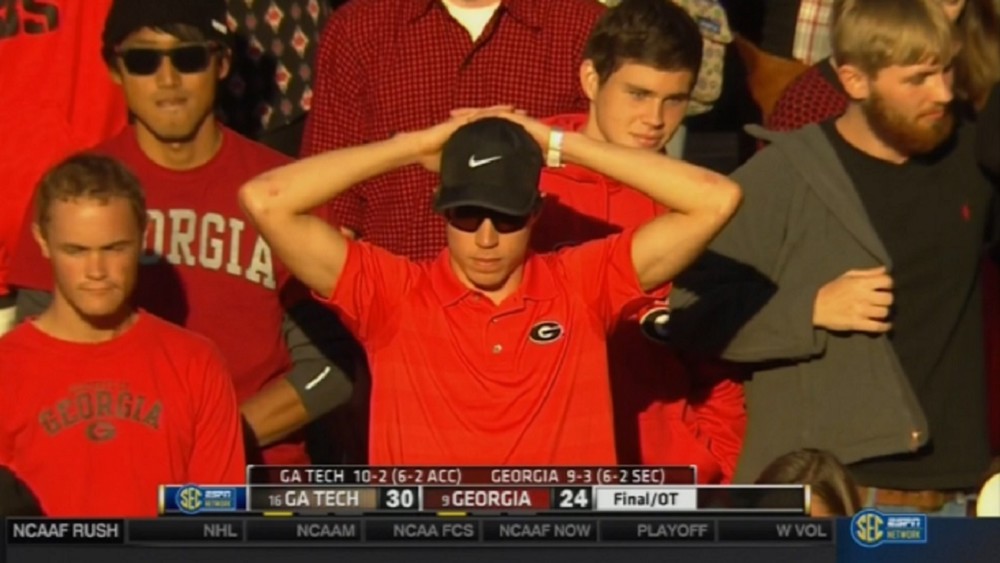 Problems Abound in the SEC – Part One – SEC East
By: Larry Burton
The SEC may be known as the toughest conference in all of college football, but school by school, there are problems they must face now and for the 2016 season. Let's take a moment and go over them one by one.
Georgia – Parting ways with Mark Richt was not an easy decision for Georgia. There was strong mutual respect both ways from the athletic department and Richt always fielded a competitive team. But he never got them over the hump. In fifteen years he had two SEC championships to show for his time on the job, but the last was 10 years ago and was never really a serious national title contender at the end of the season.
Perhaps the biggest knock on Richt was that he always had superior talent, but never did anything with it. Georgia filled the NFL with talent           every season. Winning the East was not good enough to keep his job.
But Richt also had his hands tied a bit and most folks don't know this side of the story. Despite being fourth in total revenue in the SEC, Georgia was extremely close fisted with the money. Richt had some of the poorest facilities in the SEC. One glaring example was an indoor practice facility. While Georgia put pressure on Richt telling him football success was important to them, they didn't show it in spending. Every other school in the SEC has an indoor practice facility, but not Georgia. Though they finally agreed to one after 15 years of begging from Richt, it won't be ready until 2017.
In total spending, last season Georgia thought they had really increased the totals, raising defensive coordinator Jeremy Pruitt's salary to $800,000 to 1.3 million and giving new offensive coordinator Brian Schottenheimer $900,000 when his predecessor, Mike Bobo was paid $400,000 less. Other assistants got raises too and Richt's salary this past season jumped from $3.2 to $4 million. But even with that increase in expense, Georgia's total for spending for last season was just  $26,154,335. This placed them behind Alabama, who spent over $51 million, Auburn with over $40 million, Florida $37.473 million, South Carolina 31,375 million, Arkansas $30.795 million and LSU $28.639 million.
Also Georgia's stadium is getting dated, plans were conceived back in 2008 to add 9000 seats to the stadium and freshen it up bringing it up to other program's standards. This would have given them a capacity of 101,766, right in line with Alabama, but it still has to be done.
Georgia wants the coach to do all the work without the support from the school. They handcuffed him with low recruiting budgets and all kinds of restraints, yet they want to lay all blame at Richt's feet. It was a two way street there.
Now they want to bring in a new coach who will have to deal with all this and even higher expectations than ever. The story line in Athens, Georgia will be an interesting one for some time to come.
South Carolina – This program got so bad this year the head coach, Steve Spurrier simply walked out mid season. This school has a reputation of being the place where great coaches go to end their career in mediocrity. Spurrier had more success than any coach in school history, but he never got them over the hump. In his 11 seasons there, he won one SEC East title, no SEC championships and of course was never in the discussion for a national championship.
Now the program is in free fall mode. Any coach walking into that job inherits a disaster, but with a school behind him that doesn't expect to be national contender every year, they will be patient in letting them get there and sort it all out and give them time. The stadium seats just 80,250, now small by SEC standards as is showing it's age, facilities could be improved in other areas, but they are acceptable.
This is a good job in the softer side of the SEC conference and would be a great job for the right coach who is wanting to make millions with less pressure on them.
University of Missouri – As the season began, all was well in Columbia. Since joining the SEC, a league many thought the Tigers would be suffocated in, Gary Pinkel did a masterful job of making this team a year in, year out contender in the SEC. Plans for stadium expansion were put in place, facility upgrades in other areas were undertaken and it was full speed ahead on the future for Missouri football.
Then came new that their beloved and top notch leader, head coach Gary Pinkel, would have to step down due to  non-Hodgkins lymphoma. Now Missouri will have to find a new head coach and perhaps an entire new staff. With all the schools looking for new head coaches, landing a top name in Columbia could be tough.
Kentucky – Not much is expected from a football coach in Kentucky, make a bowl game and you give the fan base somewhere to go over the holidays and your job is safe. So while not much is expected here, less was delivered this season.
Maybe it was the fast start the Wildcats had this year that got everyone excited, but when they nosedived losing six of their last seven games to finish with a losing season record, Stoops found himself on the hot seat going into 2016.
Known as a basketball school, the football team will never get the attention it needs to be a top program. Commonwealth Stadium recently went through a huge 110 million dollar refurb, but it actually made the seating capacity go down. Now they seat just 61,000 fans as new luxury boxes and a new press box took away seats.
When you're at a school were winning 6 games keeps you employed and you can't do that, there are big problems and Kentucky has them.
Tennessee – Butch Davis came into a job that had begun to get a little better and made it a little better himself. But therein lies the problem. The administration and fans were looking for a breakout season for the Vols and it just didn't happen despite the SEC East being the softest it has been in years.
They finished the regular season with 8 wins, just two games more than last season's 6 win regular season total. Many thought they could challenge for the SEC East title, but they were never in the running after losing three of their first four games in SEC play and four of their six games.
While it remains to be seen if Jones is the man to get this team over the hump, another failure next season could be his last. His seat heated considerably, not so much for the losses, but how they lost games that could have and perhaps should have been won. Many think Jones is simply caretaking the job until Peyton Manning retires and comes to lead the program. But that is entirely speculation.
The end of last season had the Vol nation excitedly looking forward to the future, now they much more quietly worried about it. As Florida is fastly improving, Georgia getting a new coach and new life and Missouri also getting a fresh start, many feel that the Vols have missed their chance to strike while the East was soft and are nervous that other programs may once again surge past them. That could be just what happens as recruits no longer feel the excitement of Tennessee and are looking elsewhere.
Vanderbilt – If you thought Kentucky had low expectations, you haven't studied Vanderbilt. Derek Mason went from three wins last season to four this season and the school likes the upward trend, even if two of those wins were over sub division teams.
While Mason has turned around the defense, the offense is a train wreck and recruiting is always an uphill struggle. With just a 40 thousand seat stadium and facilities that fail to impress, recruits just aren't sold on this university unless they just want to play in the SEC. Though Vandy took advantage of the softness of the SEC East this year by claiming two SEC wins, Kentucky and Missouri, as the rest of the league improves as it's sure to do, Vandy will hard pressed to find many more SEC wins and therefor any chance of bowl games in the future.
So in a nutshell, Vandy just goes back to being Vandy and that's problem enough.
Florida – This school is listed last because it has the least problems of any school in the East and the future looks bright. Recruiting should get better, McElwain has shown that though he may not win pretty, he wins the close ones and overall, the breakout year they had this year may just be the first of many SEC East titles.
With the return of the performance enhancing drug using quarterback, the offense should show more spark and the program be even more competitive.
So Florida is the one school with little problems and the brightest immediate future.
Larry has been published in almost every media outlet for college sports and now primarily writes here for Touchdown Alabama. Follow Larry on Twitter for inside thoughts and game time comments at https://twitter.com/LBSportswriter
THANKS FOR SHARING THE LINK TO THIS STORY ON YOUR FACEBOOK PAGE