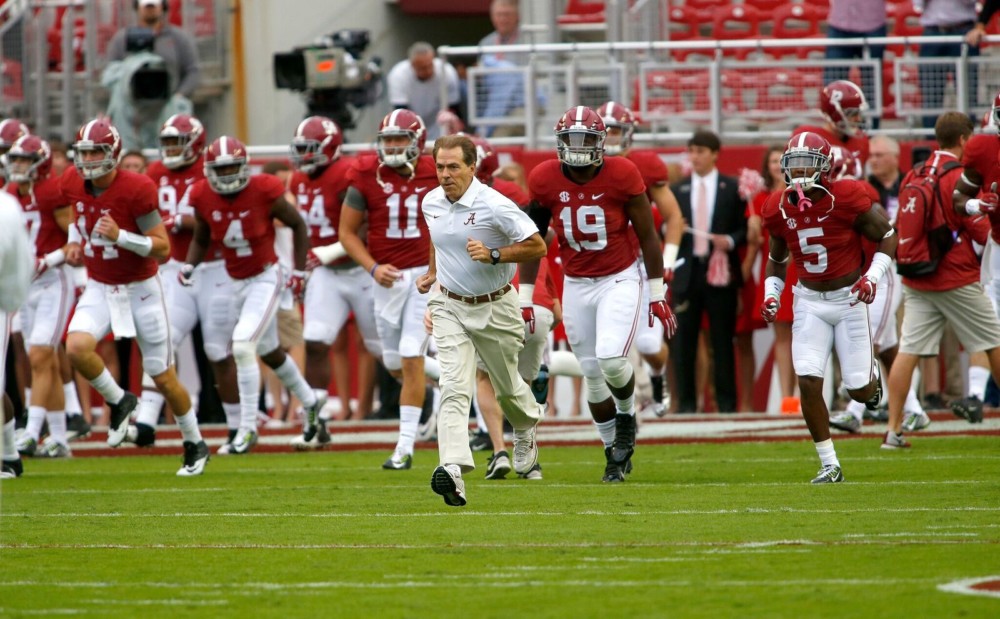 Alabama Almost Beat Out Clemson for #1, Will They Next Week?
By: Larry Burton
In this week's voting for the top spot in the College Football Playoff poll, Jeff Long said that the vote was so close that there were re-votes and at times it looked like Alabama may overtake Clemson for the number one spot. The message to Clemson was clear, win impressively over North Carolina in your game or risk losing that number one ranking.
While the Tide looks to impressively down the Gators in the SEC Championship Game, a weak win for Clemson simply won't be enough for them to continue to hold that number one ranking going into the final voting.
Playoff committee chairman Jeff Long said there was extensive debate and discussion over the two schools and who deserved that number one ranking.
In his media statement, Long said, "The committee debated long and hard about the No. 1 and No. 2 ranked teams. Clemson is again ranked No. 1, but it was close and indeed very close. They both have impressive bodies of work. Clemson is 6-0 against teams with winning records including two wins against teams in this week's top 10. Alabama is 8-1 against teams with winning records. While that is an impressive resume, Alabama has not played a team in the current top 10. Clemson's undefeated record was also clearly a factor."
What he didn't say was they also considered how many teams Alabama had beaten that were in the top 10 before they beat them. Clearly strength of schedule means as much to the groups voters as Alabama's one loss.
Long also said, "Well, we had additional pieces to the resume. We saw a Clemson team struggle against a South Carolina team, that same South Carolina team that beat North Carolina at the beginning of the year. South Carolina struggled with a 37-32 win there. That team is a 3-9 team. And then we saw Alabama play an Auburn team in a rivalry game and win that game, so those are two more pieces to those resumes that allowed us to look deeper into that No. 1 and No. 2 ranking."
This leaves the door open for an impressive win over the Florida Gators to vault the Tide into number one in the final poll. That would put them playing the number four seed instead of the number three. That would leave the final grouping, Alabama at number one, Clemson at number two, Oklahoma at number three and the Big Ten winner at number four in all likelihood.
Larry has been published in almost every media outlet for college sports and now primarily writes here for Touchdown Alabama. Follow Larry on Twitter for inside thoughts and game time comments at https://twitter.com/LBSportswriter
THANKS FOR SHARING THE LINK TO THIS STORY ON YOUR FACEBOOK PAGE