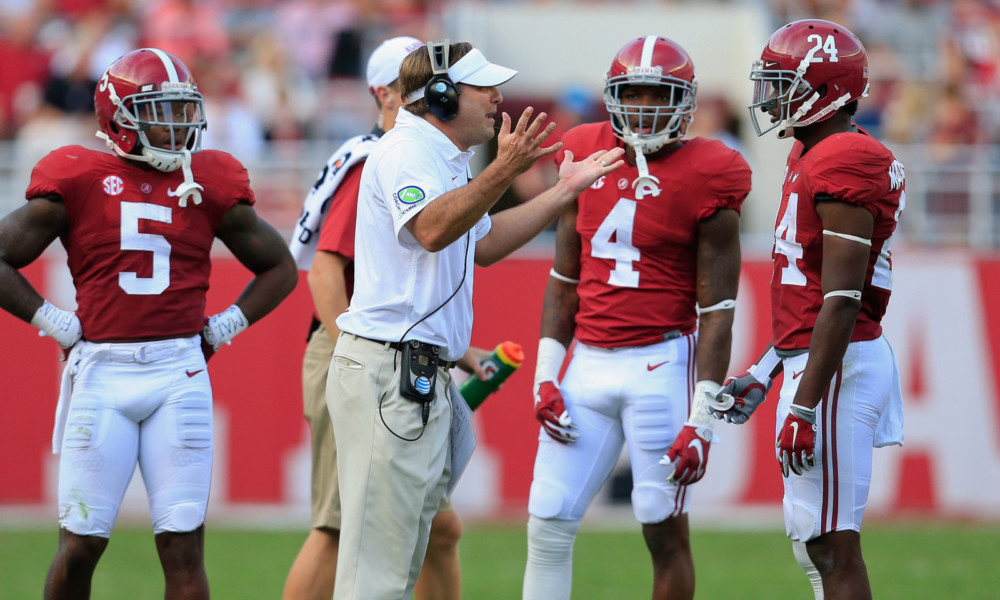 On Tuesday night, it was announced that Alabama defensive coordinator Kirby Smart would be leaving Alabama to accept the head coaching job at his alma mater, Georgia. Smart has played a pivotal part in Alabama's dominance of recruiting, which could be the biggest blow to the Tide besides Smart taking strength and conditioning coach, Scott Cochran with him.
Some of Alabama's 2016 commitments voiced their opinions on the move.
4-star LB commit, Jaquan Yulee of Chesapeake, VA
https://twitter.com/JaquanYulee2/status/671909674720092160
4-star DT commit Quinnen Williams of Birmingham, AL
https://twitter.com/QuinnenD1/status/671895060015915008
4-star S commit, Shawn Jennings, younger brother of freshman defensive lineman Anfernee Jennings
People are so concerned about my commitment lol … I wish coach smart the best of luck but it's still Roll Tide🅰🐘 tho !

— ShawnD Jennings (@two4_jefe) December 2, 2015
5-star Lyndell Wilson, #1 linebacker in the nation and top Bama target.
🐶🐶🐶🐶

— Mack Wilson Sr. (@5mackwilson1) December 2, 2015
5-star top target, #1 ATH Mecole Hardman Jr.
UGA gets Kirby Smart 🤔👀😏🐶

— Mecole Hardman Jr. (@MecoleHardman4) December 2, 2015
4-star ATH and top Alabama and Georgia target, Malcolm Askew of McAdory, AL
The University of Georgia is No Longer My Leader. No Questions or Interviews, Thank You.

— 𝙈𝙖𝙡𝙘𝙤𝙡𝙢 𝘼𝙨𝙠𝙚𝙬 (@MacAskew4) December 2, 2015
Smart has been recruiting some big names with interest in Georgia to come to Alabama in the 2016 class, some of the more notable names are:
–Derrick Brown, 5 star DT out of Lanier HS in Buford, GA
–Lyndell Wilson, 5-star OLB out of Carver HS in Montgomery, AL
–Ben Davis, 5-star ILB out Gordo HS in Gordo, AL
–Demetris Robertson, 5-star ATH out of Savannah Christian in Savannah, GA, also a former Alabama commit
–Jeffrey Simmons, 4-star DT out of Noxubee County HS in Macon, MS
–Shyheim Carter, 4-star ATH out of Kentwood HS in Kentwood, GA, also a former Alabama commit with a Georgia lean.
–Nigel Warrior, 4-star S out of of Peachtree Ridge HS in Suwanee, GA, has Alabama and UGA in top 3.
That list goes on and on as Coach Smart is set to leave Tuscaloosa and officially sign a contract with the Bulldogs after the Crimson Tide face off against the Florida Gators for the SEC Championship. Although Alabama is losing a great defensive mind, they are also losing a coach who recruited the likes of Reuben Foster, O.J. Howard, Rashaan Evans, and Kenyan Drake. At this point, recruits will likely see who is set to take his place as defensive coordinator and from there the recruiting part of this process will be one to keep an eye on, regarding the future of both programs.
Justin Wagner is the Scouting Coordinator and Lead Recruiting Analyst for Touchdown Alabama. You can follow him on Twitter, at @jwag718.