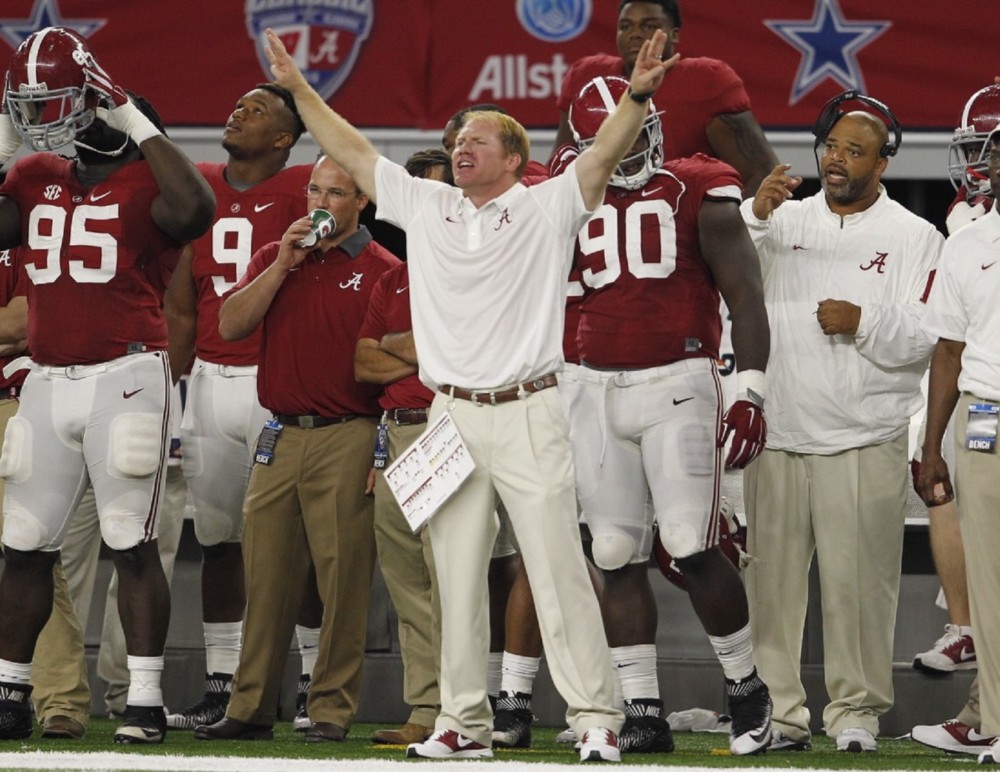 Say It Ain't So Scott! Scott Cochran to leave Bama?
By: Larry Burton
Alabama fans had long grown accustomed to the fact that Alabama's defensive coordinator Kirby Smart would someday leave the nest, fly off and be the head of his own family someday. It has been a great ride with Smart, but fans knew their days were numbered with him for quite a while now.
But a sense of shock and outright panic seemed to ensue when rumors started flying that Scott Cochran, Alabama's beloved strength and conditioning coach may leave with Smart. Cochran was not just the strength and conditioning coach, but the vocal heart and soul of the Crimson Tide for most of year, including times when he was the only contact that most players had with a staff member.
He was jovial, he was a task master, he was a friend to all and he could have been the main reason that Alabama had fewer season ending injuries than most top programs. Will he leave? We don't know for certain as of publishing time today, but where there's this much smoke, there's usually fire. We may not know the why until details of his duties and contract come out later.
But clearly, fans are more worried about losing Cochran than Smart. They understand he could be harder to replace.
As I wrote in an article some time back, on the times that visitors and press are allowed to watch the University of Alabama football team practice, one person inevitably gets their attention quickly, and many scratch their heads, not recognizing the man leading the opening drills, clearly in charge and clearly commanding the attention of everyone wearing a jersey.
That man with the booming voice that can be heard over the vast expanse of the outdoor field, and especially the indoor field, is Scott Cochran. And if you don't recognize him, maybe it's because he's not a high profile position coach, but instead the strength and conditioning coach.
To the players though, there are few people, even on the coaching staff, who have a bigger and more profound impact on their lives. Cochran's with them after the bowl games beginning the winter weight training, he's with them in the spring running drills and practices, he makes sure you don't take the summer off, and come fall he's the one you see first at each practice.
He's much more than a strength and conditioning coach—he's also part cheerleader, part drill sergeant, part psychologist, part motivational guru, part dominatrix, part doctor (he has a degree in kinesiology), and definitely part comedian.
Perhaps one of the reasons Coach Nick Saban doesn't allow interviews with assistants is because Cochran would quickly become the media darling. He certainly has the gift of one-liners and sound bites.
Who can forget his outburst in preparing for the famous Georgia blackout game? "They better wear black, they're going to damn funeral!"
The media used to be allowed to stay through the stretching and opening workout sessions, and everyone became familiar with his booming "Yeah! Yeah! Yeah!" and "You gotta pay that cost to be the boss!" Then there is "You can do this ALL day long!" and "Get your body right, then get your mind right."
And perhaps our favorite yelled in that weird accent: "It don't get no bettah than this!"
But before that Georgia game, with the press all hanging on that booming voice, he yells out, "Yeah, they're wearing black, they're going to a (expletive) funeral!"
Since that statement and the resulting media storm, the press and visitors have been sent away before Cochran takes the stage. We all miss it.
Like Saban, Cochran has pulled the players over to his way of thinking, and Scott has his own process he insists on players following.
That process is almost all Saban's: Work yourself until there's no way your opponent has outworked you. Be in physical condition to own his butt in the forth quarter when you are tired, but he is more tired. And never give up, and work hard to make that player playing against you quit.
His twist is that unlike Saban, he'll go almost ballistic to make his point and he'll yell your praises to the heavens when you do something right.
The combination works out well.
Saban presently has about 70 four and five-star athletes on campus. That's about the same as LSU and Florida. Yet Alabama clearly stands atop the SEC. The difference is in the coaching.
There's an old saying about a team that landed the best high school linebacker in the state, and after four years he still played like the best high school linebacker in the state.
In other words, it's not always who you sign and the stars they have beside their name, but rather how well the coaches "coach 'em up."
You don't have to look beyond such examples as Rashad Johnson or Javier Arenas, two players with resumes that didn't impress many schools, but who still became superstars at Alabama under this coaching staff.
Saban will tell you there are many parts to making a high school athlete a great college athlete.
Of course you have to have the academics down to get the opportunity, you have to have the mental faculties to accept the rules and abide by them, and you have to have the ability to learn from both coaching and from your mistakes.
But you also have to commit to making your body a weapon to use on your opponents.
Every school has a weight program, every school preaches forth-quarter conditioning, but not every program lives and breathes it like Alabama.
Cochran runs the program and not just building muscle, but building the right muscles, teaching them how to use those muscles and encouraging them to keep going when they think they've already maxed out everything.
His degree in Kinesiology helps. For the ones who don't understand exactly what that is, it is the science of human movement. They teach them how to develop muscles and movement that help them do their tasks with the greatest efficiency.
Kinesiologists work with individuals with disabling conditions to assist in regaining their optimal physical function. For example, Cochran's work with Dont'a Hightower's doctors had the linebacker back much sooner and much stronger than most thought would be possible. He has done the same with other players
Players love Cochran and trust him. He pushes himself almost as hard as he pushes them. How he keeps his vocal cords is still a mystery. They have to be callused.
"Coach Cochran is always 100 percent pumped, his spirit is infectious, and he makes those workouts seem like the most important thing in the world and you just buy into it," former player Cory Reamer said.
"You stay bought into it when you see your opponent sucking air and physically failing and you're still fit and ready and you know you own his ass. You know Coach Cochran was right all along and you don't ever want to be that man," Reamer concluded.
Cochran is a native of New Orleans and went to LSU. He caught Saban's eye with his work as an assistant strength coach on Saban's 2003 national championship LSU team. From there he got other jobs, including assistant strength and conditioning coach for the NBA's New Orleans Hornets.
In 2007, when Saban felt the need to find a new strength and conditioning coach, he remembered this young, feisty coach and the rest is history.
Cochran, who's 31 and married with one son, is regarded as one of the nation's best strength and conditioning coaches, but don't tell that to him. He doesn't like being called that. He's much happier just being called Coach Cochran.
He's much more than just the strength and conditioning guy—he coaches the players in life, love, football, or money. He'll coach you in anything and he often does.
And that helps make him an ace in the hole for this staff and this team and one that would sorely be missed.
Larry has been published in almost every media outlet for college sports and now primarily writes here for Touchdown Alabama. Follow Larry on Twitter for inside thoughts and game time comments at https://twitter.com/LBSportswriter
THANKS FOR SHARING THE LINK TO THIS STORY ON YOUR FACEBOOK PAGE